COLOMBIA JANUARY 2018
BOGOTA
We fly in to Bogota, which is 5,000 miles away, and 7,5000 feet above sea level, wedged in between the remaining chunks of the Andes, the Cordillera Oriental and Occidental. This is moody country surrounded by steep mountains, and when it rains, it really rains. We check in to the Cite Hotel on the edge of Virry Park. Sounds nice, but it's very noisy, with scores of revellers shouting and dancing outside into the small hours. Then in the morning at 6am the military are doing exercises and bellowing instructions.
Bogota is not that exciting. We take a guided stroll through the city, looking at the Plaza de Bolivar (there's one in pretty much every South American town celebrating Simon Bolivar, the great liberator), the cathedral, Congress Palace, and the somewhat knackered Le Candelaria area. However there are two gems here. First, the Fernando Botero art museum with its strange 'volumist' approach in which bodily features are reduced or exaggerated. The net result is mainly women with huge bottoms and small hands. The second is the absolutely superb gold museum, which has the most impressive collection of pre-Colombian artefacts you will ever see – pipping its counterpart in San Jose Costa Rica to the post. We return to Virry Park for lunch at la Toscana just in time for a colossal tropical storm that is so powerful it takes four staff 30 minutes to stop the floodwaters taking over the restaurant.
VILLA DE LEYVA
Next day we are off to Villa de Leyva, a charming town high in the hills. At this stage we are pleased to be suffering no signs of altitude sickness (or soroche), so it's a very pleasant four-hour journey through fertile farmland. We stop at Zipaquira, home to a huge salt mine, which has a number of chapels built inside. They call this the Salt Cathedral but it's made of rock. Impressive, but very touristy. We drop in to the bustling arts and crafts town of Raquira to buy some masks and memorabilia, and it's heaving. The same is true of Villa de Leyva as everyone piles in to celebrate New Year's Eve in the town square – a massive old stone affair surrounded by idyllic old colonial buildings. After an excellent steak lunch at El Patio we wander around, and then dig in at our hotel La Posada de San Antonio for a rather rubbish dinner, before joining everyone else for the large firework display. Colombians love fireworks, and they continue long into the night.
Apart from the town itself, there are one or two charming things to do nearby. El Fosil Museo contains a huge one of a Kronosaurus – a huge fish-cum-alligator dinosaur about 15 feet long. The difference here is that the fossil remains in situ in the rock with the museum built round it. A bit further up the road is a beautiful monastery – the Ecce Homo. Here the fossil theme continues as we find ammonites used as wall and floor decorations. The whole area used to be a large ocean so it is littered with fossils all over. Further wandering and shopping in Villa de Leyva leads to a really good lunch at La Puerta de San Pedro on Angela Maria Rico, and a brilliant dinner at El Rincon Gourmet, where delicious steak and pork are interspersed by the owner playing the piano. Highly recommended.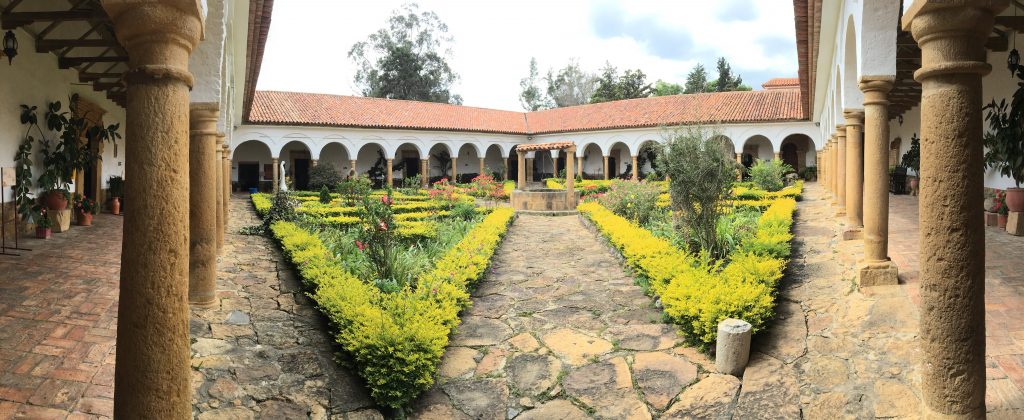 Next we are off to the Caribbean coast. This involves a return drive to Bogota on which we become more familiar with some of the local antics. The military are everywhere and have developed a PR friendly technique of offering a thumbs up to all passers by, something that originated from letting drivers know that the area was in safe hands. Meanwhile roadside shop and café owners have developed the bizarre habit of flagging cars down, as though they were officials in a Formula 1 grand prix.
TAYRONA
From Bogota we take a 90-minute flight to Santa Marta on the Caribbean coast, followed by a 45-minute drive to Tayrona National Park, not far from the Venezuelan border. On the first night we stay just outside the park at the Villa Maria Hotel. Hundreds of hummingbirds fizz around the feeders in the bar area, and the view from the rooms is spectacular – high on a hill overlooking the powerful ocean in one direction and dense rainforest in the other. The walk down to the beach is labelled with tree information, and the beach is completely unspoiled, brimming with pelicans.
We then transfer into the park for two nights at Ecohabs. There's nothing eco about them really. They are a series of rooms built in a circular style with thatched roofs reminiscent of the local Carib Indians. But the view is great, especially the sunrise at 6am. We were looking forward to some decent hikes into the jungle but we are to be seriously disappointed. Astonishingly, the park contains a series of car parks and campsites, all of them heaving. The 1-hour walk through the forest is a nightmare – packed with people, crowded, everyone shouting, some even carrying their own beat boxes and blaring out grunge or rap. There is not an animal in sight, apart from a brief appearance of an agouti and an iguana just as we return to the lodge. This is probably the worst national park experience we have ever had.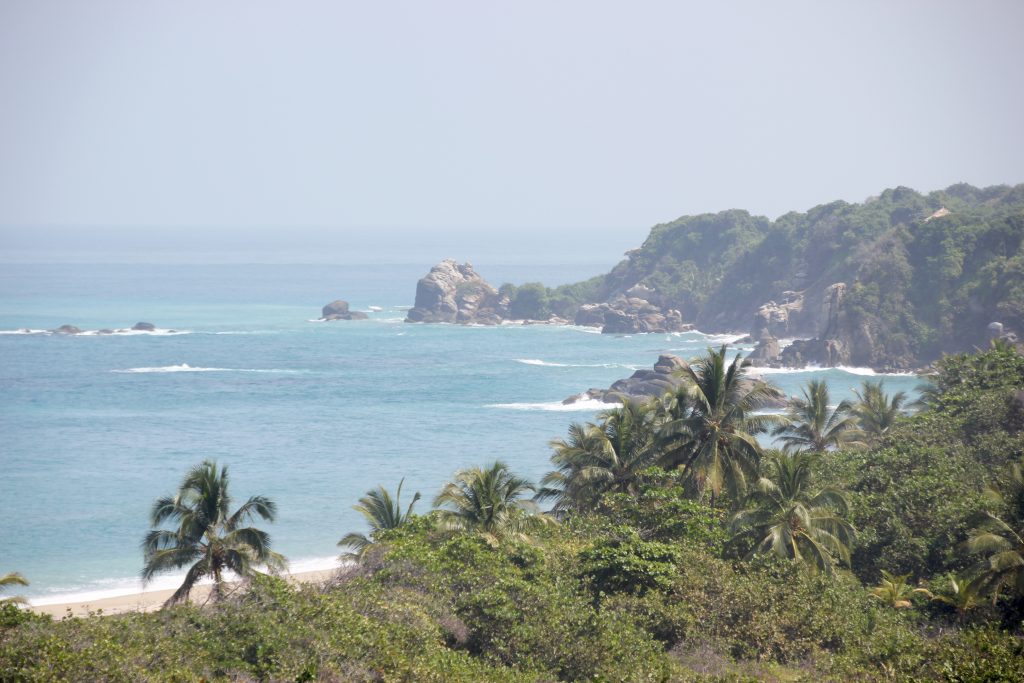 CARTAGENA
So, on to Cartagena. This is a chunky 6-hour drive from Santa Marta, through Baranquilla, mainly along the coast. Cienaga is a fascinating but poor fishing area on a long strip of land surrounded by mangrove and water. Lovely to look at, but slim pickings for the locals. Cartagena is a fascinating collision of the old and new, with the beautiful colonial old town now dwarfed by huge skyscrapers and a large port in a fantastically positioned natural harbor. As a crucial strategic point for anyone wanting to hold sway in the Caribbean, it has been fought over for centuries. First we check in to the lovely Ananda Hotel. Such places always seem so calm and shady, until late at night or early in the morning when there is someone clattering in the courtyard – a surefire way to wake everyone up. We use this as a base for a range of activities.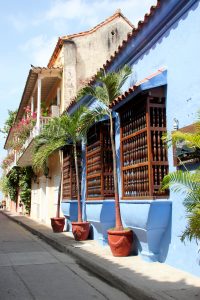 High on the hill overlooking everything is the Convent of La Popa. From up here you can see the sheer enormity of the bay and its commanding position. Every year there is a ritual here where thousands of people carry an image of the famous lady, whose name I forget, down the hill and up again. True to Colombian passion for days off, this is a 9-day affair, and those with terminal illnesses bring gold medals of the parts of their bodies that are afflicted, and lob them into the church for good luck. Every now and then a miracle is announced.
Back at ground level we visit the impressive San Felipe Fort. Amazingly the thing is made of coral – easy to cut but incredibly tough. Here the ingenious design allows views in every direction, combined with a series of clever defence mechanisms. These include tunnels with cubby holes enabling soldiers to spring out and spear intruders, passages where they can't see you but you can see them, and doorways low enough for Spaniards but likely to knock out taller Englishmen. Apart from wandering around the endlessly fascinating streets of the olds town, there is also the macabre Inquisition Palace, which tells the hideous story of how the Catholic Church tortured anyone who didn't claim to be a believer. Disgusting.
ROSARIO
For the final part of our trip, we head downtown to the pier and take a 2-hour trip to Mucura Island – south down the coast to the Corales del Rosario National Park, more commonly just called the Rosario islands. Pleasantly encountering flying fish and dolphins on the way, we arrive at something of a Club Med resort in the middle of nowhere called Punta Faro Hotel. Although initially seeming a bit crowded, this turns out to be a little bit of paradise. Taking our own nature walk each day reveals a number of unexpected surprises. The island is home to scores of huge iguanas – the bigger ones with bodies a metre long and twice that if you include their dramatic black and white tails. A pair of caramel-coloured sparrowhawks flit around, and frigate birds whirl overhead as pelicans skim the waves. The snorkeling is a delight, and we are regularly surrounded by hundreds of multi-coloured fish. A quick trip in a boat to neighbouring islands reveals a mixed bag. One island resembles something out of the film Waterworld – 400 people stacked onto every scrap of available coral. Other parts appear fine, and apparently National Park status now prevents any environmentally inappropriate activities. The hotel runs a "chicken for turtles" exchange programme. Locals hand in turtles instead of eating them, which are then released once a month. We bump into one being carried over to the holding pen. Lovely.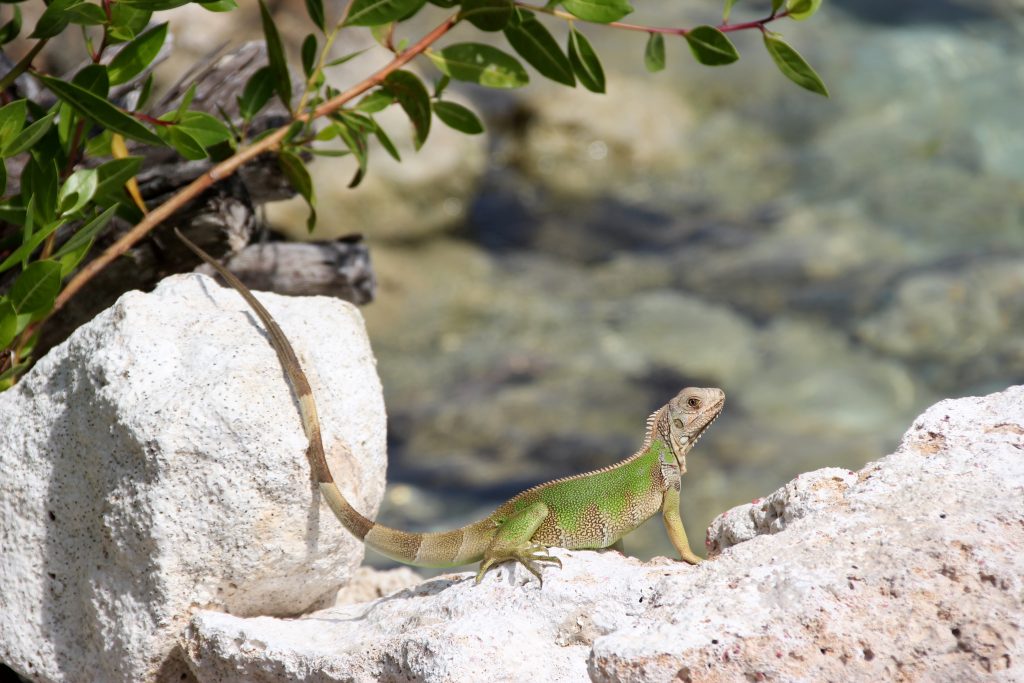 CONCLUDING REMARKS
Concluding remarks on Colombia. Because of civil unrest, drugs, and so on, many view the place as a no-go zone. And yet, somewhat ironically, this is probably the safest, least edgy place we have been to in Latin America. The trip has lacked any iconic landmark places such as Chichen Itza, and yet has been thoroughly enjoyable throughout. Bogota is not that exciting. It lacks the Andean drama of Santiago or La Paz, but if you do visit, the gold museum is mandatory – the best you'll ever see. Villa de Leyva is charming if a bit twee, and definitely worth the trip out of Bogota if time allows. Tayrona National Park is a big disappointment. It isn't intrepid at all, having none of the edge of the Amazon or Costa Rica. It's a string of noisy campsites full of thousands of day trippers. Those not too bothered with Bogota could fly in to Cartagena, perhaps via the USA, and have a great time with a Caribbean feel and plenty of colonial character. Then maybe add in some islands for fun. It's all excellent stuff, but perhaps not with the frontier feel that some may be expecting.