SEATTLE FEBRUARY 2018
It's 9 hours 15 minutes to Seattle. This is a day flight starting around 4, with an 8-hour time difference, so by the time you try to go to bed by around 9, it's theoretically 7 am. Or something like that. The flight is mercifully child free, but in daylight I don't understand why everyone shuts their blinds. I am in the central area but sneak out for regular checks out of the window. Greenland is always a delight and Baffin Island is fantastic. It's minus 70 degrees outside. Flying into Seattle is excellent. A full run over Canada culminates in a beautiful descent to the western seaboard with dramatic mountains and the fantastic San Juan Islands out to sea. It's a Sunday, so the cab only takes 20 minutes and a very reasonable $45 to deliver me to the Silver Cloud Inn at Lake Union. It's clean and efficient but there is no bar, mini bar or restaurant, so out I go. The White Swan pub is shut – well it is Sunday – so I end up in a Mexican called El Chupacabra watching the Superbowl in which Philadelphia Eagles unexpectedly beat the New England Patriots. Considering the time difference, I hold out till 9pm and manage a creditable 7 hours kip until 4am, lie in bed for another 90 minutes, and then get on with it. The sunset is at 5.15 and it isn't coming up until 7.30ish. We are so high up the world that the contrast with summer is dramatic – days then last until 10.30.
So, to exploring the city. I accept a shuttle offer from the hotel and start downtown at the Klondike Gold Rush Museum – bijou and free. In a bittersweet display, I learn that 100,000 people embarked for the Klondike, 40,000 got there, 20,000 worked claims or prospected in some way, and only 300 made more than $15,000 in gold – the equivalent of $300-400,000 today. Of the 300, only 50 kept their wealth for any length of time afterwards. Tragic really. The much-feted Pioneer Square nearby is something of a damp squib. There's a small wrought iron structure and a striking but ill-placed Tlingit totem pole surrounded by phone wires and fencing.
Seattle is very undulating, so don't be deceived by a 2-D map. I head very much uphill to the Sky View Observatory in the Columbia Tower, the tallest building west of the Mississippi apparently. If you've been to the Empire State, the Hancock in Chicago, the TransAm in San Francisco, and so on, you'll find this an absolute dream. At this time of year there's no one there. No queue. I walk unmolested up to the lifts that take you to the 75th floor, and there's one small man at the top – no one else. For once, a 360 degree review is indeed the correct phrase. It's cloudy but there is stacks to see in every direction – out west to Olympic Park, south to where Mt. Rainier should be, and of course water everywhere.
This is what Mt. Rainier would look like on a good day: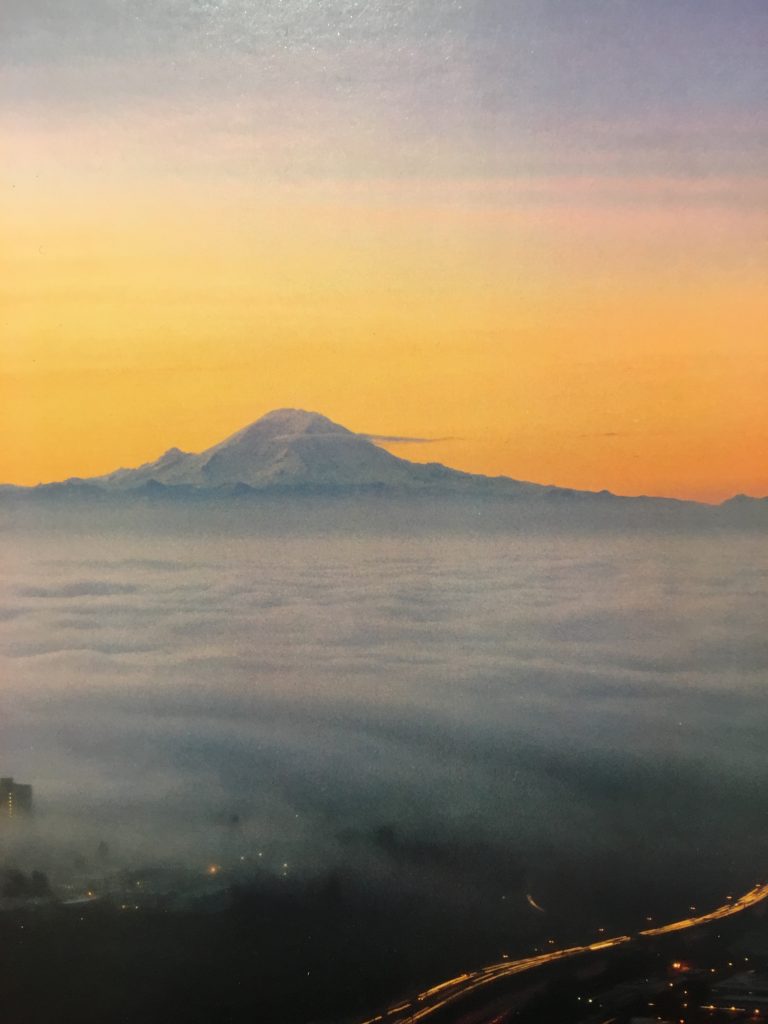 By comparison the iconic Space Needle looks like, well, a small needle. I had hoped to visit the renowned Seattle Art Museum (SAM) but it's shut. Monday seems to be prime closing day in this city. I settle for a photo of the Hammering Man outside, and move on to the aquarium. This provides a great insight into what's out in Puget Sound. The giant octopus are particularly fascinating, as are the huge 3-metre sturgeon. But the most intriguing exhibit was a diver with a moray eel round her neck explaining everything to school kids from underwater. Clever.
It's lunchtime so I stroll into Pike Place, a thriving market on multiple levels. My approach route left a little to be desired, involving negotiating a range of drug addicts and alcoholics off their tits under the arches of the exotically named Alaskan Viaduct. It's an elevated motorway, as is the 5, which can connect you to Alaska or California. Lunch is a substantial cod sandwich at Lowell's (strapline: "Almost classy"), washed down by a couple of pints of Manny's Pale Ale. The Pike Kiltlifter is tempting, but I don't risk it. On the next table two lesbians are snogging whilst a third takes photos of them. Not really necessary at lunchtime, or any other time in public for that matter.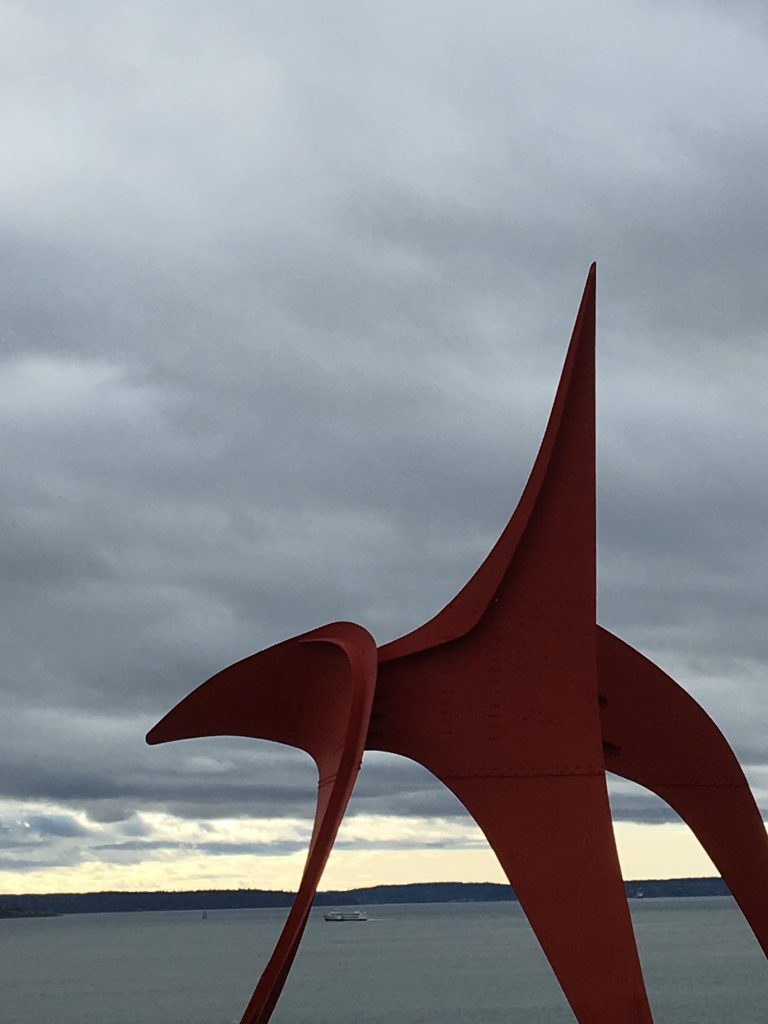 Re-energized, I stride down to the Olympic Sculpture Park, which is a bit rubbish. There's only one sculpture – a perfectly good one – but it is inappropriately sited so you can barely get a decent perspective. It could be so much more dramatic against the fantastic backdrop of the Hurricane Range out to sea. The walk back to the hotel takes me past the Space Needle, which looks a mess because they are apparently adding a glass floor. It's around 3 o'clock, so you can effectively wander round Seattle in less than a day. After an attempt at a nanny nap, I head to the White Swan which is indeed open, to write up my notes over a few pints of Ridgetop Red, courtesy of the Silver City Brewing Co in Washington.
I have a spare bit of morning before heading off, so I head to the zoo. The receptionist looks at me as though I am mad ("The zoo??") but it's charming. On the way I get the driver to stop off at a bizarre troll sculpture under a flyover bridge. It is crushing a full size VW Beetle and is fairly creepy. The zoo is a delight – totally empty, so I have it all to myself. The snow leopards are fantastic, the white wolves are majestic, and the otters are hilarious. There is also a peacock-like bird called a Malay Argus, which is desperately trying to get a shag by displaying – turning itself inside out like a Great Bustard. The female isn't interested.
Seattle is something of an enigma. If you are on foot, there appears to be no one around. If you are in a car, it's rammed. Construction and the economy are pretty much dominated by Amazon and Boeing, who are effectively responsible for an additional airport. If you walk, it doesn't feel like there are 700,000 people here. If you drive, it does. It's probably very different in the summer. The scenery must be superb on a clear day, but beware that the classic view of Mt. Rainier is taken further south in Tacoma, not in Seattle. It is definitely worth a visit, and it's a mystery why grunge originated here – there's not much nasty about it, and if you were feeling a bit down you could just look up and see the sea or an inspiring mountain range any time.
PORTLAND FEBRUARY 2018
The 30-minute flight down to Portland is a dream. A bed of cotton wool cloud is punctuated on arrival by Mt. St. Helens, of massive eruption fame, and Mt. Hood, a perfect snowy conical shape.
Once again the cab ride from the airport reveals the dark side of the USA. The freeway into town is peppered with homeless people living in tents or cobbled-together boxes in the woods and by the railway tracks. US motorway construction is brutal – huge elevated concrete constructions plough through the landscape, and from a high road bridge over the Willamette River, the full scale of the destruction can be seen. This is often described as a pretty city, but it doesn't look like it from here.
I arrive at the Silver Cloud Inn on NW Vaughn St in the Northwest part of Portland – Slabtown. The traffic is relentless and the news is full of a recent report into congestion where Oregon and Washington have fared badly. Nobody walks round here, the size of the cars is extraordinary, and many of them are in terrible condition, belching smoke everywhere and making a loud racket. Most public places are punctuated by aggressive notice entitled "Violators!", firmly laying down the rules. Many toilets have key code access panels to stop undesirables getting in, and pretty much all food items have some sort of warning on them, along the lines of: NOTICE: Contains raw ingredients that will increase your risk of foodborne illness. The land of the free indeed. Meanwhile, there appear to be very few topics of conversation other than food, beer, coffee and the traffic. They are obsessions in this part of America.
Portland is not that exciting, with the Willamette River (the ending sounds like dammit) marred by a series of ugly bridges. The Americans are eminently capable of brutalizing any landscape. But the surroundings in Oregon are dramatic. I head out to the Cascade Mountains, with an ultimate objective of Mount Hood, a perfect volcanic mountain that looks like a chunk of white Toblerone. We drive along the Columbia River Highway that denotes the border between Oregon and Washington. It's beautiful. As it turns into a gorge, we are treated to a series of lookout points and waterfalls. Chanticleer Point is first, with a good view of the river and Beacon Rock. This is the river surveyed by Lewis and Clark all those years ago. Then on to Vista House, something of a folly with art deco touches on a vantage point that can be subject to 100mph winds. Latourell Falls are lovely – hanging basalt punctuated by green-yellow algae. The famous one is Multnomah Falls, but here a sad story unfolds.
Local news is awash with a 15-year old Vancouver boy who intentionally threw a smoke bomb into bone-dry brush on the Eagle Creek Trail last year. He ignited a blaze that covered 48,000 acres, closed the motorway for two weeks, and ran up a firefighting bill of $20m. As a result, large chunks of the area remain closed off. Since he was a juvenile at the time of the offence, there is much speculation about his fate, with estimates ranging from 8 days juvenile detention to a lifetime repayment plan to the state. In 2013 a 23-year old woman started a brush fire to give her "bored" firefighter friends "something to do." She destroyed over 50,000 acres, and is now paying 50 dollars a month for the rest of her life to repay $7.9m. Fat chance of that figure being reached.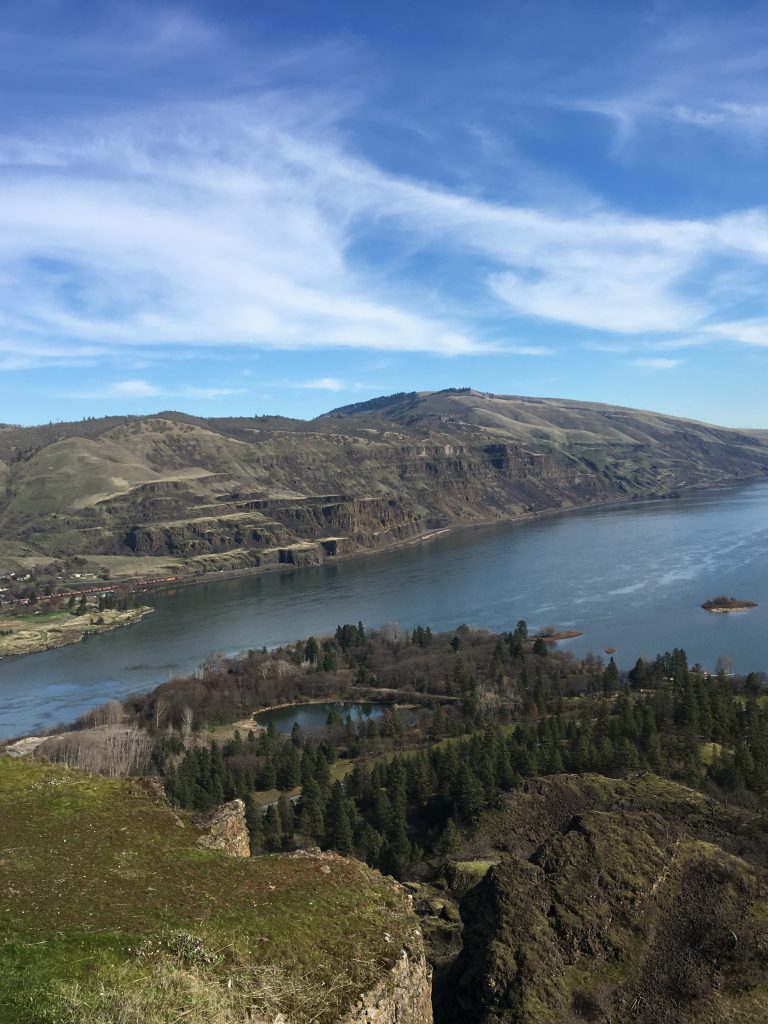 Moving on, we visit Rowena Crest at the east end of the gorge where most of the vegetation has disappeared because it is in the rain shadow. There is a fish hatchery where salmon and sturgeon are nurtured. One old sturgeon here is over 75 years old. They can live to 100 apparently. We work our way up river to the fantastic Mount Hood – which looks better and better as we approach. The weather is on our side, and on the way we can see in the distance various huge mountains, including Mt. St. Helens, Mt. Adams, and Mt. Jefferson. On Mt. Hood we visit the iconic Timberline Lodge, which is packed with skiers, snowboarders, and of course, a wedding party (it's Saturday). The bride and groom are freezing as they pose for photos outdoors. It's been a great day, and given the heavy cloud cover for the previous few days, a very privileged one.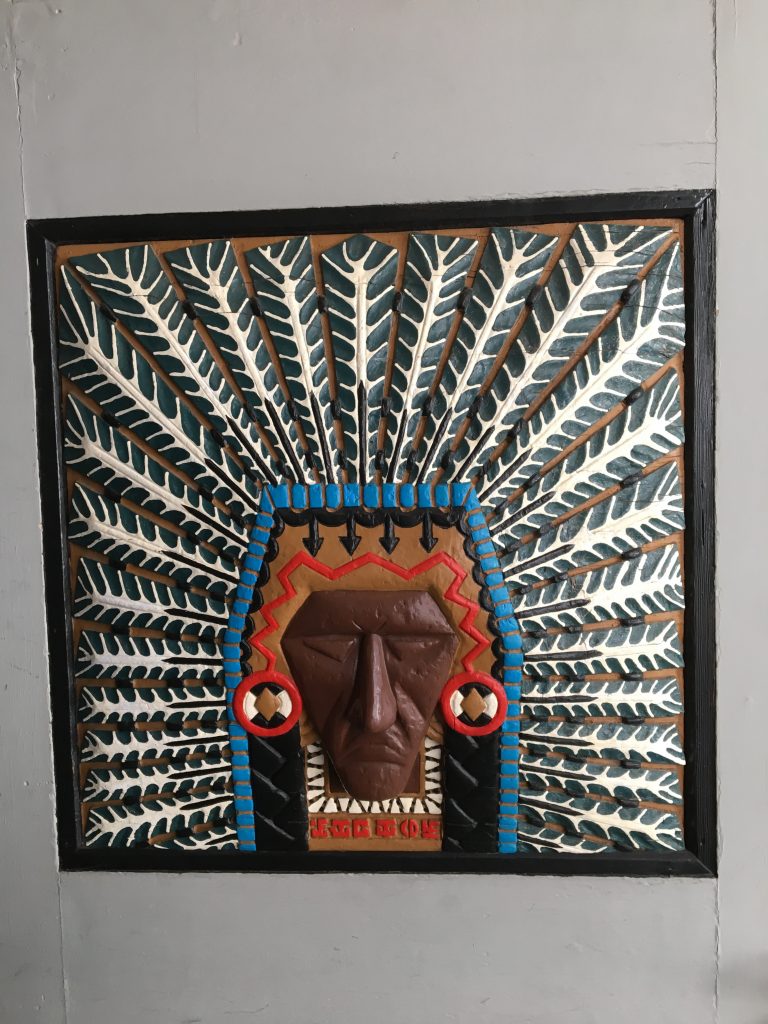 Concluding remarks on this part of the world. In many respects, it's wild frontier stuff. The landscape is beautiful: mountains, river and sea. So there is a huge proportion of the population into outdoor sports, particularly skiing and cycling. Oregonians in particular have an obsession with brewing, food, whisky, and coffee. There is even a barista university in Portland, and people will talk for hours about any of these topics, which is usually pretty boring. Of the two cities, Seattle is by some distance the more interesting. The big surprise, but maybe it shouldn't be one, is how brutal the roads and bridges are. With all this beautiful landscape, no one seems to give a shit about ploughing motorways, flyovers, bridges and so on straight through it. It's heartbreaking. There is also a strong sense of looking inward here. People will moan about local taxes and some of Trump's antics, but there is almost nothing in the news about the wider world – unless of course it is Russia or Korea and affects the US directly. So the blend, if it suits, is not to expect much of the cities but to head out to the wilds as fast as possible, with a purpose.