CHILE 2019/2020
Atacama
It's 7,500 miles to Santiago and takes nearly 15 hours, so go for the highest grade seat you can afford. The foothills of the Andes await when you wake up and begin your descent as far out as the salt lakes of Bolivia. Chile's capital is pretty much unrecognizable from my last visit here 20 years ago. A network of motorways and tunnels plough through any mountain in sight, and 30 minutes later we are installed at the Cumbres Vitacura Hotel, a skyscraper in a posh part of town nestled against the Andes.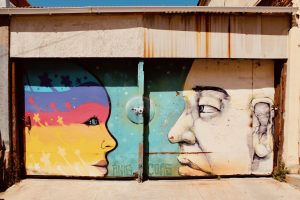 After an adjustment afternoon, we drive for 90 minutes to the Pacific coast. Here the city of Valparaiso is worth a look. It is extremely steep and dominated by street art of a colourful and mixed nature. Funiculars, sometimes a hundred years old, take you up and down the network of hills to give impressive views over the huge harbour. Its neighbouring city is less interesting. Vina del Mar is like many other tourist towns, full of beachfront condos. Perfectly nice, but formulaic. It also includes a totally baffling clock made out of a flower bed.
The next day is a brutal 4am start to fly to Calama, about 120km from San Pedro de Atacama, in the famous desert of the same name. It's a desolate landscape but with good roads, and we arrive 1.25 hours later at the appropriately named Hotel Desertica. We are now over 2,000 metres above sea level. When Darwin visited the Atacama in 1832, he marveled that the sun ever shone on "so useless" a place, but it has a rugged, remote beauty. It's the driest region on earth, with some parts having had no rain for 400 years.
Tourists started coming here when the Pinochet dictatorship ended in 1990. The salty air can leave you parched, and altitude sickness is always a threat. San Pedro de Atacama was founded by the Spaniards in 1540, and is a low-slung affair populated mainly by travel agencies, sandboarders and hippies. Don't expect haute cuisine – the best you'll get is café style pizza, pasta and enchiladas. At the Plaza Hostel there will probably be a one-man band playing, and you can stare at the crumbling Hispanic architecture and the church. This building has burnt down on numerous occasions, collapsed during earthquakes, and has even been subject to two arson attacks in the last 15 years. The gates made of cactus are worth a look, particularly because it is now illegal to cut cactus at all. This is perhaps not surprising, since around here they only grow 1cm a year, and it takes 100 years for the second sprout to develop. So anything looking approximately like a cock and balls is over 200 years old.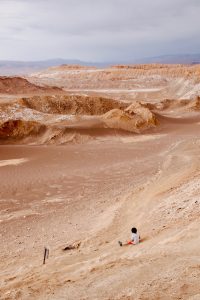 The person who most recently restored the church is the Belgian cleric Gustavo Le Paige, who has influenced almost everything round here. It was he that wanted to attract more tourism to the area, so he invented the names Valley of the Moon and Valley of Mars. They are both very different. Mars is indeed somewhat otherworldly, including reddish structures and a large dune, but it only takes a few minutes to take it in. Valle de la Luna is worth a late afternoon guided trip. It includes gypsum pillars, dramatic salt flats, large dunes and great views if you can be bothered to walk up and see them. Think Grand Canyon with a few twists. Monsieur Le Paige also put his name on the archaeology museum, which is small but packed with local Atacamanian artefacts, and it fills in the history of how it has been possible to live here. All of this is worth soaking up, along with the dramatic sunsets, but beware crowding in Moon Valley.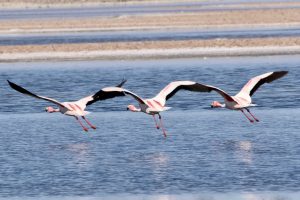 The next day it's time to head out to a series of lakes. We start at Toconao, a small frontier town with the by-now obligatory Spanish bell tower and a couple of large cacti in the town square. There is always an artisanal shop, and this one has a couple of llama out back. We then head down to the Salar de Atacama, a massive salt lake area. In the top right is the beautiful Laguna Chaxa, where flamingoes potter about sifting for the tiny crustaceans that provide their livelihood. A few other species are present – avocets, sandpipers, and one or two brave lizards. It's blisteringly hot and smells of sulphur.
Then we are off to Socaire, a small town much higher up in the Reserva Nacional Los Flamencos. We climb to a chunky 4,700m, so we are now up at around 10,000 feet. The air is thin here and it takes extra effort to wander around. The star attractions up here are the Miscanti and Miniques lagoons. A volcanic eruption spilt what was once one lake into two. Flanked by dramatic peaks, they are glacial blue with white salt edging. A few vicuna (small llama-like camelids) wander about, along with a few birds. There are foxes around apparently, but we don't see any. Then it's back to Socaire for lunch, an obligatory look at the church, and back to San Pedro. On the way back we stop briefly on the Tropic of Capricorn line, and there is a bit of blurb and pointing at various antennae and telescope installations – little of which was understandable. Something about analyzing gases in black holes apparently.
San Pedro is a perfectly charming base from which to explore the Atacama. Strangely, it is in many respects not as frontier like as one might expect. It's actually a highly oiled tourist machine. We check out of the excellent Desertica hotel and head back to Calama. This is the copper mining town that runs Chuquicamata, the biggest open cast copper mine in the world. It runs non-stop, and any drop in production causes the world markets to twitch. Meanwhile, it effectively pays for Chile's entire education and healthcare system.
Lake district
We fly back to Santiago for a quick overnight pit stop, once again with superb window viewing of the Atacama and the Andes. Then we fly down to Temuco, on the northern end of the Lake District. With a hire car we can now explore this brilliant area of lakes and volcanoes. It's a beautiful drive down to Lake Villarica, to stay at the idyllic Hotel Antumalal overlooking the shoreline. This has a verdant, sloped structure in amongst the woods, with manicured gardens full of the local ibis they call bandurria. Various watercraft drift or thunder across the lake in readiness for New Year's Eve. And all the while behind us there is a massive snowcapped volcano.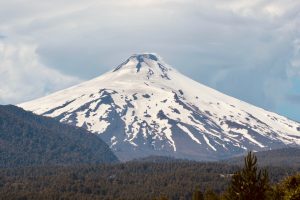 The following day we drive out to explore it. Volcan Villarica is 2840m high, in a classic conical shape. We drive through Pucon towards Caburgua, staring at the lake of the same name. There are some views from town level, but the best ones are high in the Huerquehue National Park (pronounced Where-kay-way). After 8 km of dirt track, it looks monumental from up here. It's a great drive with endless vistas, alpine pasture, beautiful meadows and lush greenery everywhere.
The next day we have the longest drive from the top to the bottom of the lake district. First from Pucon back to Villarica, then down to Lican Ray on Lago Calafquen, then to Panguipilli on the lake of the same name. These are nice roads with more alpine daisy meadows. Then through Nancul and Malihue to Los Lagos, where we join the Route 5 south. This speeds us through Osorno and Purranque down to Puerto Varas, where we check in to the delightful Casa Molino. This is situated on the Southwestern corner of Lago Llanquihue, facing the massive Volcan Orsano, which is 2650m high, conical and perfectly snowcapped. You could sit here all day watching the cormorants, ibis, swallows and hawks mucking about.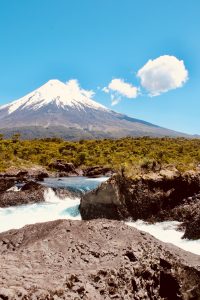 The day after it's a misty start that soon burns off. We drive along the southern shore to the Vicente Perez Rosales National Park, stopping off at the impressive but crowded Saltos (falls) del Petrohue, and arriving at the Lago Todos Santos. We are ravaged by huge black bees but survive long enough for a series of stunning views of the holy trinity: falls, lake and volcano. We polish the day off with a fine lunch in Puerto Varas at the Ibis restaurant on the southern lakeshore in front of the towering volcano. Returning to our hotel, it becomes apparent on closer examination that you can see seven of them here in one view.
Up the western shore of this enormous lake is Frutillar, named the prettiest town on it. It is unbearably twee and pretty boring, populated only by men selling plastic buckets and rubber rings, and an endless stream of shops selling artisanal twaddle. The ever-present Volcan Orsano remains beautiful on the opposite shore, but you might otherwise be in Eastbourne. The drive there and back is, however, delightful, like most of the countryside in the lake district. Returning to Casa Molino remains a delight, with cormorants perched on their favourite rock, while lapwings, ibis and caracara forage around on the extensive lawns. Walking down to the black/brown volcanic beach gives a low level view of this stunning lake and volcanoes. Highly recommended, and now we are off to Puerto Montt, for a flight to the end of the world.
Tierra del Fuego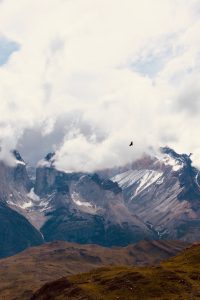 Punta Arenas is the gateway to Tierra del Fuego, and our ultimate southern destination, the Torres del Paine National Park. Tierra del Fuego (land of fire) was originally named Land of Smoke after local smoke signals, but a member of the Portuguese royalty didn't think that sounded dramatic enough, so they renamed it. We check in to the boutique hotel La Yegua Loca (The Mad Mare) which is fittingly adorned with all things horse related, plus anything to do with frontier activities. The place is full of stoves, blacksmiths material and other paraphernalia re-purposed as dining tables, sinks and so on. It's pleasantly eccentric, along with the heating and plumbing. A stroll into the main square the following morning yields…nothing. It's a port, a seafront, and all a bit of a mess. Never mind, we are after all at the Fundo del Mundo. We head out on our 4-and-a-half hour drive to the Torres del Paine National Park. It's charming. Vast. There are endless fields full of sheep and horses. Gaucho stations. Lakes with flamingoes. Rhea – small flightless birds similar to ostriches. The odd condor or eagle mills about. The landscape becomes more and more mountainous, and eventually we are installed opposite the Torres and Cuernos (horns) in the Patagonia Camp. It's moved on since I was last here 20 years ago, but remains unspoiled.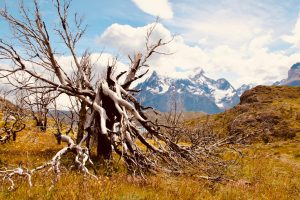 The weather is unpredictable round here, but we are blessed with a superb day – enough sun, not too much wind, and no rain. We kick off by driving an hour from Lake Toro to Salto Grande, a decent waterfall between Pehoe and Nordernskjold Lakes. A forty-minute hike takes us up to a viewpoint in front of the three horns. It's beautiful but lost on the teenagers who are buried in their mobiles despite being in one of the most beautiful places on earth. Back down for a snack at the Pehoe campsite and then we ascend the Mirador del Condor for more stunning views. Appropriately, a condor launches from its nest when we reach the top. Tragically, this also gives a view of the immense damage to 40,000 hectares caused when an Israeli started a fire and decimated huge tracts of woodland. On the way back we drop in briefly to the Explora hotel where I stayed 20 years ago, and glance at the small waterfall behind it – Salto Chico. The next day it's raining so we wait until the afternoon before hiking up to the Cascada del Toro waterfall. It's through lovely woodland and we have fun observing a pair of red-headed woodpeckers. The following day it's back to Punta Arenas for a return flight to Santiago.
Returning to the Cumbres Hotel in the Vitacura district gives us a chance to have a rooftop sunset dinner and reflect on the trip. Our rank order of the three areas is: 1. Lake district. 2. Torres del Paine. 3. Atacama. Driving around the lakes was dream – perfect volcanoes over picturesque lakes, good roads, beautiful alpine pastures, good food and places to stay. Torres del Paine is fantastically dramatic. You need good luck with the weather which is highly changeable, and there is an inherent assumption in lodges that you will be frantically keen to hike everywhere for 12 hours a day, so if you don't fancy that then you need to be firm with the organizers. Strangely perhaps, the Atacama gets the lowest ranking. We expected it to be more frontier-like, but instead found that San Pedro de Atacama was a teeming hub of travellers where every second building was a hostel or travel agent. It's on the go constantly, more like an international airport. Beautiful landscape, but somewhat overrun.
Overall, Chile is fantastic. It is the longest, thinnest country in the world, with a huge range of diverse landscapes – desert, mountains, coast, wineries – the lot. Roads are good and flights run on time. Everything works, and the food has improved significantly over the last 20 years. With a smattering of Spanish and some lively sign language it's easy to navigate your way around. Highly recommended: 9 out 10.