NEW ORLEANS MAY 2019
About ten hours flying will get you to Louisiana flying over Ireland and Canada. The replacement for the Louis Armstrong international airport is due to be opened in 2019. A 30-minute cab ride for $36 sees us safely installed in the French Quarter at La Galerie Hotel on Decatur St. After a couple of pints of Abita Amber Ale and some blackened alligator tails at next door's Coterie Nola, we retire for the night. Nola is the common abbreviation here for New Orleans, also known as the Crescent City due to the shape of the bend in the Mississippi river on which it is situated, over 100 miles from the Gulf Coast.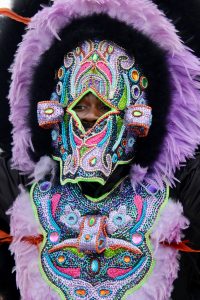 The first three days of this trip are dedicated to the New Orleans Jazzfest, an annual event held over two weeks at the Fairgrounds Race Track, a 15-minute bus ride up Canal Street and off Esplanade Avenue. There are hundreds of bands on offer, on a range of stages and in various tents. Among others we catch Mardi Gras Indian bands such as the Comanche Hunters and the brilliantly named Big Chief Kevin Goodman and the Flaming Arrows. Marcia Ball and Diana Ross are highlights of day two, with day three offering Cyril Neville's Swamp Funk, Little Freddie King, Buddy Guy, Little Feat, Irma Thomas, Chaka Khan, and John Fogerty of Creedence Clearwater Revival fame.
More on flyings.com:
After all that activity it's time for a change of pace. We move hotels to the Dauphine on Dauphine Street, a short walk a few blocks away and still in the French Quarter. This part of town has a lot of character and is very noisy – all night. Bourbon St is now overly commercialized and pretty sordid, but there is calm and charm to be found just one or two blocks from in it in any direction. Decent places to eat or drink include the Nola restaurant on St. Louis St, the Backspace Bar on Chartres, and the Coterie oyster bar on Decatur.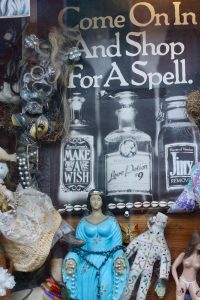 The voodoo museum on Dumaine St is a tiny house that provides a fascinating history of the topic, explaining its origins in West Africa and progress via Haiti to here, along with its fusion with Catholicism to keep it alive. Further wanderings in this part of town will bring you to Jackson Square, home of the St. Louis Cathedral, and pleasant views of the mighty Mississippi river along the promenade they call the Moonwalk. Finish up with a beer or meal at Jax, the Jackson Brewery, which has a decent restaurant called Landry's. Wash it down with Dixie Voodoo or Nola Lager.
The weather here is highly variable – 30 degrees sunshine one minute, and then massive thunderstorms when it tips down. Next day we take the streetcar right across town to Audubon Park. This is the St. Charles Avenue route, after which Tennessee Williams named A Streetcar Named Desire. It travels through the central business district, the affluent garden district, then on to the university district, eventually arriving at a beautiful park. This is a charming thing to do, especially if you stroll through the park and take in the Audubon Zoo, named after a local naturalist. We round off the day with a decent meal in the courtyard of Bayona next to our hotel.
Another activity worth a look is to take a trip on the Steamboat Natchez, to provide a view of the city from the water. It's a bit cheesy but on balance worth it. The launching serenade from a calliope machine on deck is however excruciating. These steam-driven pipe organs make a shrill racket that makes a five year old practicing the recorder sound tuneful. The Mississippi is the world's third biggest river after the Amazon and the Nile, and we learn a lot on the way about factories, levees, water flow, ships heading upstream, and so on.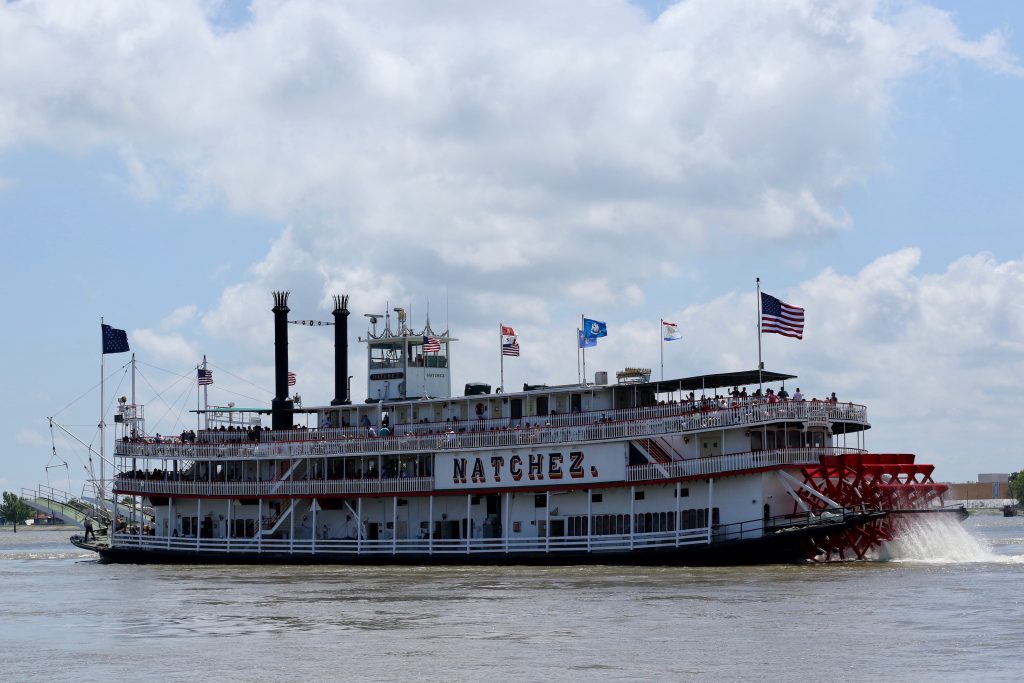 The next day we head out of town to visit Oak Alley Plantation, which gives a good opportunity to complete the journey of slavery from the Gold Coast we witnessed in Ghana at the beginning of the year. There is a large owner's house and an informative 30-minuite tour of it, with various outhouses showing living conditions. Beware though, unless you are interested in this topic, this is rather like a Women's Institute outing.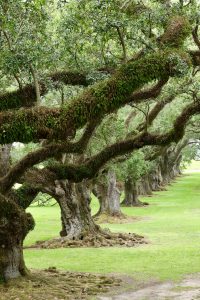 In the afternoon we head south-east for a swamp trip on a propeller-driven airboat, encountering a range of alligators and other wildlife on the way. It is in a National Park, but as ever in the USA, the whole thing has been brutalized by construction, river traffic, gas pipelines, pylons and more. On top of all that, the airboats are phenomenally noisy, which scares most of the wildlife away. We return to town in a large downpour and have dinner at GW Fins. This is not as good as it should be and pretty much sums up the formula in New Orleans – lots of hype and shouting, fast but unsubtle service, high prices and average food. There's volume here in every dimension, but not much refinement.
There's a decent venue called Kingfish on Chartres St where you can sit up at the bar and shoot the shit with somewhat pissed couples from Memphis, or have a proper meal in the restaurant. For a serene environment more like a colonial outpost, The Pelican Club offers the closest you will get to fine dining – nicely balanced gumbo, whole fish, rack of lamb, and excellent wine. The food part is, as ever, really fast. The Audubon Aquarium down the riverbank at the base of Canal St is also good, with amusing sea otters, lively rays, sharks, and a full selection of chunky fish from the Amazon and the Gulf Coast.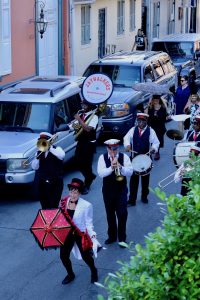 There is plenty to occupy the mind in and around New Orleans. Strip out our music activities and you could easily spend 4-5 nights. On the plus side, there is full throttle service and hospitality, endless colonial history combined with the whole slavery story, some wildlife in the swamps, the enormous river, and plenty of culture and atmosphere. On the minus side, the speedy service culture is overbearing, and capable of ruining any meal. The amount of shouting and sheer volume of noise is relentless, particularly in the French Quarter, where earplugs are vital. Many people are so unaware of their actions that they are effectively antisocial, without necessarily realizing it. A large number of the population seemed to be permanently spaced out, which may actually be true given the permanent smell of ganja everywhere.
The landscape has been steamrollered to make way for highways, iron bridges, car parks, shopping malls and fast food outlets. The whole thing is full on, all the time. Were it possible (which it isn't) to investigate the culture and what's left of the environment here without interruption, you might give New Orleans a 7 out of 10. But with non-stop racket and intrusion, sadly Nola rates a five, and a pretty expensive one.