MONGOLIA OCTOBER 2018
It's a brisk 2-hour flight from Beijing to Mongolia, flying north-west over the Great Wall, with snow-covered mountains giving way to endless bleak plains. Ulaanbaatar looms out of the desert as a smoky, stark collection of buildings and factories. About half of Mongolia's 3 million population live here. The city is something of an unplanned mess, and it takes an hour through heavy traffic and past a series of brutal soviet power stations to reach the centre of town. We are staying at the Khuvsgul Lake Hotel – a high tower overlooking the enormous Genghis Khan Square. After a burger and a beer we wander over to the National Museum of Mongolia, which charts its history from the stone age through to the present day. Genghis Khan's empire had an extraordinary range, reaching as far west as Aleppo, and even attempting to invade Japan.
OLGII – EAGLE FESTIVAL
The next day we fly west to Olgii, close to the border with Russia and China, and not far from Kazakhstan. This truly is Outer Mongolia, and the views out of the plane are spectacular, with desert and steep mountains covered in snow interspersed by massive lakes. The enormous Altai Mountains flank the entire area, and this is where we begin our tour centred on the local Eagle Festival. We check in to one of only three hotels in town. It's basic but it works and it has hot water. The word is that there will be 1,000 foreigners visiting the festival but only 150 rooms. The rest have to stay in gers (pronounced 'gares') – the ubiquitous yurt accommodation in these parts. Dinner is at a local Turkish restaurant called Pamukkale, where we receive a briefing on our ten-day extravaganza.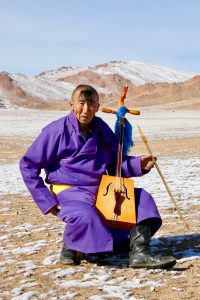 On day one we head south-east in a convoy of six SUVs, stopping for lunch at the stunning Tolbo Lake. Strangely, Tolbo means spot or stain, which it certainly isn't. The landscape is dramatic, and punctuated by hundreds of herds of sheep, goats, yak and camel. Some herders do it on motorbikes. We visit a shaman throat singer who plays a dombra – a two-stringed guitar similar to a balalaika, and makes extraordinary vocal noises. Then we visit an eagle hunter who invites us into his house and sends his son up the mountain to show us how they call eagles to hand. A three-legged cat wanders around, possibly a victim of an eagle attack. Driving on we are in a fully snow-covered landscape and arrive at our ger camp at the foot of the Sair Mountain. It's 4,000 metres high and home to ibex and snow leopard. After a somewhat bizarre yodeling and shouting ceremony around the fire by the local female shaman, we have a remarkably cozy night in sub-zero temperatures with our guides topping up the stove every few hours.
The next day we are back in Tolbo to go out together with some eagle hunters to learn how they do their thing. The eagle hunters, or berkutchi, catch their eagles in one of two ways – either scale a cliff and find a nest with a chick in it, or put an eagle on the ground next to a net with some food. Eagles then come to investigate but become trapped in the net. After agreeing on a certain mountain, the hunters ride up on their extraordinarily tough, stocky horses, and take up strategic positions on various peaks. Meanwhile beaters on foot walk about making loud noises to flush out any foxes that might be around. Once one makes a run for it, the eagles are launched. They don't always succeed, but when they do the fox is pinned to the ground. After an unsuccessful morning there were two kills in the afternoon, interspersed by a punch up between two hunters. One had annoyed the other by screaming up a hill on a motorbike and disturbing a fox. Seeing a golden eagle on a motorbike is quite something.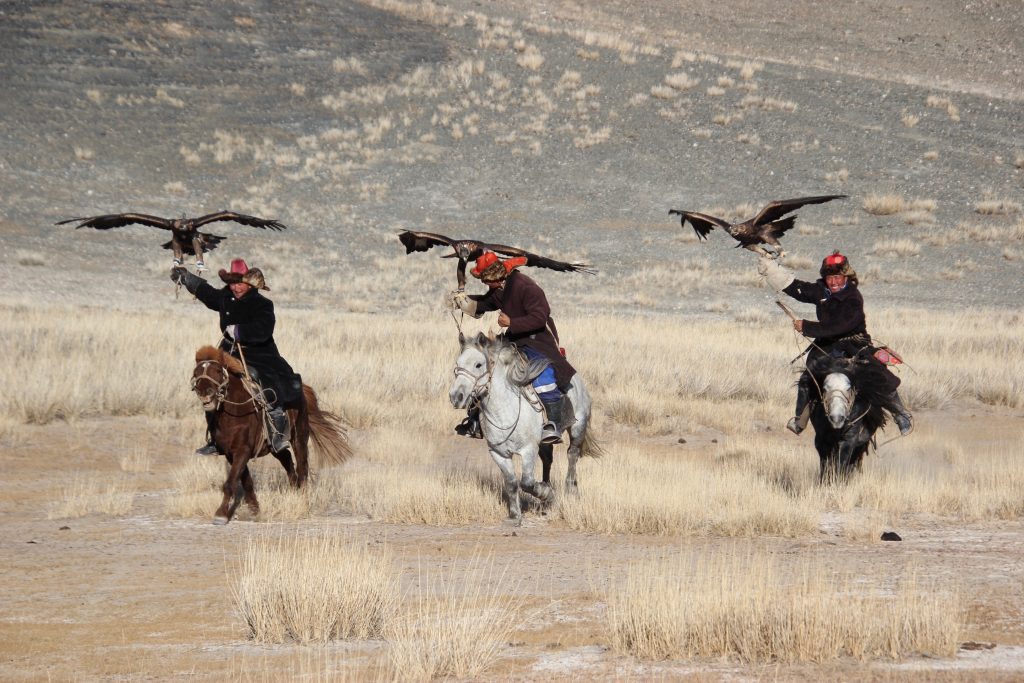 Next up is the two-day eagle festival, held at Bugat about 10km to the south east. Here is Hunter's Hill and a roped off tournament area for a range of games. First, around 100 eagle hunters attempt to get their birds to fly to their arm while on horseback, launched from the hill above. The top 25 go through to the next round the following day. Some birds ignore their owners completely, and others come straight in for the stoop. This is followed in the afternoon by a hilarious camel race, with one galloping out of the performance area completely. After some rather more sedate archery, there is an amazing demonstration of Tiyn Teru, in which riders galloping at full speed lean down to pick up a small ball on the ground. The whole spectacle is amazing, with horses and eagles everywhere all day. As for toilets, the Mongolian expression for relieving yourself is "I'm just going to check on my horse."
IN THE FOOTSTEPS OF THE EAGLE HUNTRESS
Article by Scott McLennan in the Adelaide Review. Scott was our companion on this trip.
EAGLE HUNTING VIDEOS
EAGLE HUNTER BEKEN BRINGS A GOLDEN EAGLE TO A LURE
EAGLE HUNTER IN MONGOLIA FLIES A GOLDEN EAGLE TO HAND ON HORSEBACK
EAGLE HUNTER LURES GOLDEN EAGLE
EAGLE HUNTER LURES GOLDEN EAGLE – PART 2
MONGOLIAN EAGLE FESTIVAL: GOLDEN EAGLE STOOPS TO LURE
MONGOLIAN EAGLE FESTIVAL: GOLDEN EAGLE FLIES TO HAND
MONGOLIAN EAGLE FESTIVAL: GOLDEN EAGLE STOOPS TO LURE
MONGOLIAN EAGLE FESTIVAL: GOLDEN EAGLE TAKES A WHILE
MONGOLIAN EAGLE FESTIVAL: GOLDEN EAGLE STOOPS TO LURE
MONGOLIAN EAGLE FESTIVAL: GOLDEN EAGLE FLIES TO LURE
GOAT TUGGING: TRADITIONAL GAME AT MONGOLIAN EAGLE FESTIVAL
Day two sees the best eagle hunters demonstrating another skill – calling their birds in by dragging a fox skin lure along the ground. There is a much higher strike rate with this, with most birds swooping down to mantle their prey. There is then a game of Kyz Kuar, in which a couple gallops along with the girl whipping the man. Apparently he is trying to kiss her, and she is not interested. The weirdest and arguably most riveting contest is called Kokbar or Bushkashi. This involves grown men trying to grab possession of a goat – a dead one. This goat tugging is no mean feat, as the riders try to retain control of their horses and grab the prize.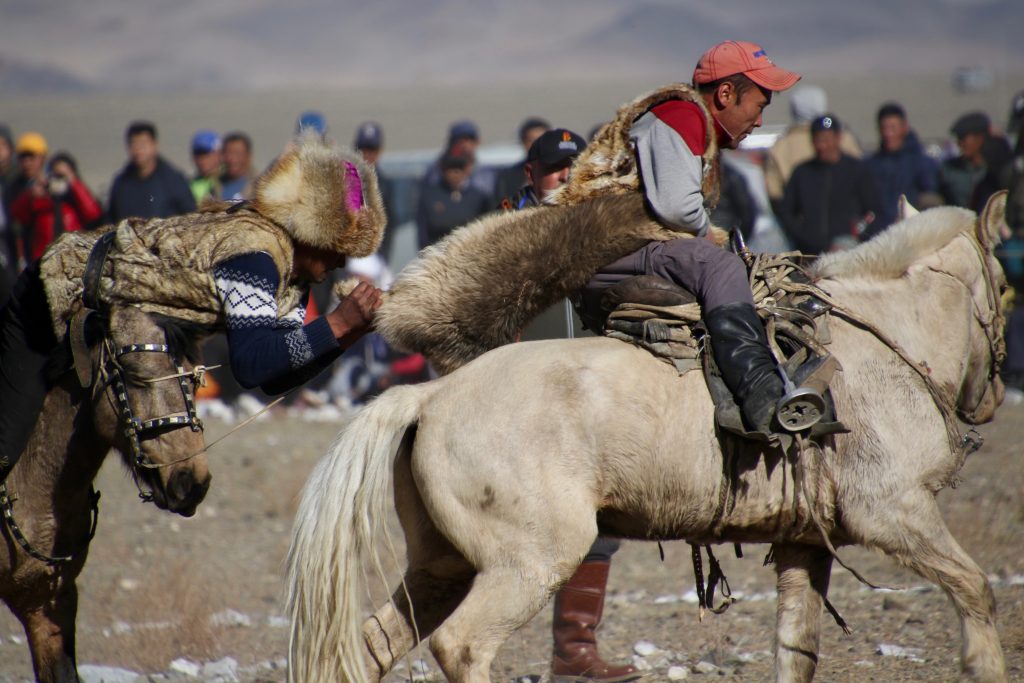 KHOVD
On the final day we head out to Khovd, pronounced with a guttural KH. This is back past Lake Tolbo on a road with large incomplete sections that require extensive offroading. Lunch is back at our mountainous ger and the scene looks very different now that all the snow has melted. Mt. Tsambagarav looms in the distance – over 12,000 feet high. We were due to meet a Mongol nomad family but perhaps unsurprisingly no one could find them. We arrived at the swanky new Steppe Hotel in Khovd and the following morning took a quick visit to the enormous Lake Khar Us – the black water lake – which is home to rare antelope, hundreds of bird species, and more mountainous terrain ideal for snow leopards. Then it's off to the airport for the return trip to Ulaanbaatar, once again gawping out of the window at the seemingly endless landscape of mountains and lakes.
ULAANBAATAR
Even at 10pm the traffic in UB is congested, but after battling that we check in to the comfortable Kempinski. The next morning we head north-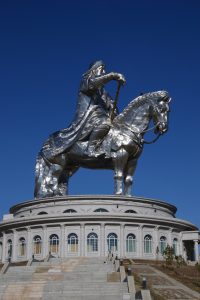 east to Tsonjin Boldog, the venue for an enormous 40 metre statue of Chinggis Khan. There's a decent museum inside telling the story of Mongol history, and a cramped elevator and narrow stairs allow you up to the viewing platform on the horse's head. Impressive stuff. Then it's on to Terelj National Park with a pleasant rocky landscape, many of which are named for their distinctive shapes. Turtle Rock is worth a look but clearly touristy and surrounded by people offering camel rides and the chance to hold a golden eagle. Arguably of more interest is the Aryabal Meditation Centre, a Buddhist temple at the head of the valley. We are fortunate to be here in the off season so there is no one around. At this point it is a peaceful place. The steep path up to it is adorned with the sayings of the Buddha, many of them involving strange and sometimes hilarious references to turtles, dogs, death, and the afterlife. The inside is well persevered and ornately decorated. The commercial visitor centre and child's playground suggest it could be quite a circus in the summer. Finally we head back to the south of UB to climb Zaizan Hill. Here there is an imposing soviet memorial to their cooperation with Mongolia in the second world war. It's well worth the climb. Hilariously, our 25-year old guide refers to it as "the war when Russia defeated the Germans." She has no working knowledge of WW2 or the involvement of the UK, USA or any other nation, which gives an indication of how education and propaganda work. Then it's back to the UK via Beijing.
CONCLUDING REMARKS
Concluding remarks on Mongolia: 10 out of 10. Transport and infrastructure work pretty well, especially where Chinese efficiency is involved. New roads are being built, and planes fly on time, although their scheduling is subject to change at short notice. New hotels are springing up everywhere. UB traffic is a mess, but that can be worked around. The culture is fascinating, with an intriguing mix of Chinese, Korean, Russian, Mongol, Kazakh, and more. The landscape is breathtaking, from the Gobi desert to the Altai Mountains – it's a huge amount of space punctuated by dramatic views. The arrangements on our tour to see the eagles and more were immaculate (kazakhtour.com). So the only caveats come with the visitor's attitude. You need a certain sense of adventure; an open mind about history and cultural differences; a practical sense of humour when it comes to some toilet arrangements; a relaxed approach to food which in the main is excellent but does become somewhat repetitive when mutton and potatoes come round again (vegetarians need to think carefully). But with a bit of latitude on a few of these points, anyone with an interest in nature, culture and the great outdoors will have a great time in Mongolia.