JAPAN MAY 2017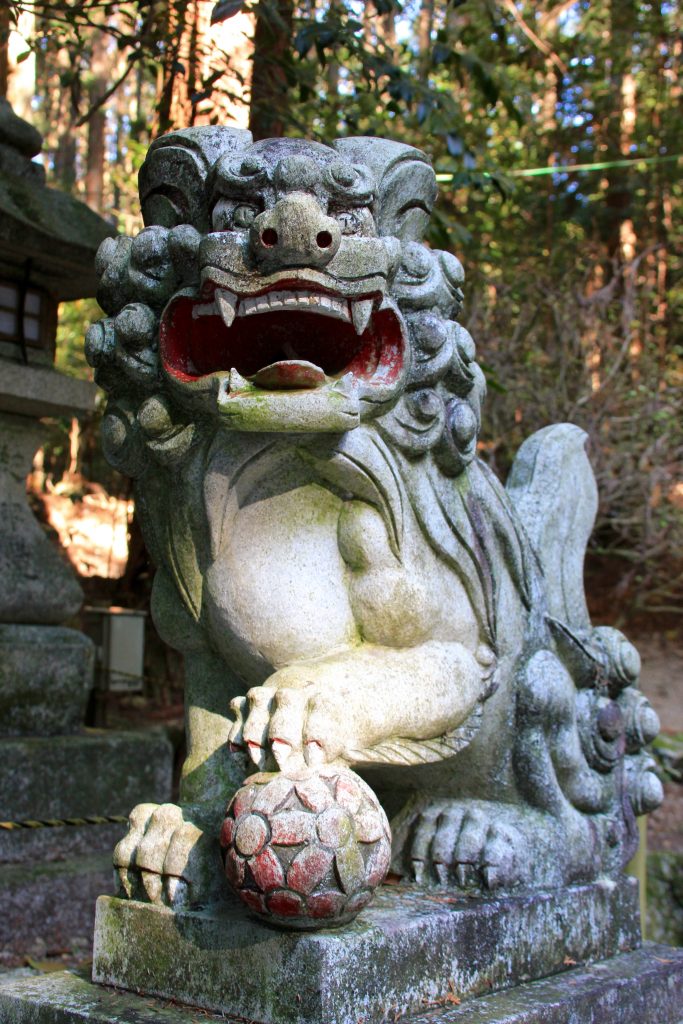 It's an 11-hour flight to Tokyo, flying over Finland and the top of Russia. Everything works immaculately in Japan, and after an efficient immigration system, complete with biometric fingerprint test, we are whisked off to the Park Hotel, high up on the 30th floor overlooking the Rainbow Bridge. There is a tradition here of sending your bags on ahead, so the next day our luggage heads off to Hakone, a mountainous area around Mount Fuji.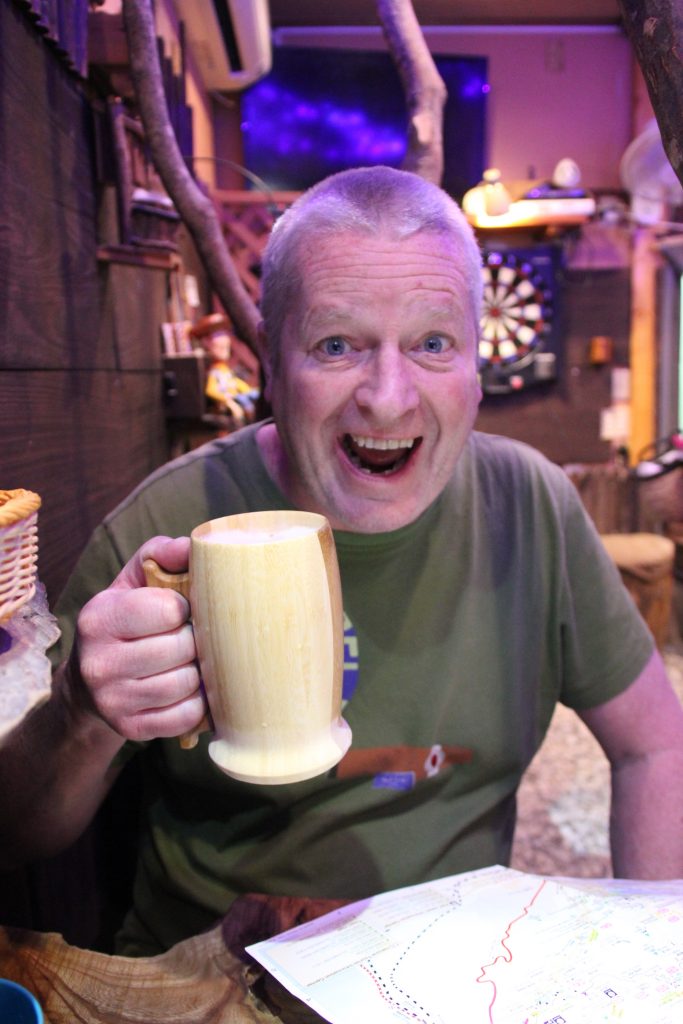 Hakone sounds idyllic but it's a bit of a scrum to get there. First we negotiate Tokyo station and find the shinkansen (bullet train) for Odawara. The trains are sleek and fast, but the scenery is a bit of a disaster – massively built up all the way. Then there's a change onto the Tozan line to Hakone. Then on the mountain train to Gora. Here there is an excellent art museum with lots of intriguing statues and a large collection of Picasso's works. We then walk to the funicular which leads to the cable car (or "ropeway", which doesn't sound quite so sturdy somehow), which carries you over the Great Boiling Valley – a series of bubbling sulphur fumaroles – and over to views of Lake Ashi below. On a clear day Mt. Fuji would be visible from here, but not today. A bit knackered, we then took a 6,000 yen (£40) taxi to our riyokan Yama no Chaya near Hakone.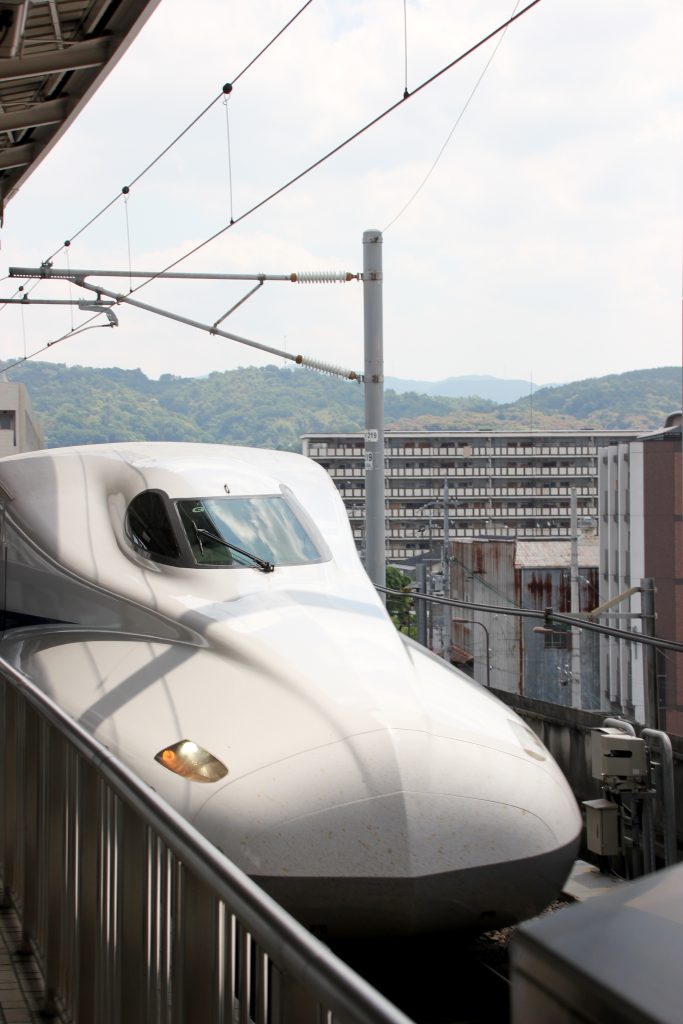 A riyokan is a form of homestay or bed and breakfast. There are some common themes, but a lot of variety. Take your shoes off and don a kimono. Wear indoor slippers everywhere. Your bed is a futon on the floor. This one has hot onsen baths (fuelled by volcanic water) to soak in, which involves a full ritual of showering first sitting on a stool, and then soaking in ball-breakingly hot water for as long as you can stand it. Dinner is served in your room at a table six inches high with you seated on a chair with no legs. Then a butler enters the room on their knees and proceeds to serve eight courses of perversely combined dishes. These include raw sea urchin, octopus, every kind of raw fish imaginable, lethal pickled vegetables, glutinous sauces, and an all-pervasive fishy bonito stock. Apart from a bit of rice and the odd vegetable, it was all pretty revolting.
The following day we return to the lake to take a trip on a rather tacky faux pirate ship, and then visit the well presented Checkpoint museum in which we learn about ancient samurai approaches and the manner in which early trade routes were policed. A quick glance at the Avenue of Cedar Trees is pleasant, and that's about it. Despite all the hype, this area isn't very exciting. The views are average around the lake, and the only thing that would make it worth the trip would be a clear view of Mt. Fuji. Avoid if short of time.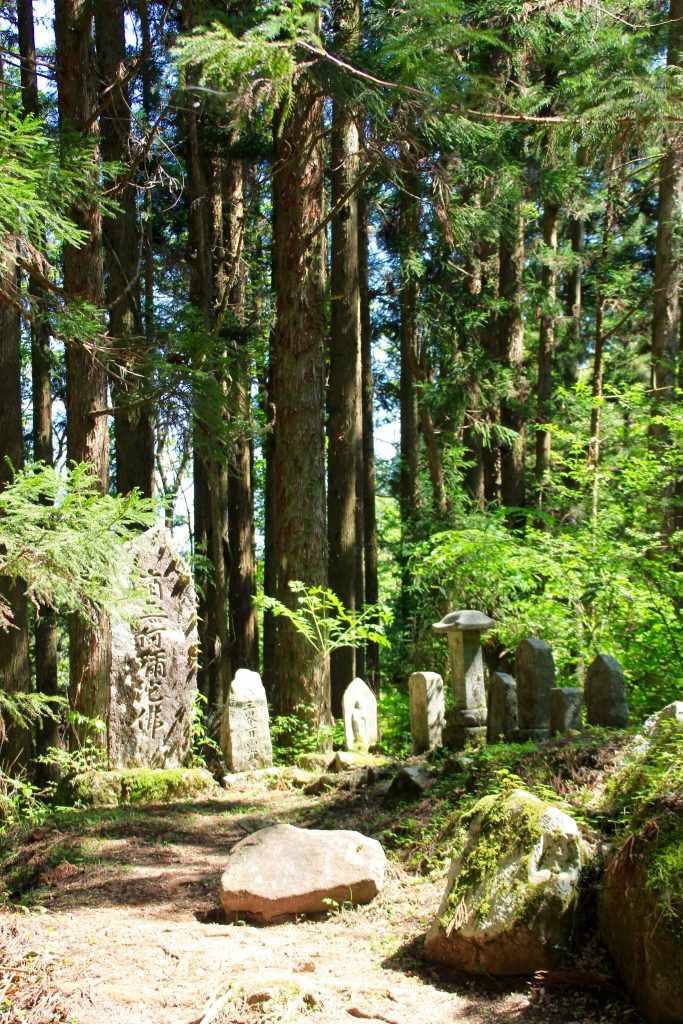 Next up, we are heading to the Kiso valley to walk along the Nakasendo Highway. The luggage is sent ahead to Kyoto, and we will be living out of a backpack for two nights. First, a bus to Hakone-Yumoto for the train back to Odawara. Then the shinkansen to Nagoya. Then the local train north to Nakatsugawa. Then a taxi into the hills to arrive in Magome. This was the ancient 'highway' from Edo (present day Tokyo) to Kyoto with a series of interlinked postal towns. It's picture book stuff, high in the hills, with a mix of rolling paddy fields, old wooden houses, twee gardens, water wheels, and quaint shops. After a charming afternoon stroll we sit down for a much better riyokan meal at Tajimaya, complete with the host singing some ancient song.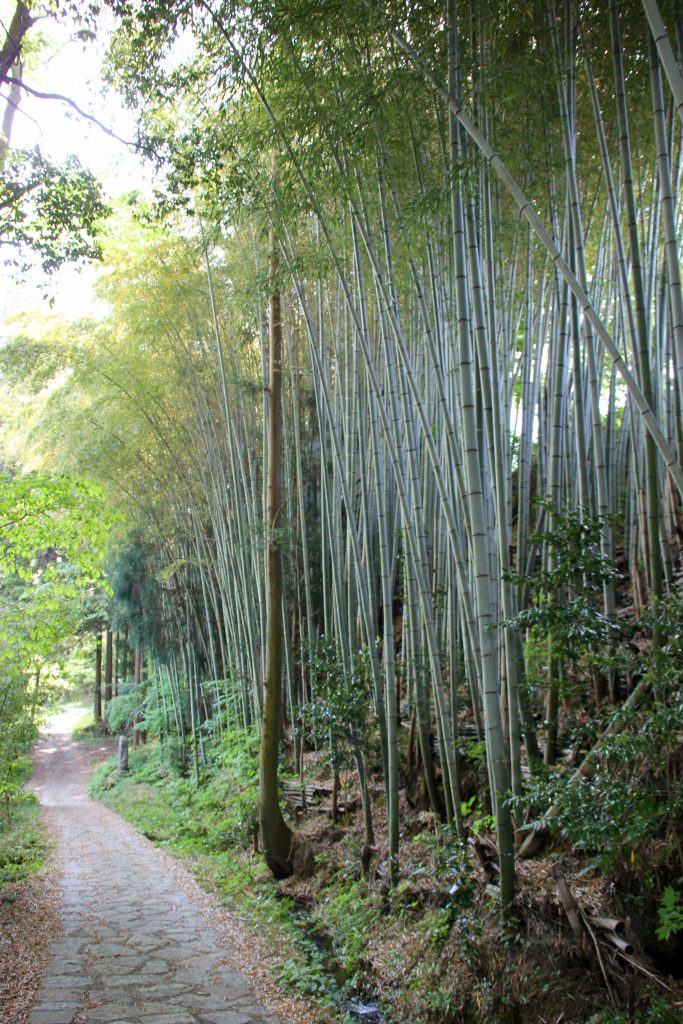 The following day we hike 10km over three-and-a-half hours through beautiful woodland to Tsumago. We stop at a nice waterfall on the way where a Japanese lady is taking selfies of herself and a coiffured dog. Unusual? Not in Japan. Tsumago is another beautiful town. It's a Saturday, and the local visitors are out in force eating ice cream. The riyokan Fujioto is lovely, with a carp pond in the centre. We grab a soba noodle lunch before looking around the Honjin and Waki Honjin – the ancient house and museum explaining the lives of the feudal lords who lived here. Dinner is excellent and beautifully explained, including baby wasp larvae, which don't taste as bad as they sound. 6.30am heralds a rather brutal wake-up call in the form of Butlins-style music blaring out over the tannoy, so we are on our way early to Nagiso station, via Nakatsugawa and Nagoya before arriving in Kyoto by midday.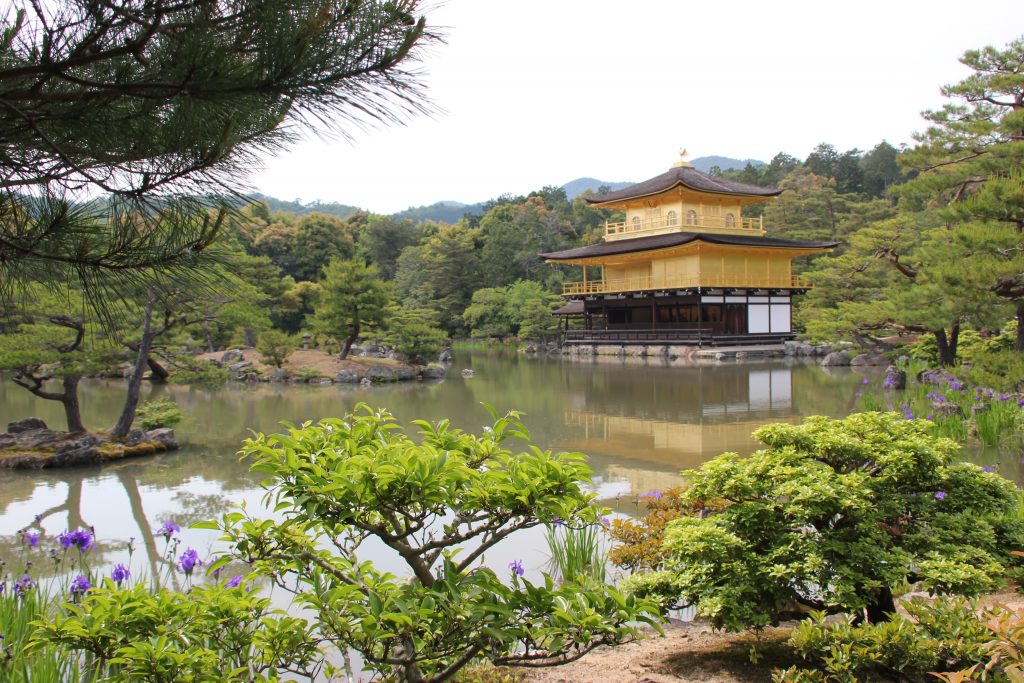 Kyoto is a former capital of Japan, and regarded as its cultural centre. It has a population of 1.4m but attracts a staggering 50m tourists a year. It is school trip season, and there are thousands of children everywhere. On first impressions, the concrete and bustle make it similar to Las Vegas. We drop our bags at the New Miyako Hotel and take the train north west to visit the Kinkaku-ji, more commonly known as the Golden Pavillion. It's certainly gold, and we just about get a view of it across the lake. Next door is Ryoan-ji, the zen temple famous for its rock garden. This is a total waste of time – a patch of gravel about the size of a six-yard box with some rocks in it. In fact, it's not even a garden. Avoid at all costs. Back at the hotel there are hundreds baying in reception and we enjoy people watching at the all-you-can-eat buffet. Apparently the city is permanently booked up, so business visitors on short notice often have to stay in another town.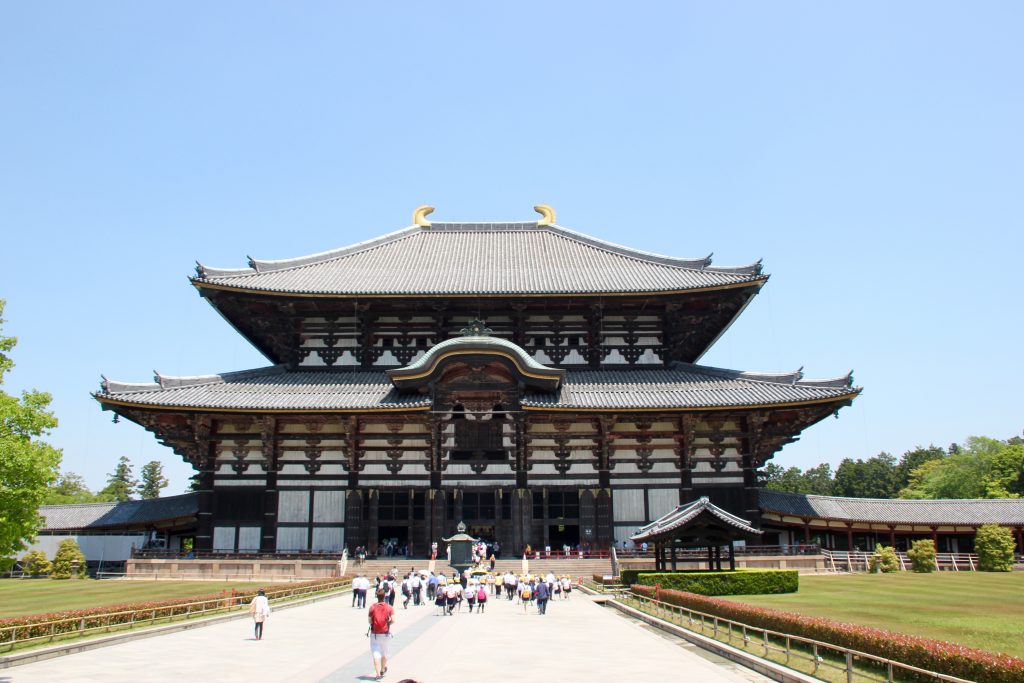 The next day is culture day and we discuss plans with our excellent guide. First we head out to Nara, another former capital and home of Todai-ji temple. The ticket diligently explains that is 159.89 feet high, and houses the world's tallest Buddah. It's extremely impressive, and is guarded by two ferocious Ni-ou, one open-mouthed, the other closed, representing the beginning and end of the alphabet – an A-Z of guardianship you might say. It's also fun to interact with the 1200 tame deer that wander free. You can feed them, but only if you buy authorized deer crackers. Nearby Kasuga Taisha shrine boasts over 3,000 lanterns lining a leafy walk through the woods.
Then it's back on the train to Fushimi Inari shrine, which has over 10,000 torii gates on a series of pathways leading up a mountain. Black calligraphy on orange gates makes dramatic viewing, so I ask our guide what the kanji say, expecting something suitably religious. It turns out they are simply the names of the businesses that bought them. Gate number one happens to be Dentsu, one of my clients, and by the end she has spotted the name of the catering company that provides her daughter's school lunches. We move on to the impressive Nijo castle in the centre of Kyoto, complete with its so-called Nightingale corridor. It squeaks when you walk on it. Theory one says it was designed to alert the shogun to intruders. Theory two says the nails squeak because it's so old. And then finally over to the Gion district in search of geisha. There are thousands of people here, but only 250 geisha left in the city. Sarah fleetingly sees two of them for a couple of seconds, and that's it.
The next day we are off on the shinkansen again, this time to Hiroshima via Shin Kobe. As usual, the scenery is all the same, pretty much built up all the way. We drop our bags at the Sheraton and get on the tram (streetcar) to pay our respects at the Atomic Bomb dome. The Peace Park across the river includes a Flame of Peace (never to be extinguished until all atomic weapons are eradicated), and a heart-rending Children's Monument. A girl suffering from radiation believed that if she completed 1,000 origami cranes she would get better. She didn't. Now cranes are sent in from all over the world. Moving stuff. The Peace Memorial Museum is excellent, and includes a reconstruction of the bomb dropping from a bird's eye view, plus hundreds of surviving artefacts, many of them melted. Suitably sobered, we return to our hotel and then walk round the corner to an unexpected Indian restaurant called Roopali, where we have a superb curry and possibly the world's largest sag naan, which at 2-foot long looks similar to a crocodile's head.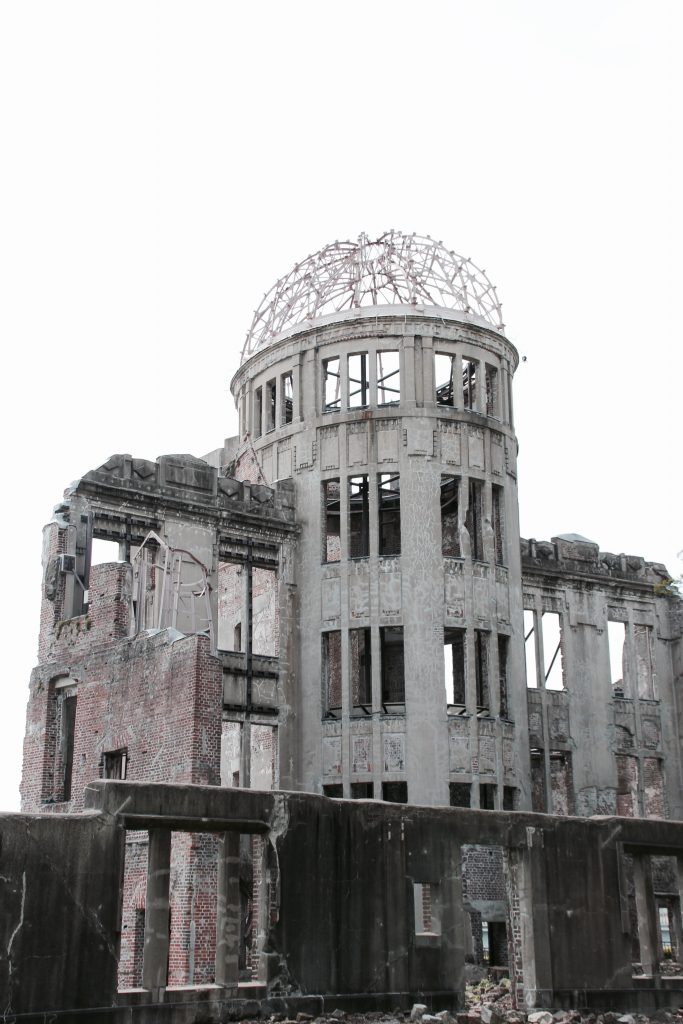 The following morning it is raining, but we head out anyway, on the train to Miyajima, an island south west of town. This claims to be one Japan's three most scenic spots, and features a large torii gate on a sand bank in the water. It's pretty rubbish to be honest. The highlight is actually the Hokoku shrine on the hill next to a five-story pagoda, which is an imposing wooden structure with some very diverse and unexpected art inside. The rest is effectively a tacky seaside town packed with gift shops. Like Lake Ashi, on a sunny day this might be better (albeit even more packed) but if in doubt don't bother. There is a lot of guff written about how the torii gate appears to float or "rise out of the water". It's nonsense: it's several orange posts stuck into a sand bank with some high-rise flats in the background. We round off the day with an interesting French-Japanese meal at Le Poet Faval – tasty but slow, it is run by a guy seemingly on his own.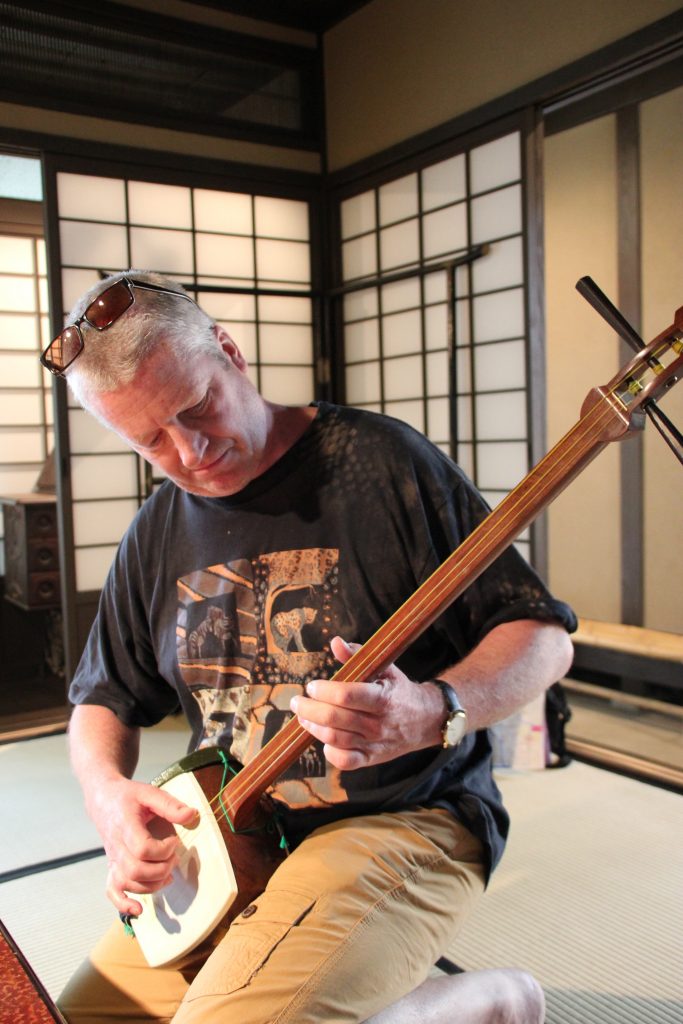 The next day it's off on the train to Fukuoka on the northern end of Kyushu, Japan's main western island. It has a nice feel and we check in to the Nikko Hotel near the station. The weather is excellent so we grab some beers in the sun after doing our cultural duty: the Asian Art Museum, which is good, and the Folk museum, which is very small but does allow me to have a crack at playing an ancient 3-stringed guitar-like instrument called a Shimasen. The strings are made of silk, it sounds like a banjo and looks like a sitar. I manage to get a few chords and riffs out it. In the evening it's down to the river for ramen noodles at one of the scruffy yatai stalls – hard to find and quite average.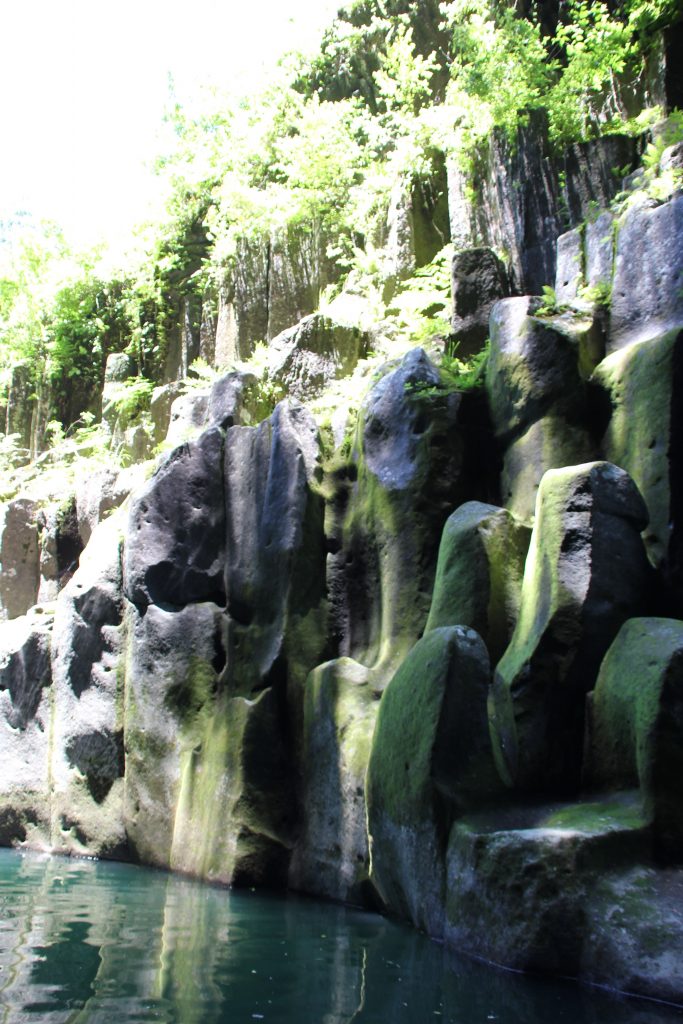 We have cocked up our car hire arrangements by failing to bring an international license, so we re-arrange and take the bus to Takachiho Gorge – 4 hours but very comfortable – and send our luggage on. After announcing our presence to the Shinsen ryokan, we take a rowing boat in the gorge, a taxi to the Amanoiwato shrine, and walk up the river to a rock cave called Amano Yasugawara. Babbling brooks, waterfalls, and very soothing. In the evening we attend a dreadful show depicting an ancient god pursuing another through the medium of dance: one hour, one beat, one note. It's called Yokagura: avoid.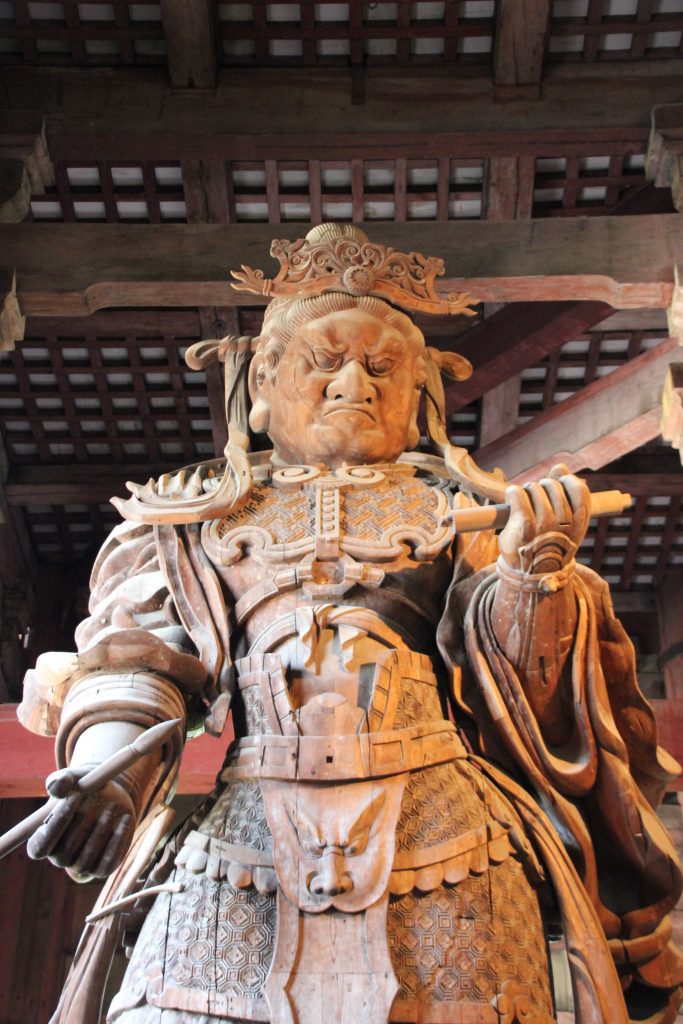 The following morning we have arranged for a driver to take us to Kumamoto via Mount Aso. It's a beautiful day and a great drive. The 25km caldera is dramatic, and at the top is a pleasing grassy plain full of pink flowers. Sadly though, the cable car has been dismantled, the museum is shut, and access to the crater is off limits. Shame. We drive on to Kumamoto, and it takes 45 minutes to get across town on a packed Saturday. At the Castle Hotel, stark evidence of the 2016 earthquake is evident, with the castle under significant repair – apparently for the next 20 years. There is an appeal and a series of heart-rending photos showing collapsed walls and buildings. The town isn't much to shout about, and many of the restaurants are pre-booked with wedding parties, but we find an excellent Italian on the next block called Pino, and dig in for pizza and pasta.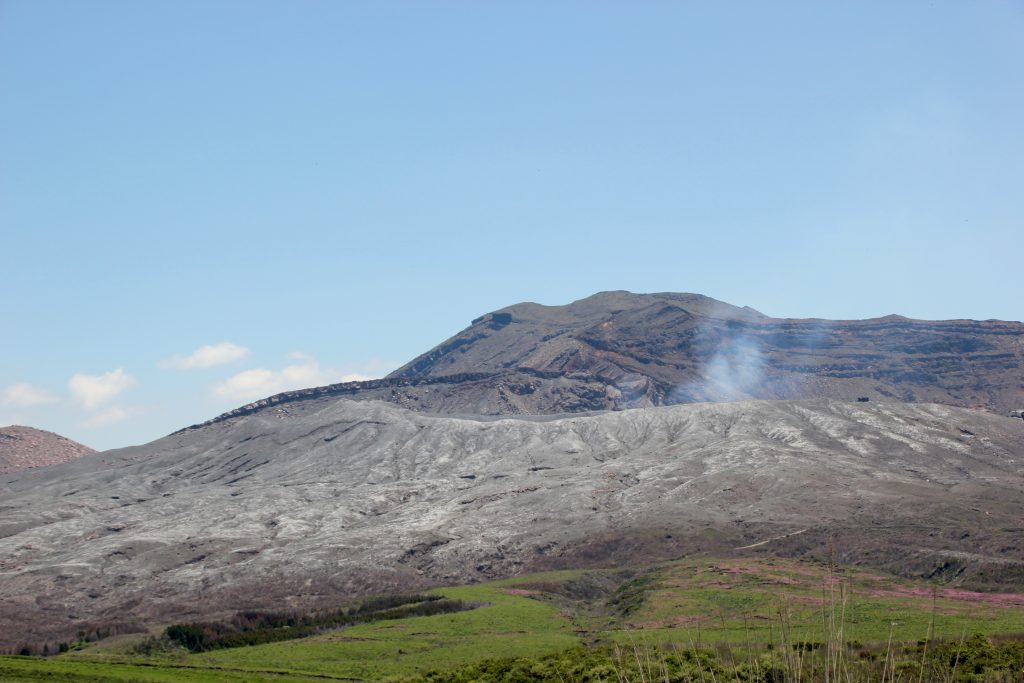 The bus to Nagasaki takes about 3.5 hours, and we check in to the rather tired and formulaic Best Western, heading straight out on the streetcar to visit the Peace Park. This features a range of impressive statues, and another informative museum. As with Hiroshima, this leaves a lot of questions. Why were atomic bombs deployed after Germany had already surrendered? Why did Churchill agree with Roosevelt to proceed? Did the Americans merely want to justify their huge investment in the Manhattan Project? Why drop a second bomb just three days after Hiroshima? To compare the effects of uranium versus plutonium? And so on. Appalling stuff.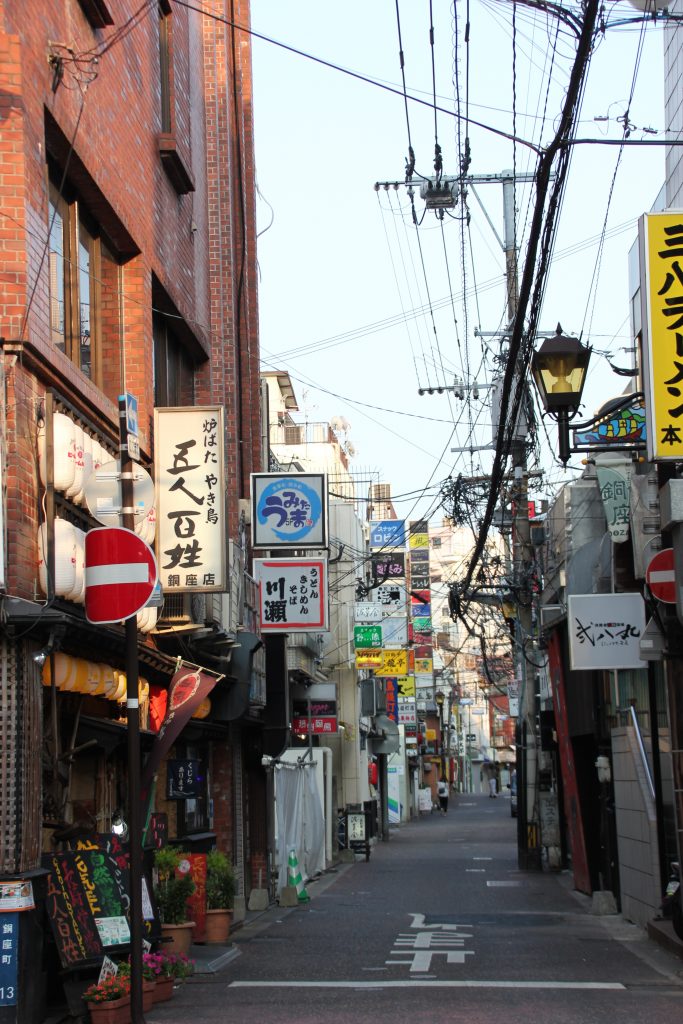 We head down to Chinatown for a beer and another Italian at a cramped bar called Sazio. The mood seems quite fun, but there's not much to see in Nagasaki. The water is seldom visible from street level and the waterfront is a busy working port. The whole thing is better viewed from the bus on the way to the airport the next day, and from the air as we head off for Tokyo on a clear bright day. The weather is a real bonus in particular as we experience spectacular views of Mount Fuji from 40,000 feet before landing at Haneda airport in the heart of the city. We are back at the Park Hotel, where we stay in an art room painted as a bathhouse, and step out to investigate the Tsukji fish market area near Ginza, rounding off with another Italian meal.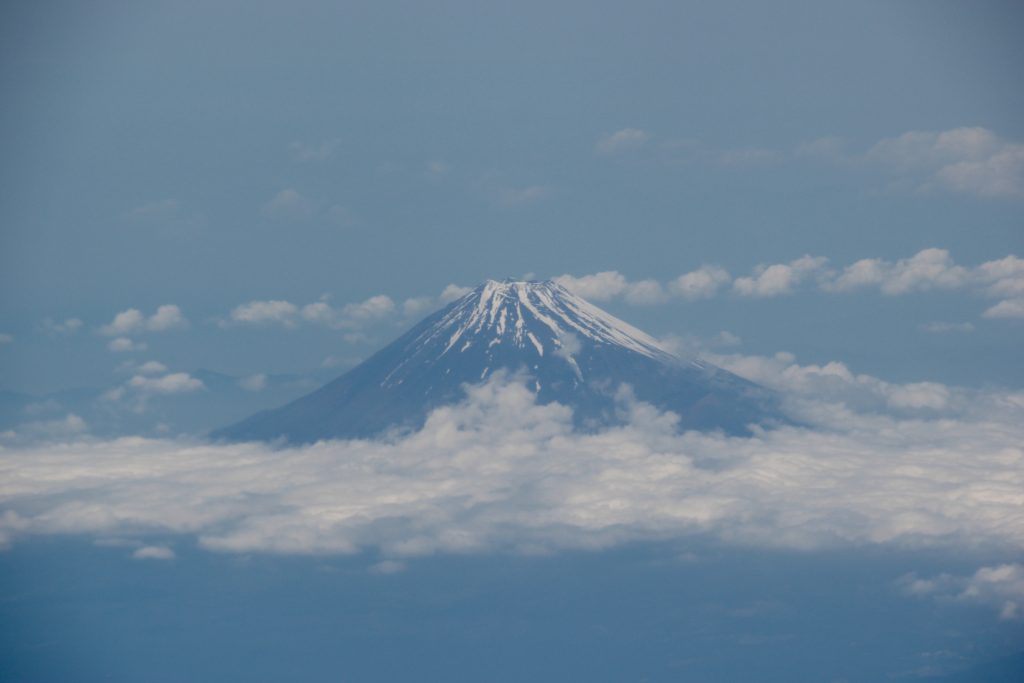 The next morning we explore the pleasant Hamarikyu Gardens before getting on the river taxi for an hour, into Tokyo Bay and up the Sumigdawa River. On this stretch there are no buildings of interest whatsoever – it's just concrete all the way. Arriving at Asakusa, the Skytree tower is relatively unremarkable, and the Senso-Ji temple is packed, so we head down pleasantly quiet backstreets to Ueno zoological park, where a giant panda sleeps on his back proudly displaying his prowess. That night we have a somewhat surreal but tasty Greek meal high in a tower block overlooking Ginza station. The next day we go to the Harajuku area to visit the Meiji Jungu temple. After a perfectly pleasant stroll up the long tree-lined avenue there's nothing to see – it's being refurbished. The nearby Omotesando Street is a nasty shopping centre akin to Oxford Street, and the unfortunately named Takeshita Street is beyond tacky. We cross town to the Nihonbashi area, where at least the Haibara paper shop shows some peace and quality.
It's been a brilliant trip and Japan is culturally extraordinary. There is much to ponder. Transport: we tried everything and it all works bang on time: bullet trains, local, tram, streetcar, taxi, planes, boats – the lot. Service: impeccable. The Japanese combine humility with diligent efficiency. Hygiene: amazing, even to the point of prudishness. On the catering front, not one upset stomach. Hilarious toilets with heated seats, all manner of water jets, and different slippers to wear in toilets in ryokans. Prices: high. Don't come if you are penny pinching. Food: highly diverse. Specify Western style unless you want raw sea urchin and wasp larvae. Landscape: brutal concrete throughout the lowlands, so you need to get to the Kiso Valley or Kyushu for wildness. Shrines, history, unfortunate war encounters, temples, shoguns – it's all here. Language: hard at first, but you can pick it up surprisingly fast, so it's really worth making the effort. For an utterly different holiday adventure, Japan comes highly recommended, and it has also been a pleasure to understand the Japanese culture in much more depth.