SICILY AUGUST 2017
We arrive around 8pm and it's dusk in the Mediterranean. A brooding Mount Etna welcomes us to Catania on the east coast of Sicily. Stefano picks us up and 30 minutes later we are nestled comfortably in the Grand Hotel Baia Verde, a little north east of the city on Via Angelo Musco. The hotel is fairly large at 170 rooms, but agreeably laid out over three stories around a fair-sized pool, overlooking a volcanic, rocky coastline plunging steeply into the water. We relax with an introductory glass of Nero d'Avola – classic Sicilian red – and retire for the night.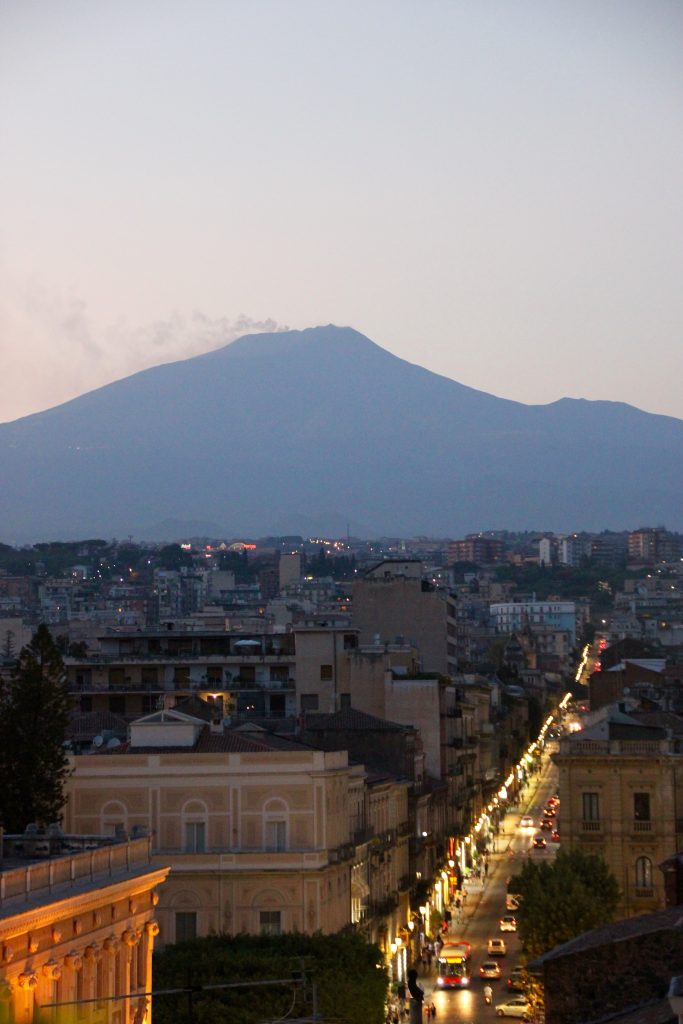 Sicily, along with the rest of southern Italy, has been laboring under intense heat hitting 45 degrees and described as Il Diavolo – the devil. We are 10 degrees cooler than that, and there is a pleasant onshore breeze. Perhaps this is helpful respite for the preening poolside poseurs. The sights around the pool are really something: men in tangerine budgie smugglers leaving little to the imagination, posing for the women and showing off with various antics; women of all ages with roughly nothing on – perhaps acceptable when younger but truly disconcerting when grandmothers join in. Full glitter gold costumes are not uncommon at breakfast. Thongs on 70 year olds are standard. It's butt crack city wherever you look. Given the breathtaking levels of vanity on show, it's only reasonable that we should have a couple of bottles of the local Semedorato beer to take our minds off it.
Strolling for five minutes to Mare restaurant on Via Avenue Da Messina, we have excellent lobster and discover the best rosé we have ever tasted: Palmento Costanzo Mofete – Etna Doc Rosato. It looks sweet and orange, but it tastes snappy and mineraly – truly exquisite. In fact, most of the wines here are excellent – Corvo (red or white) and Regaleali regularly deliver the goods.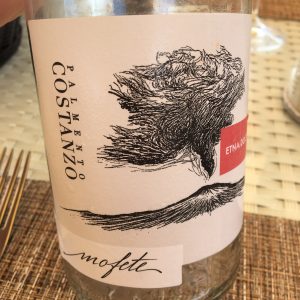 After recharging in the sea and pool, it's time for some culture, and as luck would have it, there is an Escher exhibition on at the Palazzo Della Cultura, so we grab a taxi into Catania. Twenty euros and fifteen minutes later we are on Vittorio Emanuele, and inside a charming old building. The central courtyard is set up for an outdoor concert, and the works are magnificent. Every form of geometrical trick and transformational illusion is here, along with a number of sketches from the artist's time in Southern Italy. Superb. We retire to a nearby bar for refreshment and perhaps foolishly attempt a jigsaw puzzle of a classic Escher work. Two hours and a few beers later we choose to call it a day having only completed the edges. Dinner is at a slow cook emporium called MeCumpari Turiddu, where vegetarians can feel equally comfortable alongside donkey eaters. As long as it is organic and appropriately done, anything goes apparently. The contrast couldn't be greater than the colour of the two rosés we are served: one pale orange, the other raspberry red. Delicious and different.
The next day is volcano day – we are off to the summit of Etna. This is the highest volcano in Europe, covering 1250 square kilometres and reaching over 10,000 feet. It keeps erupting – in recent times in 1983, 1985, 2001, 2002, and 2017. Stories around these events abound. Staring at the lava flow going both sides of a still-standing hotel, it is tragic to discover that once the owner was informed that he and the building would be safe, he dropped dead of a heart attack. When one flow threatened the town of Zafferana, the authorities tried everything to stop it: digging a large hole, building a wall, a diversionary tube, even bombing a new crater. None of it worked. The flow eventually stopped of its own accord – 2 metres from the edge of town. At 2,000 metres, you can wander about or take the cable car to 3,000m, then an all terrain bus to the most recent craters. It's a lunar landscape up here, but we are blessed with clear visibility and great views in every direction. By 12.00 the weather is closing in and the crowds increasing by the minute. We descend to visit a` fascinating lava tube cave – long and cool – and finish up at a small farm shop offering honey, wine, and every imaginable type of oil. After a hot and dusty excursion of this type it is traditional to sprint into the hotel and dive into either the pool or the sea. Dinner is back down the coast at Licuti – all natural pizza all round.
The next day we are looking for culture, so we take a 45-minute taxi up the eastern coast to Taormina, a former colony of Syracuse on a spectacular site perched high on Monte Tauro. The jewel in the crown is the Greek Theatre, an open-air arena carved out of the hillside, with a commanding view of Etna and the sea. It's stunning up here. After a stroll round the crowded narrow streets, we descend to sea level on the cable car, and indulge in a pleasant seafront lunch at Lido La Pigna. The sea looks great, but the beach is absolutely rammed. I count around 500 umbrellas in one view and there is barely a speck of sand to be seen. This is a fun trip, but our idealized thought of a dip in the sea on a charming beach are not realized, so we head back to the Baia Verde for some peace and jump straight into the sea.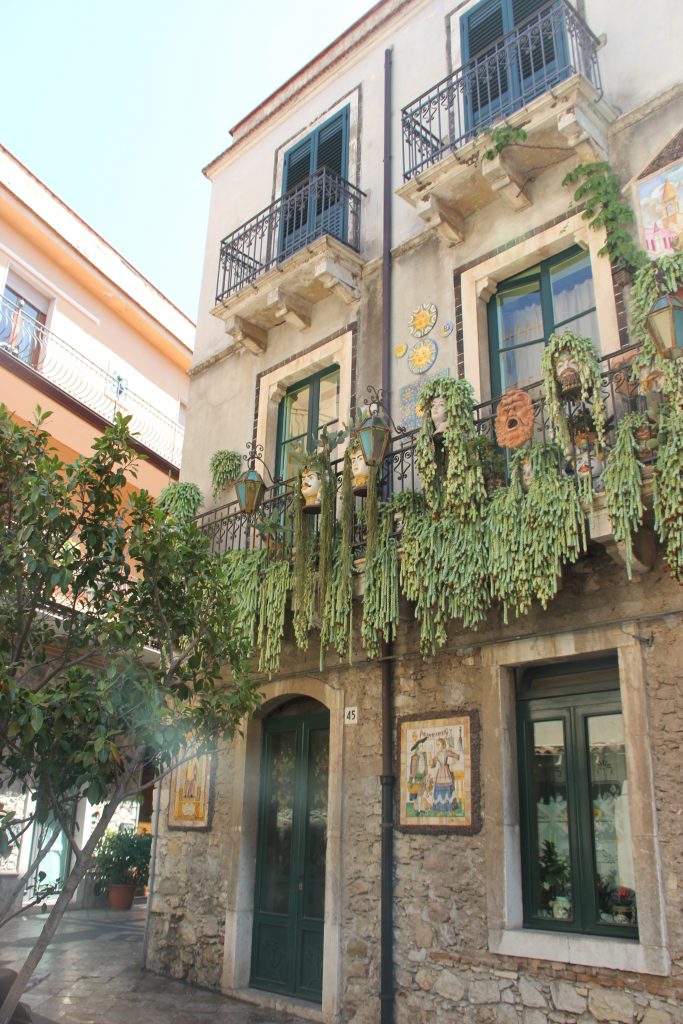 From a base in Catania, there are many other activities that one could pursue. If you fancy a gruelling 5-hour hike, you could go even higher on Etna. We even saw guys on bicycles going up it. One option allows you to be on the crater at sunrise or sunset. There are trips to wineries, and the coastal towns of Aci Trezza and Aci Castella feature interesting lava pillars and a castle. The city of Catania is a bit messy, but still has plenty of old world charm in pockets. We looked at visiting the Aeolian islands but it was just a bridge too far. From Catania you would need a brutal 6am coach to Milazzo, not returning until around 11pm. There are gorges and waterfalls, the chance to be a chef for the day, and even a tour round the locations of the Godfather film.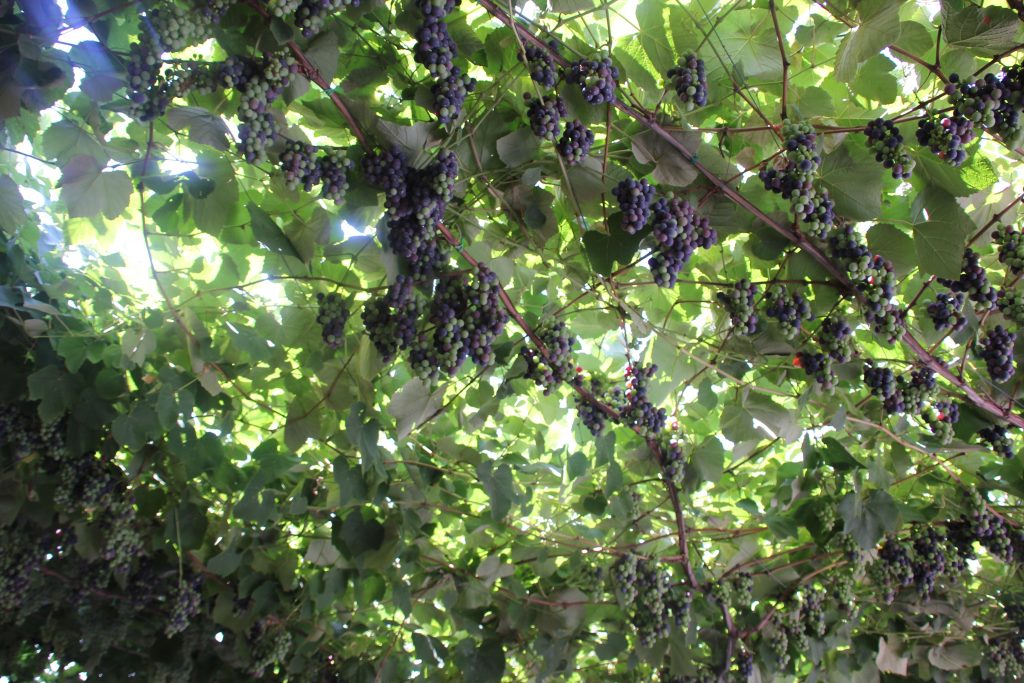 Concluding remarks on Sicily. It's definitely worth a visit, so long as you are aware of a few things. In no particular order… Food: Italians rave about it, but it's all roughly the same – pizza, pasta, pizza, pasta, repeat. Plus bread and gelati, which doesn't help. By the end of the week you may be screaming for a simple piece of protein and some plain vegetables. Manners: enthusiastic and broadly polite, yet strangely mixed with an indifferent and selfish attitude. There is an astonishing amount of vanity and posing, with little consideration for anyone else. Noise is a classic example. Kids are allowed to scream incessantly for hours on end, and late night events and shouting continue in the hotel until 2-3am without anyone thinking it's odd. The net effect is broadly antisocial. Traffic: horrible. Everywhere is blocked, roads are often not fit for purpose and, although I came prepared to drive, I thought better of it. Value for money: excellent. High quality wine at 20 euros a bottle. Disregarding the poor current rating of sterling to euros, most things are reasonably priced.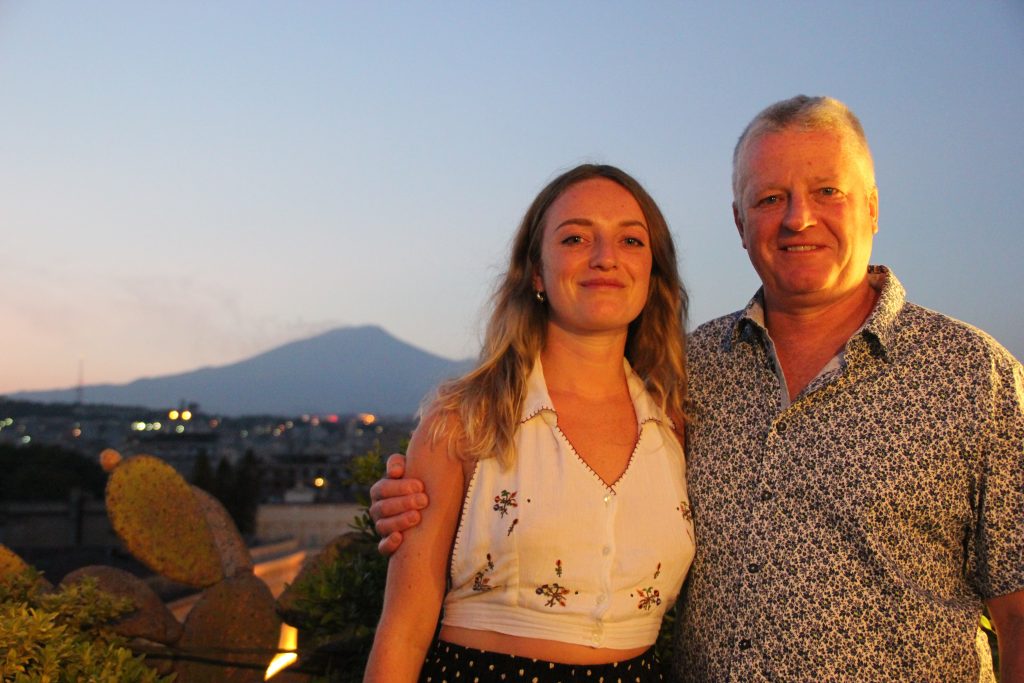 Overall, you are unlikely to have a restful time in Sicily. There will be histrionics and many things don't work well. But if you can overcome the dysfunction and relax into it, the rewards are worth it. On the last night we seek out the Una Hotel Palace in the centre of Catania, which has an open-air rooftop restaurant with a brilliant view of Etna all the way up the Etnean Way. As you raise a glass of rosé against this backdrop, you can't help but wonder what would happen if an orange lava flow began to appear at the top.