ACCRA
Accra is straight down the meridian line from London – 6 hours with no time difference, but at 35 degrees, at least a 15 degree temperature difference (this was 40 on the way back). Hotel La Villa Boutique is a lovely oasis of calm in a busy city of 2m+ people.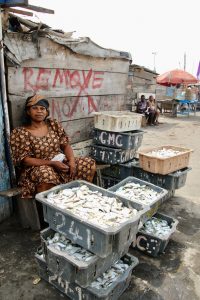 Next day we are off to explore the city. The National Museum is closed for renovation, so we head first to the Black Star Arch and Square – big enough to rival Tiananmen Square for scale. Jamestown is a shanty town fishing village tough enough to require a local resident guide to take us round – even our normal guide needs to arrange this, and even then there is an argument about money at the end.
The fort and prison lay testament to a brutal slave history, and continuing poverty even now. The nearby Kwame Nkrumah mausoleum and memorial park is a much calmer affair with pleasing statues and architecture, but mainly only with a spattering of white people visiting. The place pays homage to the man who engineered Ghana's independence in 1957. In the afternoon we head off to see some of the bizarre coffins made here. Many honour the dead with coffins symbolizing their passions in life. We saw ones designed as a coke bottle, a flour bag for a baker, a camera, and even a hairdryer.
KUMASI
Our next step is chaotic Kumasi, home of the Ashanti kingdom, a 5-hour drive north. Described by Queen Elizabeth in 1961 as the garden city because it was so verdant, it is now a real mess. Colonial roads choked with traffic – so nothing works. The central market has over 10,000 stalls and is so unregulated that it effectively blocks the whole town. We check in to the Golden Tulip Hotel opposite Rattray Park, which is a perfectly fine 70-roon block.
Despite the traffic dysfunction we manage to grab lunch at Ike's Café & Grill and then visit the museum in the Ashanti Cultural Centre, which is the size of a living room but packed with fascinating objects dating back to the struggle with colonial Britain. Everything here takes ages. The next day it takes 7 hours just to visit the Manhyia (Royal) Palace, and then drive 30km out of town to the Bobiri Forest butterfly sanctuary. Both are charming but with better planning and less congestion it could have been completed in half the time.
Old Ashanti proverb: "If power is up for sale, then sell your mother to obtain it. Once you have the power there are several ways of getting her back."
And so we head to the coast. These road journeys bring a reliable blend of interventions. Townships are pockets of micro-entrepreneurship, with most businesses operating out of a hut no more than 6-foot square. The country is obsessed with Christianity, so businesses are invariably called Blessed Be God Bike Parts, Eternal Saviour Beauty Salon, or Great Redeemer Mobile. There was even a Sacred Jesus Pork Chop House. These are augmented by non-stop roadside posters offering conferences, courses and services by a seemingly-endless succession of preachers. They are clearly well funded.
CAPE COAST
We arrive at Cape Coast, the former capital, for lunch at Castle Restaurant next to the old slave castle, and then head to Elmina along the coast. The densely packed fishing village is a riot of colour, but the tour of St. George's Castle is as harrowing as expected. This was the epicentre of the slave trade. Every three months 1,000 slaves were sent through the door of no return to a new life in the Americas. Two thirds never made it, and rough maths suggest that including all the forts on the Gold Coast, around 60 million slaves may have been taken. Meanwhile there is a cheerful chapel directly above the dungeons where priests carried on regardless, and the governor would periodically look down from his balcony and select a slave to rape. The scenes here rival Hiroshima, Nagasaki and Auschwitz for disgraceful, systematic evil.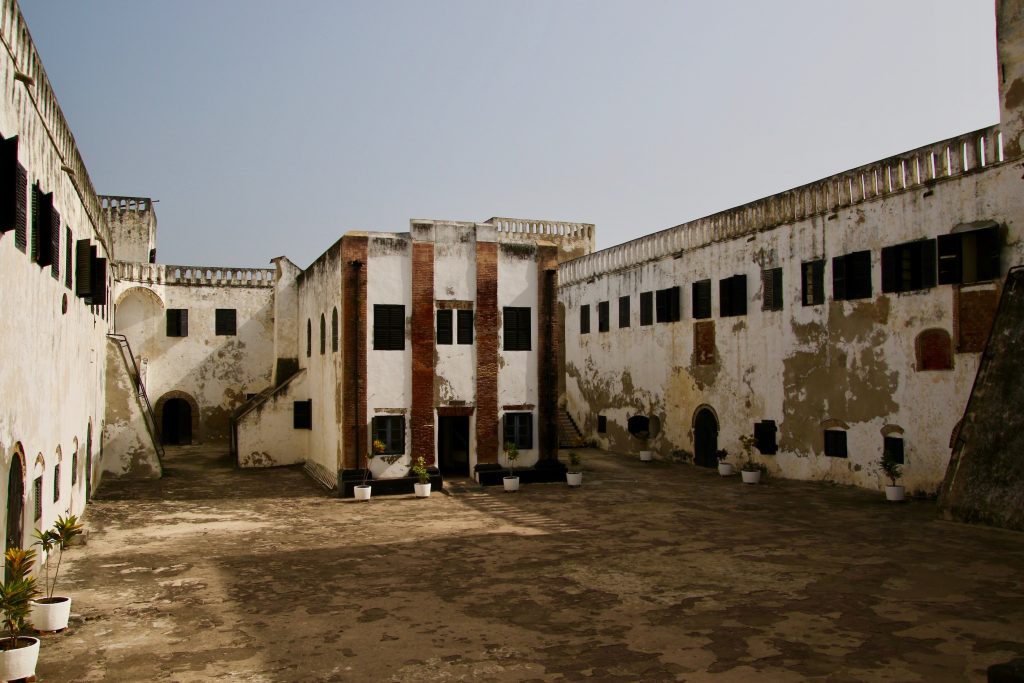 We check in at the Anomabu Beach Resort with a decent beach front room. Next day we head 35km north to Kakum National Park, home to a walkway 30m above the forest floor. It's a nice idea, but hordes of Americans turn it into a theme park, and all the noise means there's not an animal to be seen. On the way back we at least see some crocodiles at a local park and observe hawks diving down to pick food up out of the water.
We drive further west to Axim, not far from the boarder with Cote D'Ivoire. Our guide is from Togo, so the Togolese number plates mean we are stopped incessantly wherever we go – at least a dozen times so far. The scenery remains pretty much the same. Thousands of half-finished buildings interspersed with piles of rubbish and abandoned cars and lorries. There's money at the top of this economy, but not a lot at the bottom. A suggested detour to the fishing village of Butre sounds appealing but after 30 minutes down a near-impassable track we abandon the idea when we discover that there is still half an hour to go. Two hours of this shaking around would be too much. We retrace our route to the main road. Past the poor villages and the palm oil production points – black charred patches with presses and drums that look like something out of Mordor. And then back on the road to Axim, arriving eventually at the superb Lou Moon Lodge, tucked into a pretty cove.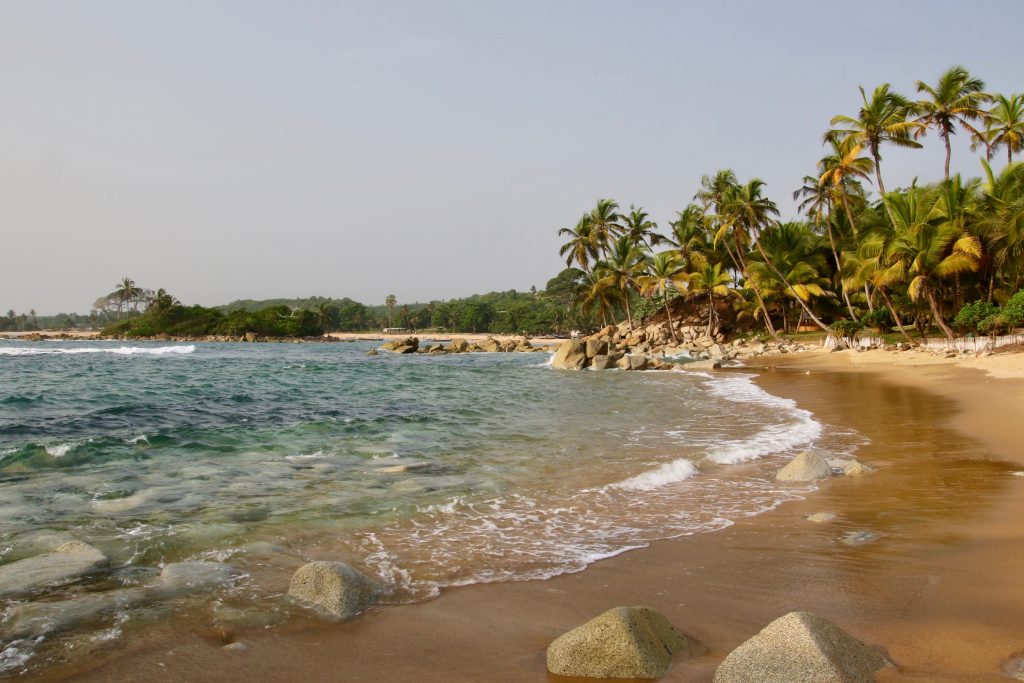 This is a great spot, if periodically interrupted by the pounding music from the fishing village opposite which goes on late into the night and resumes again at 7am. About 45 minutes away on the road to the Ivory Coast is a small town called Beyin, which is the gateway to Nzulezo in the Amansuri wetlands. This is a village of 500-600 people built on stilts. The story has it that the inhabitants fled here after tribal disputes over 500 years ago, coming down from Mali when the whole area was the massive kingdom of Ghana. It's a charming place, reached by low boat through the raffia marshes and onto a shallow lake. We donate some cash to the school, point at a bit of wildlife, and return to Axim. The holidays are over and there is a mass exodus so we are upgraded to a room on an island, with views south and west over the Atlantic, surrounded by agana lizards of all colours, and whirling yellow-billed kites. After a day of rest there is a chunky 8-hour trip all the way along the Gold Coast from Axim to Accra for the flight home.
CONCLUDING REMARKS
And so to concluding thoughts on Ghana. This is a ballsy, frontier-like country to visit, and not for the faint-hearted. On reflection, our trip inland to Kumasi was not a great success. Apart from the usual enjoyment of a good road trip, Kumasi itself is a mess. Exposure to the history of the Ashanti kingdom is essentially restricted to a 10-minute visit to the museum in the cultural centre (one room) and 20 minutes in the royal palace. This is barely worth a round trip of 8-10 hours, and certainly did not justify two nights. An ideal starter itinerary would be to spend a week along the Gold Coast, visiting Cape Coast, staying at Anomabu Beach Resort, visiting the fort at Elmina, then moving to Lou Moon Lodge, with a visit to Nzulezo. The roads are variable but good along this stretch, but do not accept detours to remote villages such as Butre without establishing distances and road conditions. There is a lot of poverty here, quite a lot of hawking, begging and selling at traffic lights, and plenty of danger in villages and shanty towns. Those peddling goods are prone to start chatty and smiley, and then turn aggressive and nasty when you decline an offer or suggest a price that is too low. Two-faced, you might say.
General standards in hotels are low, apart from the good ones mentioned. That means meagre rations of shampoo, soap and toilet paper, and wine supplies that often run out. It is not uncommon for a place to have none of what is printed on the menu, and often only one bottle of any given type. Plus it might be warm. There is poverty everywhere, and a lot of corruption and religion. The waste of resources with abandoned cars and lorries everywhere, and thousands of unfinished buildings, is tragic. If Ghana could combine forces with Cote D'Ivoire, Togo, Benin and even Nigeria? Then there could be a powerhouse in West Africa. On current performance, this rates a 6 out of 10, but with sensible investment there is great potential to push that to an 8 or 9.