ALBANIA/KOSOVO/MACEDONIA AUGUST/SEPTEMBER 2014
It takes two and half hours to fly to Tirana, the capital of Albania, on British Airways. We are met by Jorik, an enterprising young Dutchman who has set up Albania2Go. It's pretty much bed time on arrival, so we go straight to our hotel, The Rooms, in the trendy part of town at Rr. Sami Frasheri in the Kompleksi Nobis. In the morning we pick up our hire car, a compact little red Skoda, and head north to Kruje. Things become rural fast, and soon we are climbing steeply to this twee little hill town. The fort is fairly modest, and the view of the plain below is reasonably bland but pleasant enough. After a brief stroll through the bazaar with its treacherously smooth cobblestones, we sit on the balcony of the Panorama Hotel and enjoy a cold Tirana lager.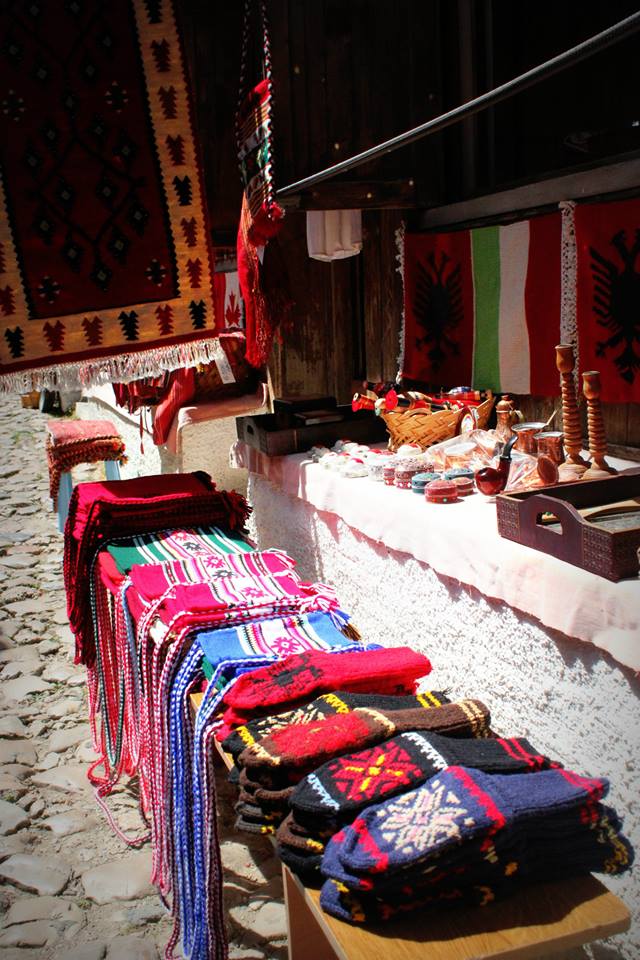 It's then a two-hour run through the mountains to the border post at Kosovo, on the way to Prizren. Approaching from the west is somewhat unpromising as we drive past a range of dreary industrial units, but we arrive at the picturesque end of town where brick bridges straddle the river. There's a good buzz around town, which is hosting the Dokufest festival. We head out from the Theranda Hotel to Vatrat Shqiptare, scene of the Ambient pizzeria, where you have an Italian meal halfway up a slope and admire the view down the valley. A huge squawl blows up and the sky goes black, but there's no rain until a thunderstorm in the middle of the night. The hotel notes lead to some hilarity: "Your remarks help us for going away'; the pad by the phone is quite accurately entitled "dialy notes"; and the regulations issued by "the board" are a delight. We get no sleep until 2.00am, courtesy of a ball-breakingly loud acid house gig thumping away.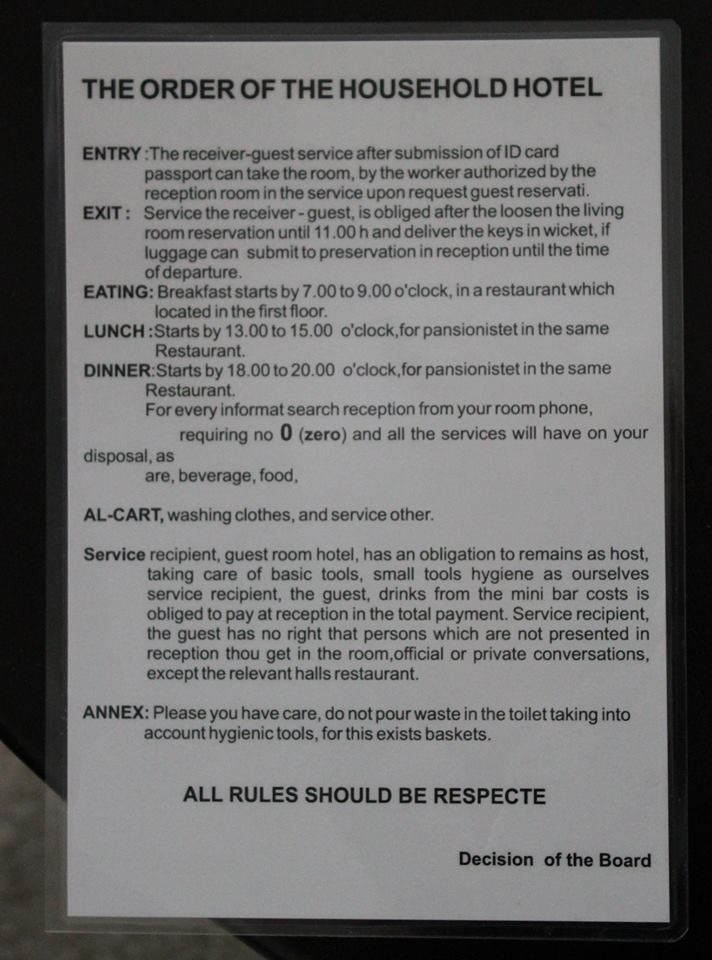 After a highly functional breakfast, we head inland to the Kosovan capital of Pristina. The drive through the promised Sharr National Park doesn't come to much, as we end up taking the new motorway, which brings us in from the west. Pristina is heaving and our hotel is hard to find, so we pay a cabby to lead us there. He only wants 3.70 Euros and is cock-a-hoop when I give him 5. The Afa Residence hotel (Deme Ahmeti) is high on a hill outside town and has a superbly high roof terrace. We tuck into the excellent Kosovan Bodumi I Vjeter wine and admire an electric storm unfolding in the distance. The Eintopf is recommended for dinner – a hearty stew topped off with cheese in a similar style to French onion soup.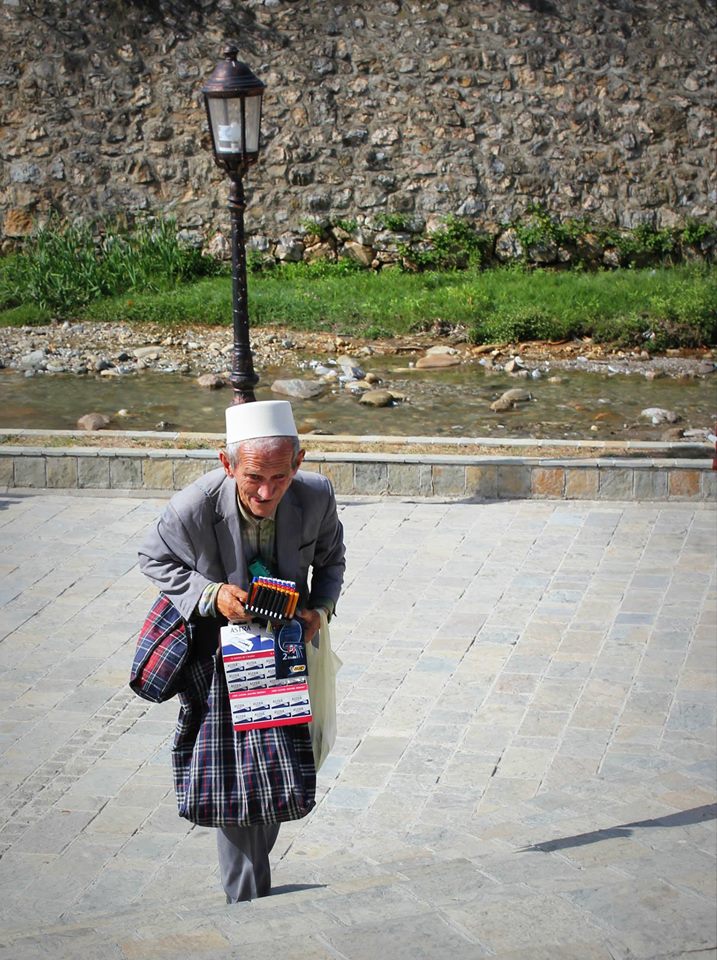 And we are off again – this time heading south to Macedonia. The first hour is non-stop unsightly industrial, eventually giving way to rocky mountains and rivers on the road to Skopje. A bit of negotiation is required at the border, where I end up handing over 50 Euros to a bloke for a slip of paper to let us in. Skopje is a charming city. We find the hotel easily enough, and from our fourth floor room we have a fine view of the park and the National Arena. A 10-minute stroll into town centre reveals an enormous statue of their hero Alexander Great, a series of ornate bridges, and a quaint river. After a snack and a Skopska beer at Bocata on Macedonia Square, we wander across to the old bazaar and the fortress on the hill.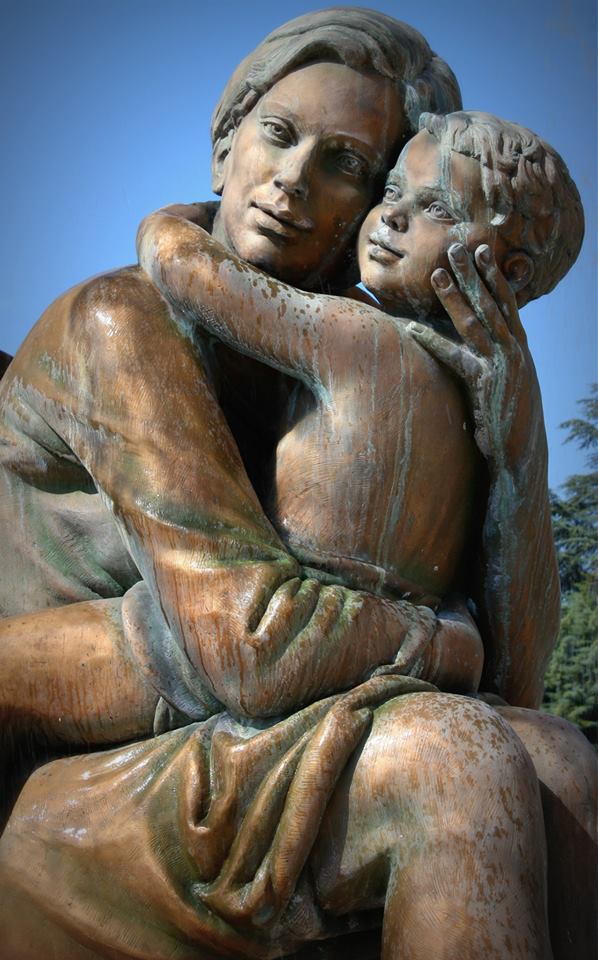 Skopje is the perfect city for a quick visit. There are only 2m in the whole country, and the place feels fairly empty. Wandering around is easy, with much of the new town redeveloped since the 1963 earthquake. Prices are low too. Our evening meal was at Skopski Merak, a local restaurant near the City Park on Debarca. Dolma (stuffed vine leaves) and large fried zucchini followed by Turli Tava – a local meat stew with delicious gravy – and then rounded off with medovaca raki  – a lethal nut-based schnapps.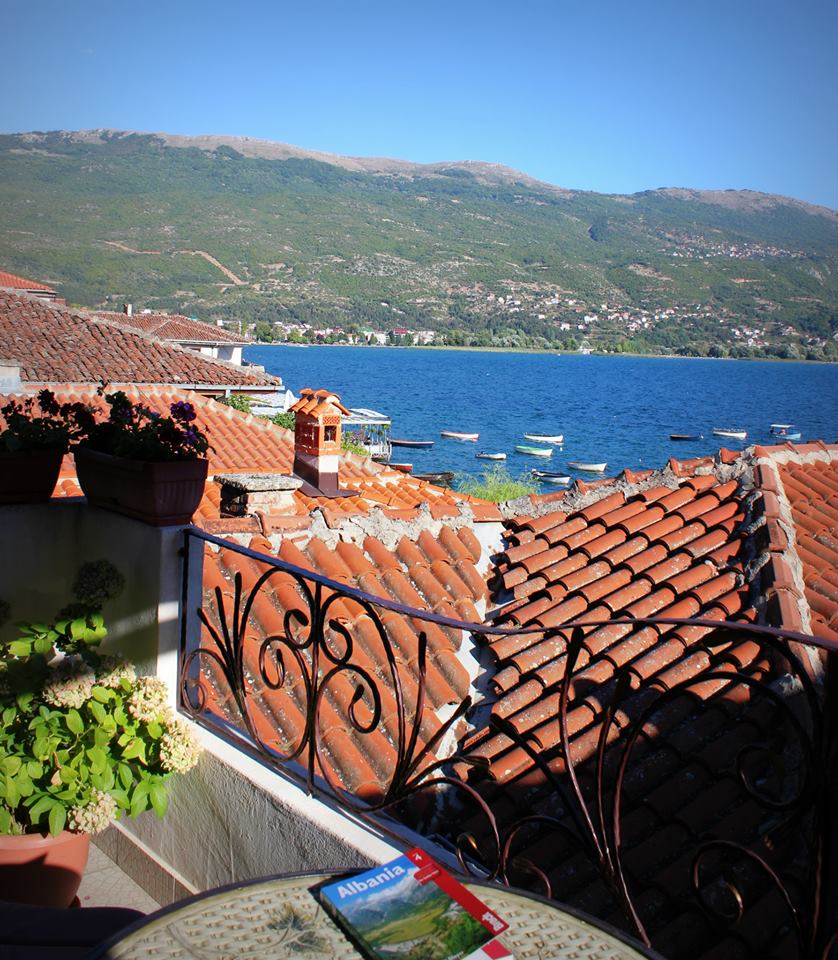 The following morning we set off west and then south to Ohrid, scene of one of the world's oldest lakes (third behind Titicaca and Baikal). The hilly terrain promised decent views but actually it is fairly unremarkable, with no rivers to be seen and regular quarrying of the hillsides causing something of a scar. A 3-hour drive involving a mix of motorway and semi-treacherous hill passes brought us to Ohrid – an attractive lake about 12 miles long. We are staying at Villa Germanoff, which is tucked right in the heart of the old town in amongst streets so narrow it's unclear whether you should drive down them. A welcome beer at Kadmo on the waterfront is followed by a stroll along the boardwalk and round the headland. Here we are met by a hideous sight as all the locals are packed like sardines onto tiny squares of gravel in an attempt to simulate a beach.
The Dalga restaurant, also in the old town on the waterfront, is adorned with the photos of supposedly famous people who have eaten there. What looked like a superb corner table on the water is in fact on a duckboard pontoon, and as the wind whips in, all the other guests retreat inside, joining in with a large gathering of traditional Morris dancers or similar. We soldier on in true Brit style as the waves lash the shore, hovering up the excellent local Stobi chardonnay, with pork steaks and lutenica, a vegetable mix favoured around here. We studiedly avoid the Taptap Coc.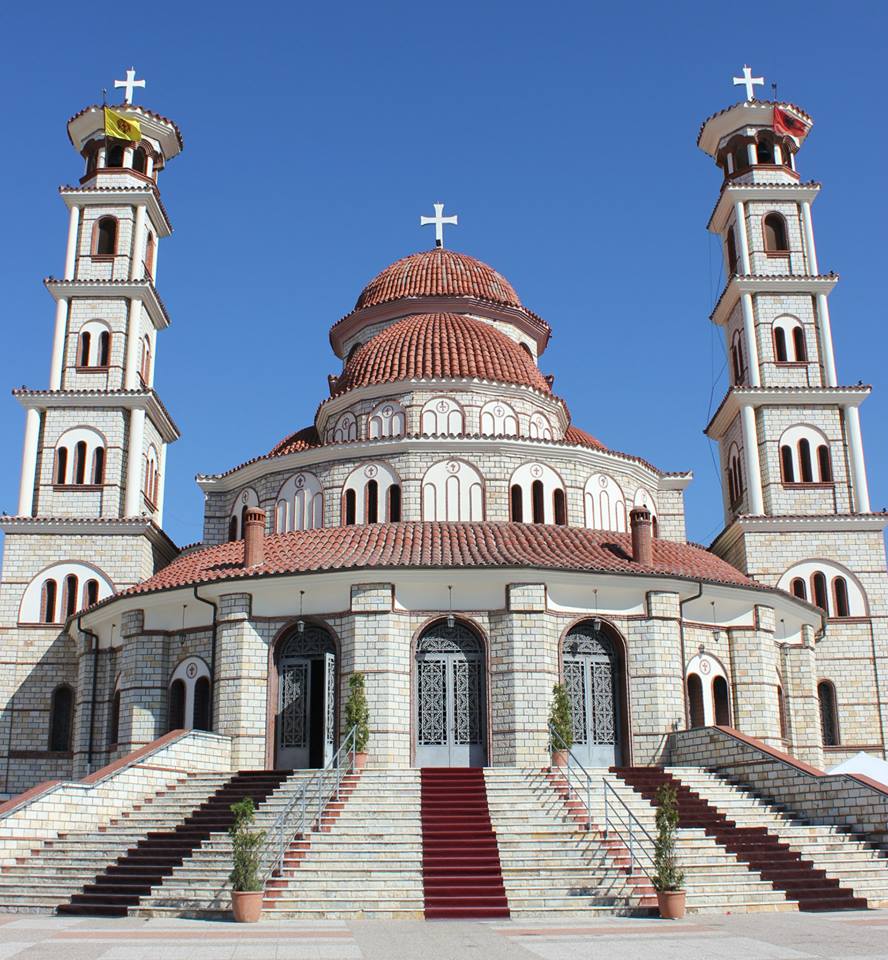 The lake is flat calm in the morning as we head down its Eastern side to re-enter Albania. From the bottom of lake Ohrid we head south to Korce (with a soft C), but not before taking a wrong turn and ending up not far from the Greek border. Back on track, we locate the Butjina Leon, a charming guesthouse tucked behind the town's only landmark – a cathedral. The Museum of Medaeval Arts appears to be shut, but after a local hammers on the door, a man comes to show us round a range of ancient religious icons, turning the lights on and off as we go round. For dinner we are the only guests in the Taverna Vasili for lemon soup and a mixed grill. It's perfectly nice, but fairly pricey for what it is. Korce is not very interesting but if you drive any kind of loop from Tirana, into the mountains and back round, then you need a staging post between drives.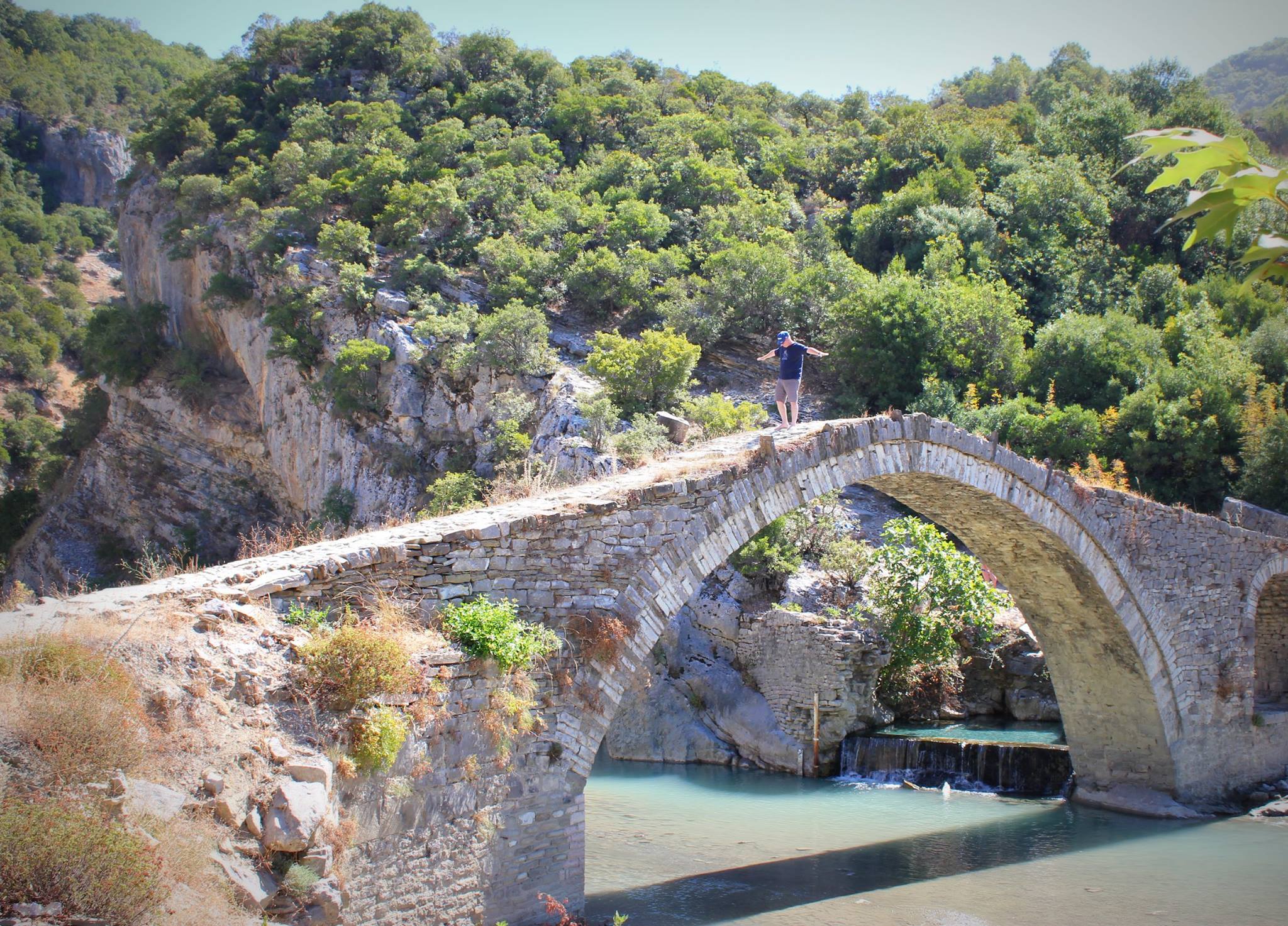 It's a tough three-and-a-half hour drive to Permet the next day, with patchy road, a certain amount of gravel, and hairpin bends every minute or two. Eventually we pick up the green/blue Vjosa river and follow it west. Permet isn't very exciting either, but the Hotel Alvera is clean and the Antigonea restaurant in the same street is decent enough. Their complementary dessert turns out to be a tomato in syrup. In the morning we visit the ancient Ottoman bridge that is featured in every guidebook – often on the cover. It's an all-stone affair about six foot wide, but as usual someone has parked a couple of jeeps in front of it to ruin the view whilst enthusiastic Albanians jump up and down in a roughly made swimming pool.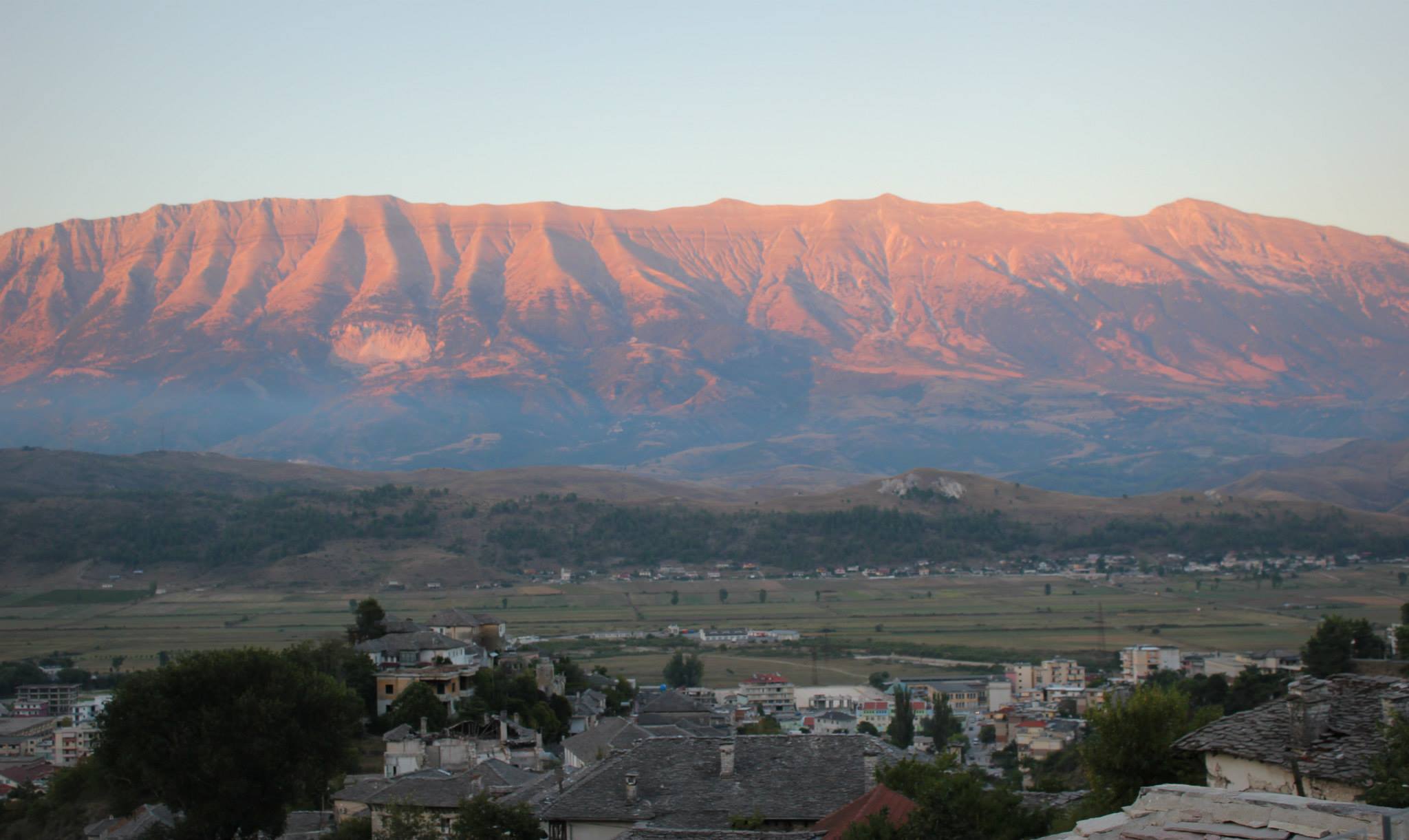 Gjirokaster is an easy drive thereafter, with improving roads leading through the valley, flanked by impressive mountains. The castle on the hill is dominant. Finding the Hotel Kalemi is almost impossible, with barely a signpost and ultra-steep single lane roads becoming less and less feasible every few hundred yards. It offers a commanding view but no restaurant. We climb the hill and wander around the castle – just about worth it for the view but there's not much inside. A sunset gin and tonic at the Kodra bar overlooking the valley is excellent, and enhanced by the antics of the falcons that emerge from the castle to play on the high thermals. The nearby Kutjimi restaurant is recommended but functional. After ordering one chicken and one pork, a single plate arrived and it could have been either or neither.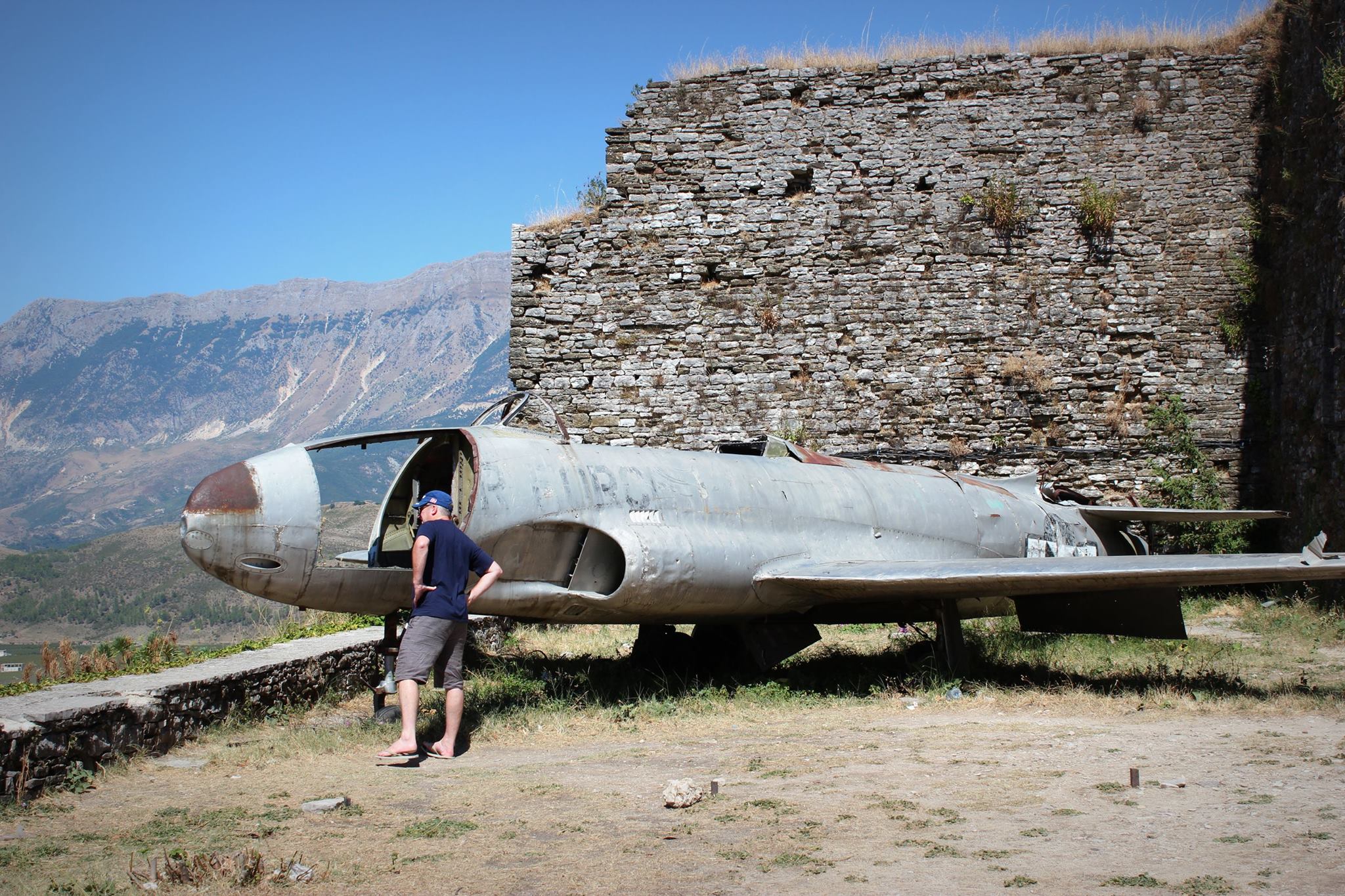 Then it's off to the coast, heading south, then west, and stopping south of Sarande at the legendary Butrint Roman settlement jutting into a lagoon opposite Corfu (Kerkya). As with so many things in Albania, it's okay but not that special. The mosaics are covered with gravel to prevent them flooding and then cracking in the sun, so they are not on show. So what's left is a poor man's fragment of Pompeii. With a little more imagination (or money?) such a site could be made far more interesting. We head north up the coast, avoiding the hideous Sarande (think Blackpool in a warmer climate). It's a rugged high mountain run up to Dhermi, with tight hairpins and plenty of unattended cows just around the next bend in the middle of the road. By 3.30 we locate the Hotel Splendor and check in to our third floor suite (!) overlooking the fantastically blue and rocky Adriatic. That calls immediately for a dip in the pool and an intense examination of the bar, involving bottles of Paulaner (Munchen), Gosser and Zipfer (Austria). It's time to stop driving for a while, having covered around 500 miles so far.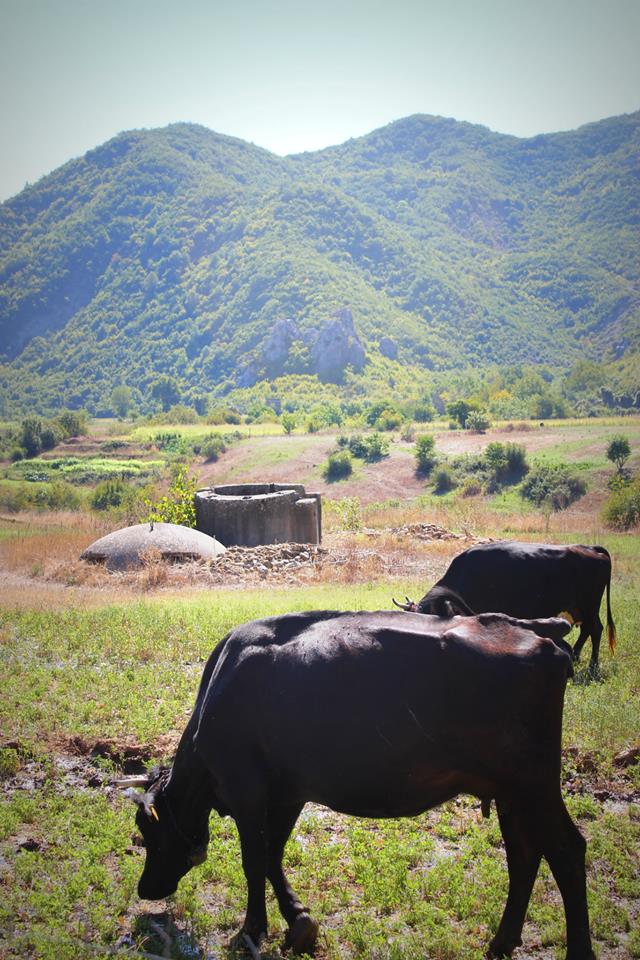 Five nights in Dhermi allows plenty of time to relax and soak up a bit more of Albanian culture. It's peak holiday season, so the beaches are full of families mucking about, and the sea hums with the sound of jet-ski action. Each day we try out a range of places to eat on the strip above the beach. Fitoklo is okay but nothing special. Lucianos is better, especially when combined with a pre-prandial gin and tonic, watching the sun set as the cruise liners trundle off to Dubrovnik. When night falls you can watch the octopus hunters swimming with torches and rummaging under rocks. The Hotel 2000 is good too, but the best we found was Piratet, which has a good range of dishes and attentive staff. Just don't order a table too close to the massive hornet's nest in the tree in the corner – these things are two inches long and not to be irritated. Meals can always be washed down with a carafe of local wine – the Shesh I Barshe and Luana are excellent. On the stroll home through the woods keep an eye open for various types of wildlife: large, vicious looking ants; huge black bees; swallows darting everywhere; and a large brown eagle loping off to hunt.
On the last night in Dhermi, September was thoroughly announced by a colossal series of thunder storms lasting several hours. Ominous rumbling was followed by lightning firing in from all directions. Swathes of sheet lightning out to sea highlighted unfortunate ships on the horizon, interspersed with dramatic fork lightning. Meanwhile rain and wind hammered off the mountains and lashed the hotel. We slept vaguely, with lightning still bouncing off the mirrors for hours, and the power going on and off, each time reigniting the air conditioning. The next day the evidence was everywhere. Rocks and mud had covered the roads leading down to the shore.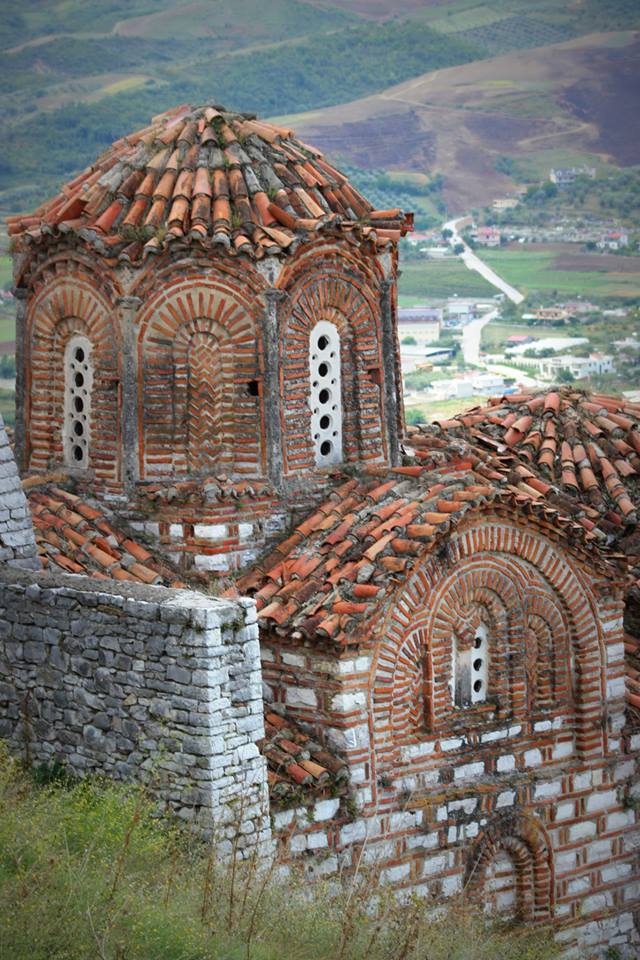 We drove to Berat. The first stage was to cover the mountains between us and Vlore. This was a very tricky drive. On climbing we were overtaken by a huge black cloud. The road was strewn with rocks from the previous night and as the rain teemed down visibility was down to a few feet.  Things eventually calmed down and we made it Vlore and Fier. Both these places are awful so avoid at all costs. What then purports to be the road from Fier to Berat is effectively a dirt track – pothole ridden and with barely a signpost – so Berat is best approached from the more common route from Durres/Tirana.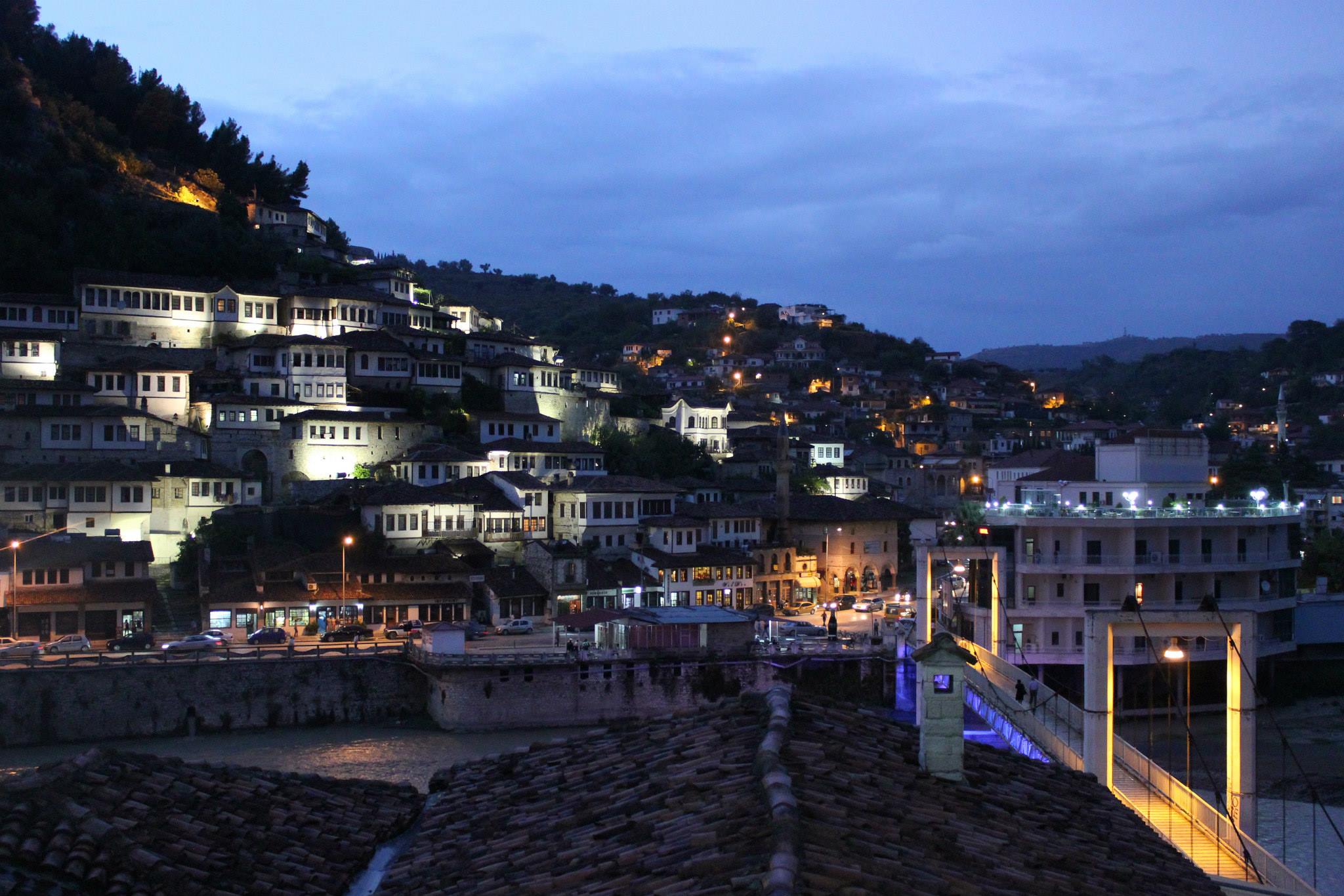 The Butjina Kodiket is nearly impossible to get to. It's in the old town ("the city of a thousand windows") and the only way to do it is to park in the conference centre that somewhat bizarrely houses works by Edward Lear, and stagger up the hill with your luggage if you can make it. It's pissing rain when we arrive, so the best we can do is nip into the Hotel Palma for a quick beer and pizza, and try again later. It's a rustic stone guesthouse with small but clean rooms, and the usual lethal Albanian electrics, complete with hairdryer and plug socket in the shower. The White House provides good food – stuffed peppers and croquettes washed down with Cobo red wine from the local winery. The Antigone bar on the hill provides great views for a sundowner, but the big one is to be had from the castle on top of the hill. We attempt this in the morning, by which time it is sweltering hot. It's a long way up on slippery cobblestones. The 'castle' isn't really one. It's really an entire settlement surrounded by battlements, with a range of churches and mosques, a museum, and plenty of people living here. As ever in Albania, a little more money and imagination could make it superb. There are no light bulbs in what could be picturesque lamp stands, and beautiful stone buildings are often spray painted with SHITET (for sale) and a mobile phone number. The ethnographic museum halfway back down is however much better than its counterpart in Gjirokaster. Overall, it's definitely worth the effort for the view and if you're very lazy you could drive up.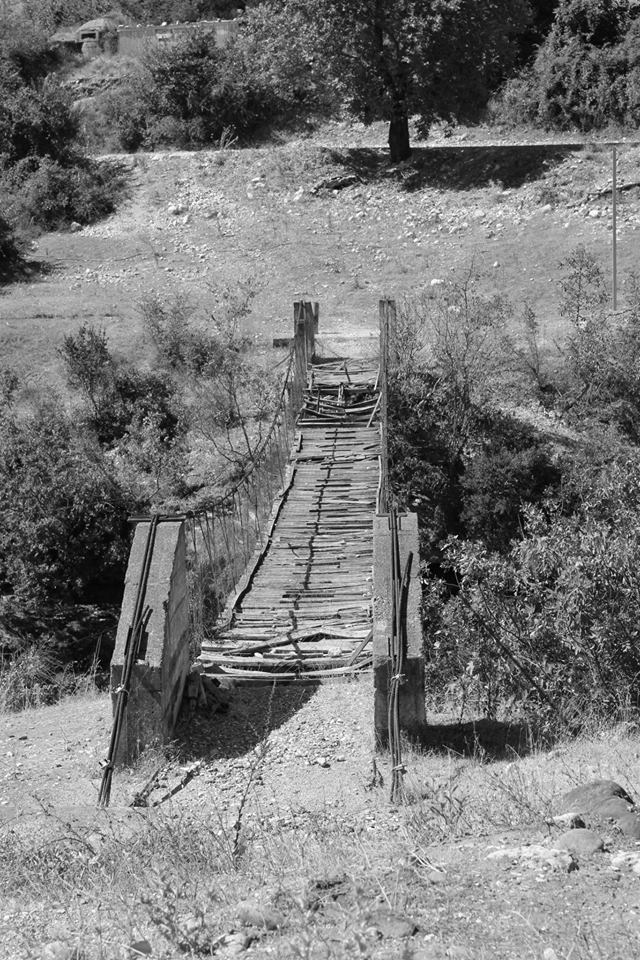 We reward ourselves with a decent lunch at Ajka, carefully avoiding the Stuffed Gut on the menu. Then it's time to head to the airport via Lushnje and Durres – a two to three hour run. Berat without the rain goes high up in our list of places worth visiting on this trip. At the top comes Prizren in Kosovo, with its twee cobbled streets, river and stone bridges. It has also been highly informative to learn how the country is regrouping after war. It's doing pretty well. Berat comes in at number two on the list, with the 'castle' being the main attraction, along with general hillside views over the river – particularly effective at night. The beach at Dhermi was good, and not as crowded as we had feared. Many of the other Albanian towns – Korce, Permet, and Gjirokaster – are in truth not very exciting. Either avoid or choose as few as possible if you are doing the mountain route. Butrint is a poor man's Pompeii – not worth it unless you are an enthusiast.
Macedonia is excellent. Skopje features high as an interesting capital to visit. It's clean and largely rebuilt since the earthquake. When the new archaeological centre is finished it will be well worth a visit. Lake Ohrid is worth a look too, probably from the town of Ohrid on the Macedonian side. It's a bit twee and trendy, but certainly good for a night in the old town.
It's been a great trip and pretty much everything has worked. The Albanian experience has taught us a lot. The broad school report would read something like: "Has great potential but often lacks effort or resources. Very much the nearly man. 6 out of 10." So many times we found a view that could have been perfect interrupted by some rusty pylons, concrete blocks, or a rubbish tip. Plastic bags and bottles are often hurled randomly over roadsides. Construction is in the main carnage, with hundreds of buildings started but never finished. The roads are highly variable. Hotels too. It's highly advisable to book suites and the best of five-star everything wherever you go. The cost is low and the alternative could be nasty. It's definitely worth a look but don't expect consummate luxury. This one is all about adventure and cultural understanding.
POSTSCRIPT
Answers to some questions I was asked about Kosovo and its long-term tourism prospects.
Were you surprised with Kosovo? Was it what you expected?
We don't travel with preconceptions. We research fairly well first to establish areas of interest, and make sure things are pretty much safe. Then we go and have a look. The most common thing we experience when we say we are going somewhere, or say we have been, is some form of misinformation or bias from poorly-informed people in the UK. In truth, being in theory well-educated, they have no excuse to not know the current status in a country. Most people in the UK will ask… Is it safe? What's the food like? Are you mad? They have no idea that their information is often around 20 years out of date. To answer the question, it was just as we expected – a great landscape, with lots of interesting people assiduously rebuilding their lives, and making a very good go of it.
Would you go back?
Yes, happily. We have a general house rule of only going to places we have never been, but there is plenty to explore in Kosovo, and I am sure there will be more opening up in due course. It would help if the Serbians relaxed their approach to Kosovo, although this may never happen.
What did you like best about it? 
The sense of possibility. Wherever we go, we see people showing tremendous fortitude even in the trickiest of circumstances. It is actually perfectly possible to rebuild countries very fast. In the main, people just want to get on and have a decent time. The increase in online exposure and relentless world media coverage have shown pretty much the whole of the world's population what they could have, and they are mostly striving for that, assuming the regime or economy lets them.
Do you think there is a tourist opportunity?
Undoubtedly. Every direction you look in from Kosovo proves that people love visiting the area. The Adriatic coast is heaving, Greece is highly popular, Macedonia is an undiscovered jewel, Albania is on the up, so why not Kosovo? It has pretty much everything – great landscape, amazing history, wildlife, and infrastructure that pretty much works. And at this stage it's not expensive. Almost every country in the world with suitable assets has now realised that tourism is very high up the list of income generating methods. Look at places as diverse as Oman, Myanmar, Colombia, and Turkmenistan. They all know the best way to enhance their economy is to respect their physical assets and encourage people to come and see them, bringing their spending power with them.