MONTENEGRO/ CROATIA SEP/OCT 2023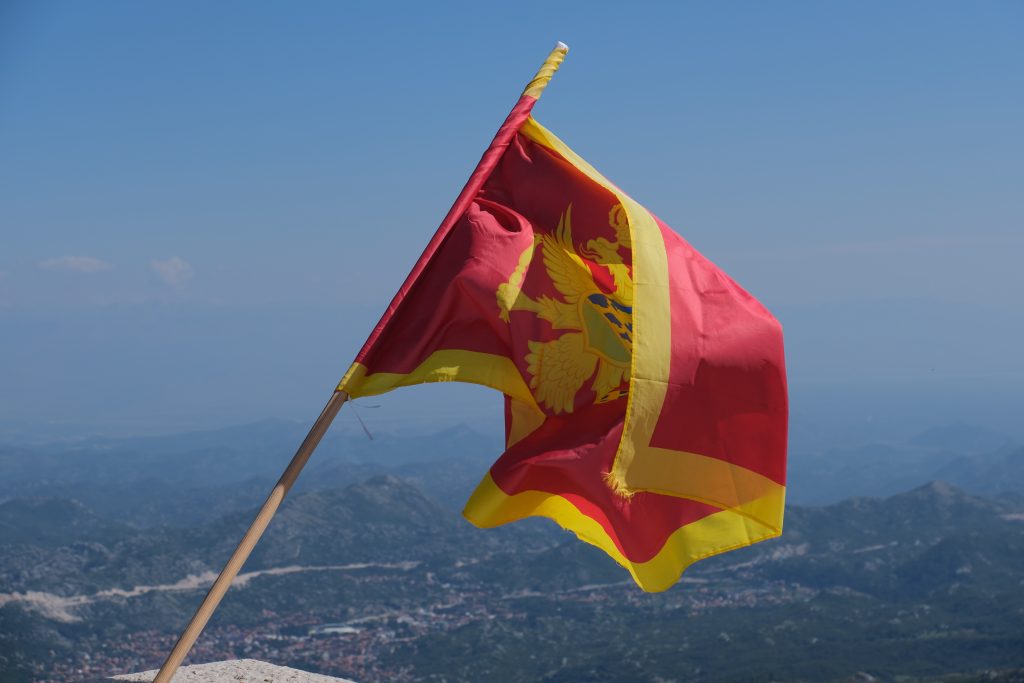 A family holiday with some time added on. We fly into Dubrovnik airport which is compact and efficient. Ten minutes later we are at the Hotel Seventh in a small town called Cavtat, overlooking the bay. Wandering steeply down into town reveals a waterfront strip where the Boheme restaurant provides an excellent dinner as a significant thunderstorm hammers down. It's over by the time we trudge up the stone path back to the hotel – a good way to walk off a robust dinner. The local wine is excellent, as we so often find wherever we go, in contrast to somewhat arrogant views in the UK and France. Many here drink the white as a spritzer like Sarah – called locally Gemist. The next day we return to the airport to pick up daughter Shaunagh and partner Harry, plus a car. Looking at the luggage and knowing we will be doing a large shop to self-cater for 7 people, we go for a bigger model. The journey to the border is only 40 minutes, but the queue takes just as long. After stocking up with everything we need for a few days, the car is full, with many a bag stacked on top of passengers.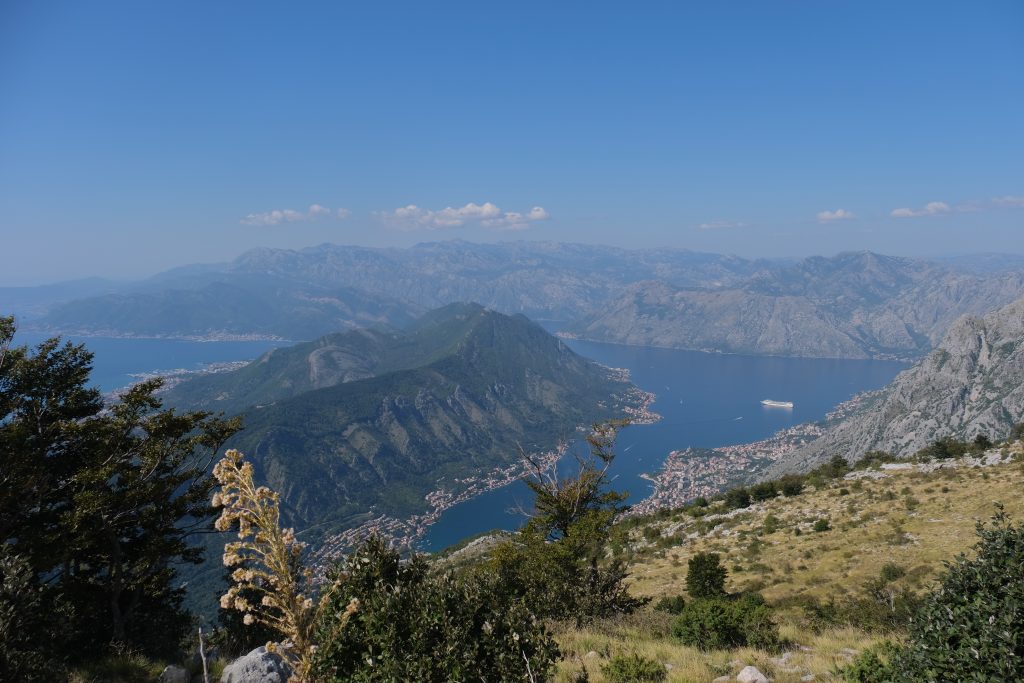 We press on to the Gulf of Kotor, through Herceg-Novi where we had a beer overlooking it in 2012 at the Gradska Kafana. Similar to my experience in Prague two days ago, the increase in construction and traffic only in the last 10 years is depressingly huge. After a short ferry crossing, we arrive in Tivat and cross the Lustica peninsula to stay in a large stone villa overlooking the Adriatic. Heavy, dramatic thunderstorms sweep through, strong enough to move furniture around on the balcony. A fire at a local substation takes the power out and we spend a fair proportion of the tine grappling with candles and cooking on a gas barbeque. Frontier stuff.
On a calmer day we drive to Kotor for lunch. It's a mixed bag. The tightly packed stone streets of the old town are charming, and an ideal place to have lunch or a few beers whilst staring at the dramatic mountains behind. On the downside, it's a deep water port for cruise ships, the traffic is a hideous chokepoint, and the walking tours barely fit their participants into the narrow streets. Visit once only, and allow plenty of time for congestion of all types.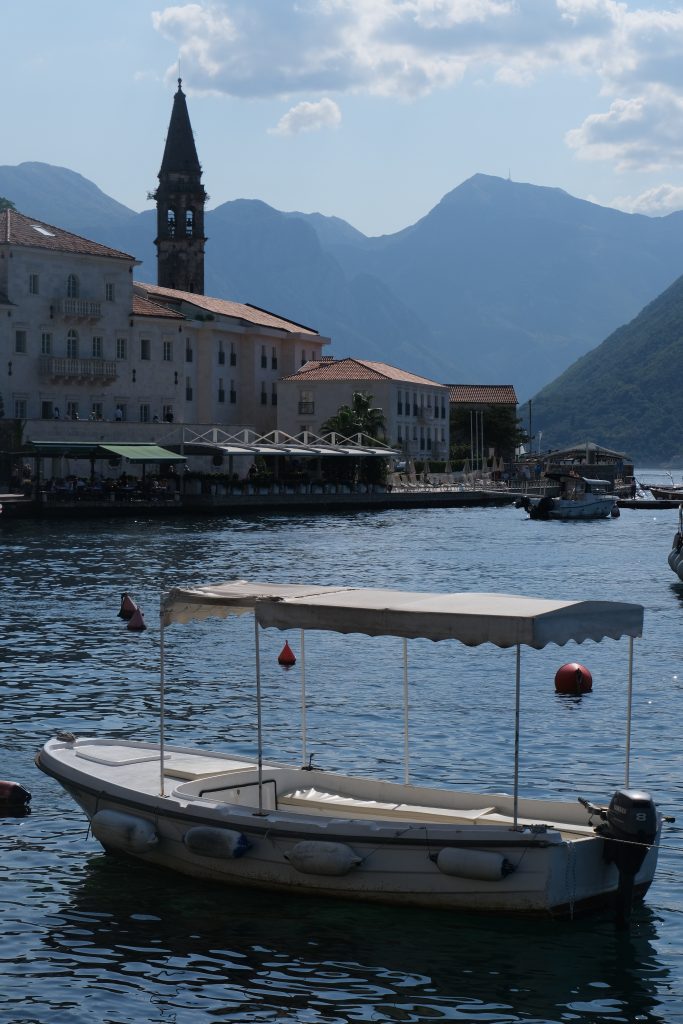 Our next destination is Cetinje, in a wide plain high up in the mountains. The drive there includes a high percentage of ragged industry on an arterial road littered with busted stuff. Cetinje is a peaceful town with a large park and a pedestrianized centre. We eventually find a car park by driving along the pedestrian-only road, and then haul our luggage to the excellent Gradska Hotel. There isn't much accommodation in town, but this is a good place to take stock and enjoy a slightly cooler temperature than the coast.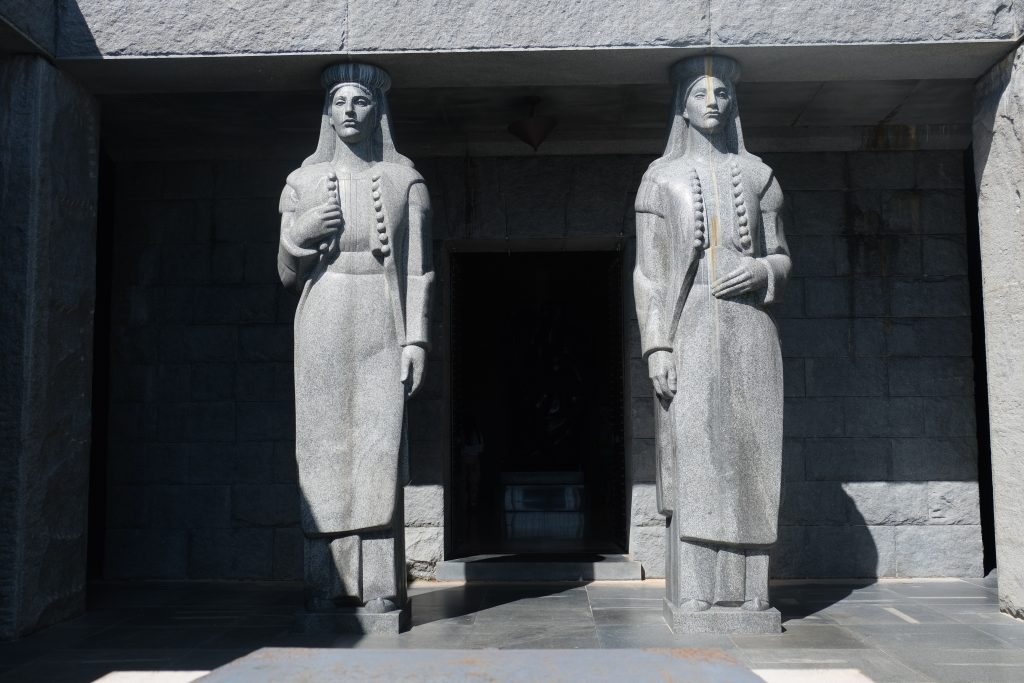 The next day we plan an adventurous trip up and over Lovcen National Park. This is a punchy, steep drive up to the visitor centre (a small hut – entry price 3 Euros), opening up into karst heights covered by pine and light scrub. The main peaks take us to 5,000 feet One has a brutal iron-curtain style telecoms mast on it, the other a mausoleum dedicated to Petar II Petrovic Njegos, the only ever monarch of Montenegro. This imposing structure presents a brutal challenge of hundreds of steps, but rewards with a commanding lookout turret, a cool crypt, and an imposing black marble statue of the man sitting on a chair (throne?) with a huge eagle looming overhead. Al these materials were hauled up here from Budva on the coast – now a hideous, sprawling tourist hotspot that we had the misfortune to drive through the day before.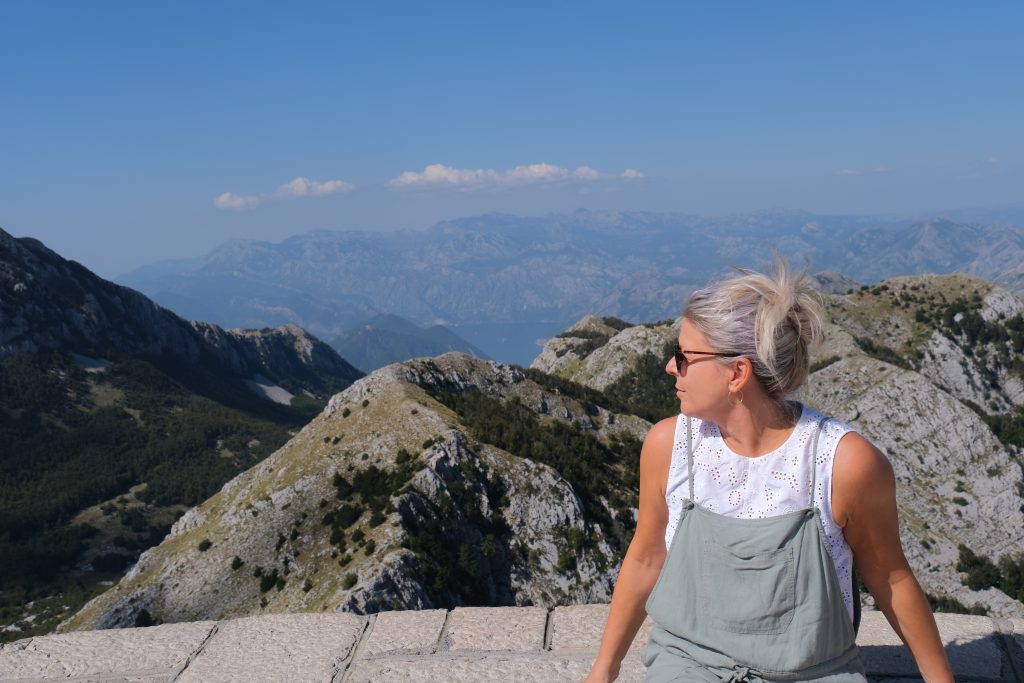 The remainder of the drive has two distinct phases: a dramatic mountain section including a phenomenal lookout over the entire Kotor gulf followed by a challenging descent with over 25 hairpin bend sections called The Ladder of Cattaro; and an unwelcome return to the choked traffic of Kotor. Waiting patiently as coaches reversed uphill on hairpin bends gave way to a gentle sea level stroll to the town of Perast, where cars must park outside of town to maintain a pedestrian set up. The Hotel Admiral kindly picks us up in an electric golf cart and we bed in for a restful couple of nights staring at the lights on the water and making disparaging remarks about the disgracefully large cruise ships that periodically sneak past our waterfront outlook.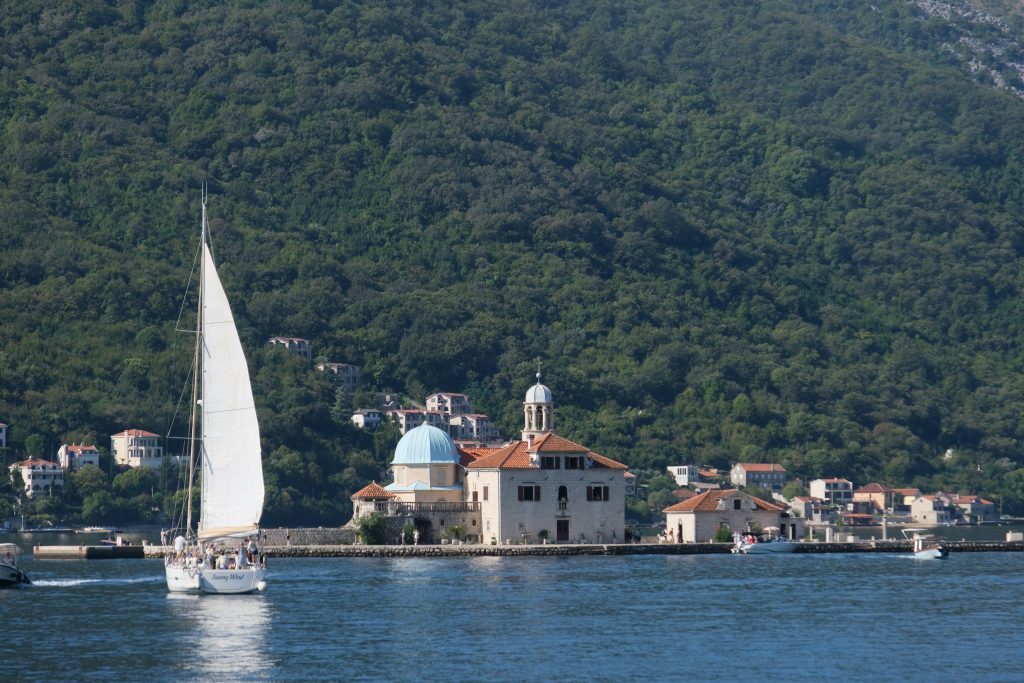 Our next move is really short – twenty minutes round the Gulf shoreline, past the ferry where we originally crossed, to stay at the Casa del Mare at Kamenari near Herceg Novi. This a modern, possibly brand new, hotel set back from the main road you need to cross in order to get down to the beach club. Saturday it's rammed full but Sunday is a more leisurely vibe with far fewer people. Whether this is down to the hazy weather or a burst of religious piety is unclear. The reduced traffic certainly makes it easier to cross the road on a treacherous blind corner opposite the hotel.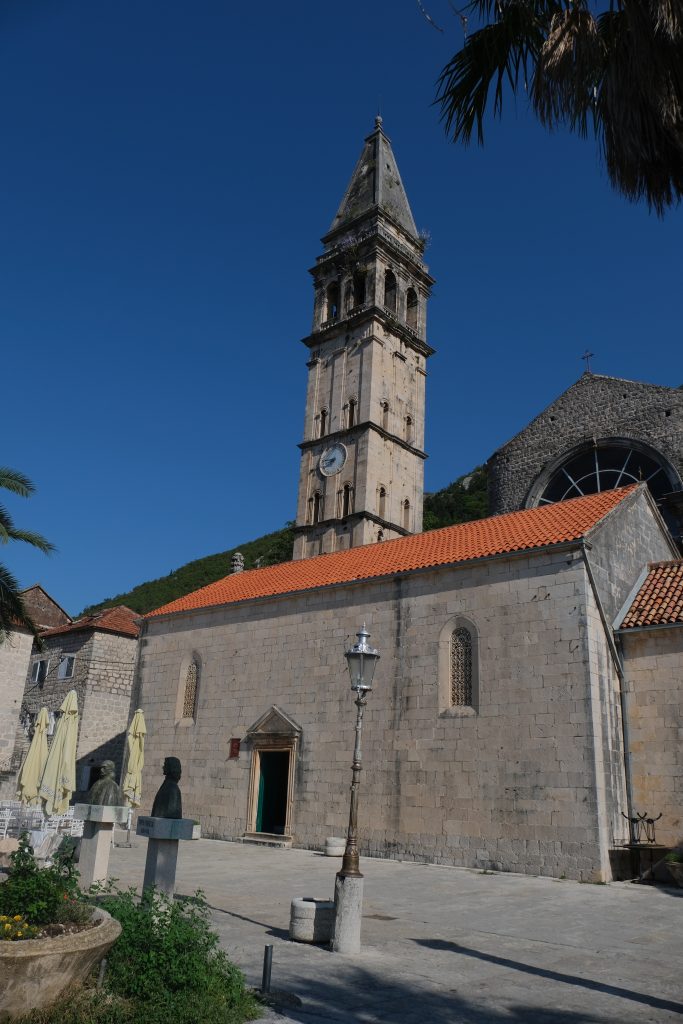 The penultimate day, and it's time to retrace our steps back over the border to Croatia. This time there is a modest 15-minute queue at customs, and after confirming that we are not smuggling cigarettes, we are back at Dubrovnik airport to return the car. Then 10 minutes down the road back to the Seventh Hotel as a pitstop before flying home in the morning.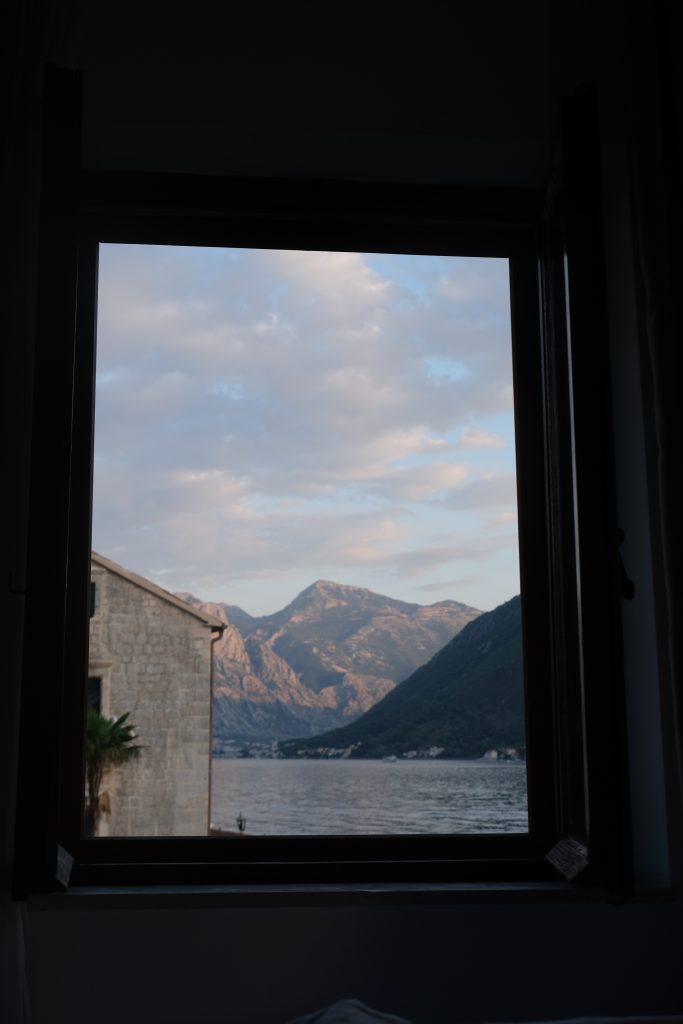 Concluding remarks on Montenegro. It's a small, rugged country with dramatic coastline and impressive mountains. People are broadly friendly but undeniably tough, as evidenced by aggressive driving, a lot of shouting, pervasive smoking, loud music, a refusal to wear crash helmets, and a range of other individualistic traits. This may emanate from a troubled Balkan history. As we leave, the Serbians are massing military power on the border of Kosovo. It's tough and rocky in both a human and physical sense, and much beautiful landscape is marred by a disrespect for it, with discarded machinery dumped in many places. More of a frontier Balkan state than Croatia, and one for the more adventurous. 7 out of 10.