OMAN MARCH 2022
This trip was originally booked two years ago when Covid first broke. Twenty minutes before arriving at the airport at the time Oman shut its borders. No such problem this time. We fly via Doha which is an interesting sight from the air with all its reclaimed land. We arrive in Muscat to spend a few days relaxing at the Grand Hyatt, a spot of faded glamour on the Gulf of Oman. We then fly north to Khasab in Musandam, in the very north of the country on the Strait of Hormuz opposite Iran. This is where the fun starts.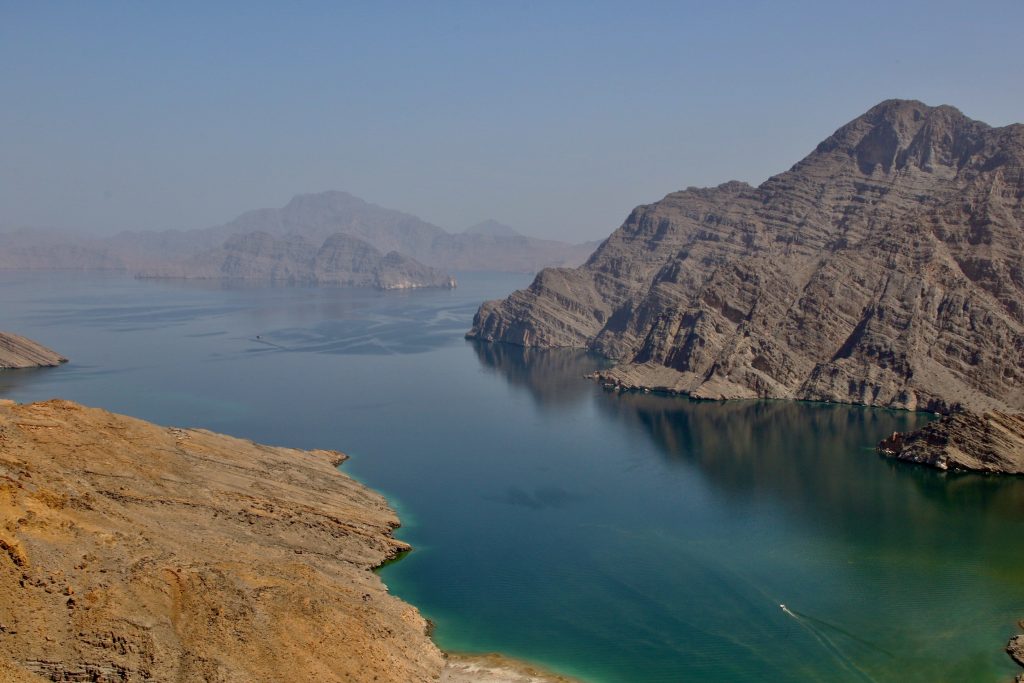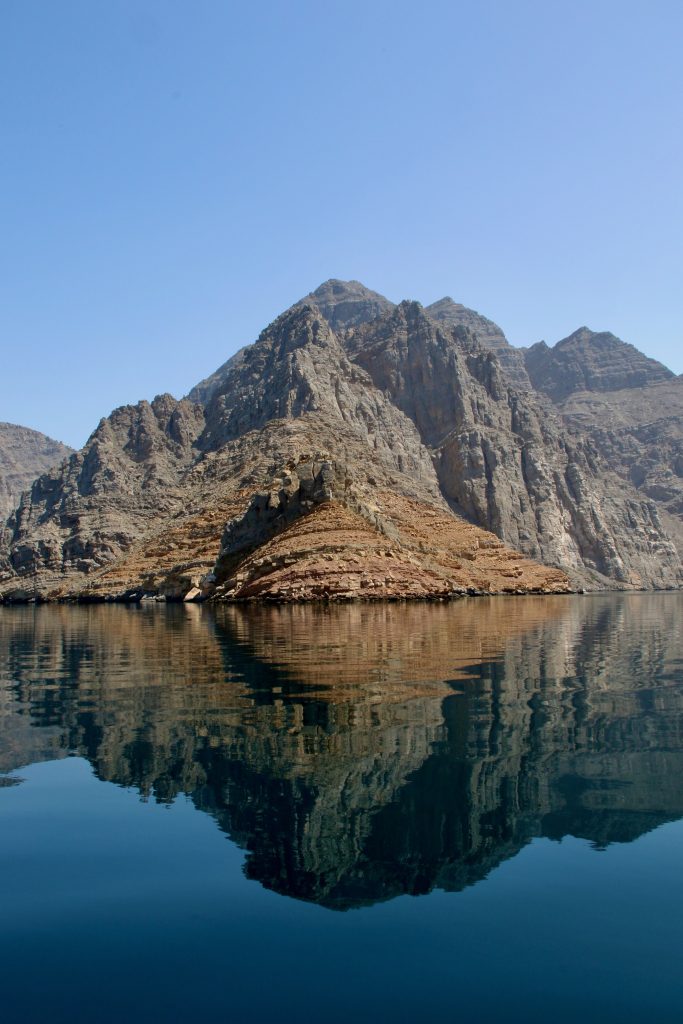 The first thing you see before landing are hundreds of tankers at anchor waiting to get through the strait. Next up is a flotilla of around a hundred speedboats sprinting across from Iran to smuggle goods. They buy them legitimately for cash in Oman and then leg it back to the border and then load their stuff into a ship which has bribed the authorities to get the goods in. The boats are rammed with electrical goods and even cars which they can sell for eight times the price. This area is of intense interest to many other nations, not least of which the UK and the USA, which ensures a heavy military presence.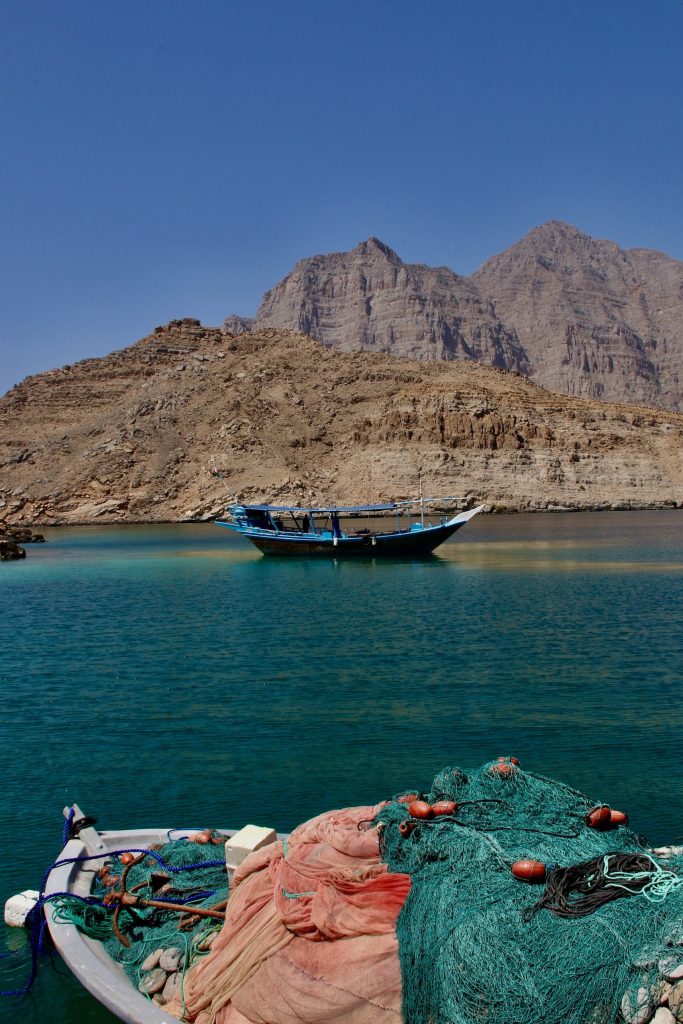 We embark on a mountain safari, climbing to 1600 metres in a 4-wheel drive through highly dramatic rocky country. Apart from the brutal crags of the Hajar Mountains, there is plenty of interest on the way to Jebel Harim (Mountain of Women, but there were none there). The Bedouin village of Sayh at 110 metres is something of a surprise, offering a burst of green in a lush valley with date palms, grasses, goats and donkeys grazing. There are great views at the top, along with 200-million-year-old fossils of various sea creatures which shows that at some point this was a seabed. Pretty much every layer of rock around here is twisted. We go back down  and up the North Eastern coast to Khawr Najd for stunning views over the fjords leading to the Indian Ocean, and then check in to the Atana Hotel overlooking the sea.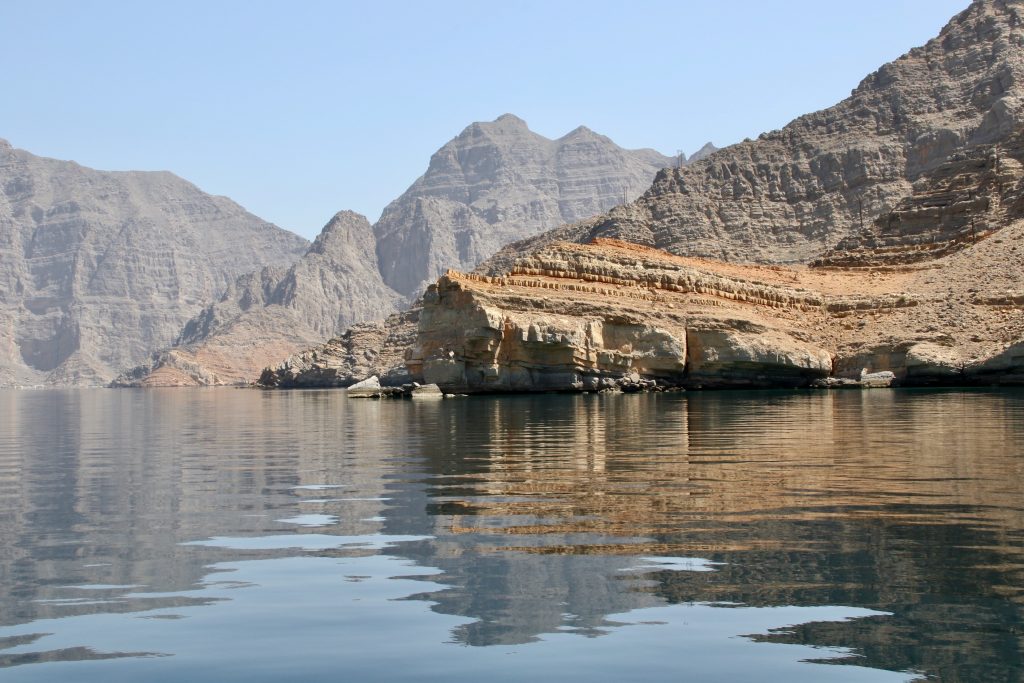 The next day we take a dhow cruise for a few hours amidst stunning scenery and totally flat water. A few Bedouin villages, the occasional dolphin, a couple of snorkelling sessions with a decent range of brightly coloured fish which enjoying eating bananas. This is a brutal landscape which is already becoming invaded by cruise ships and may lose its innocence if it hasn't already. We fly back down to Muscat to begin our investigation of the interior.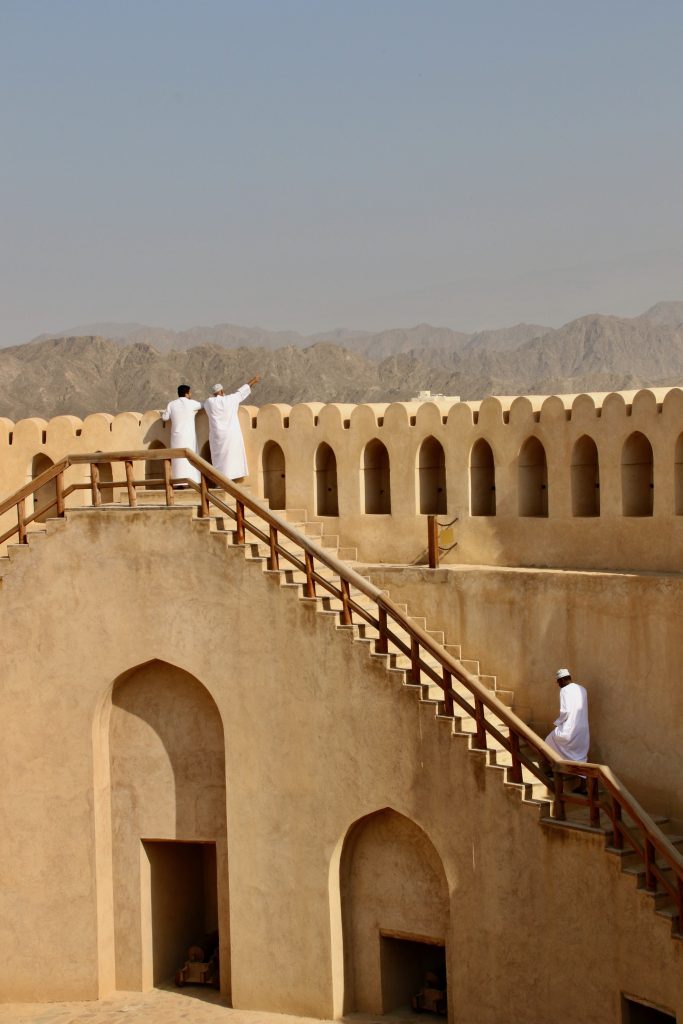 We drive to Nizwa, a previous capital of a country whose history is littered with tribal disputes and the differences between Imams (spiritual leaders~) and Sultans (ruling dynasties). We visit the nicely restored Jabrin Palace which the local Imam set up right in the middle of a huge plain. This either means that he didn't feel the need to be on a hill, or he wanted the ability to see attackers coming from miles away. The place is riddled with fortifications and gun emplacements, and includes facilities for pouring hot date palm oil over intruders. We glance at Bahla Fort from a nearby hill and check in to the Golden Tulip Hotel after a long day.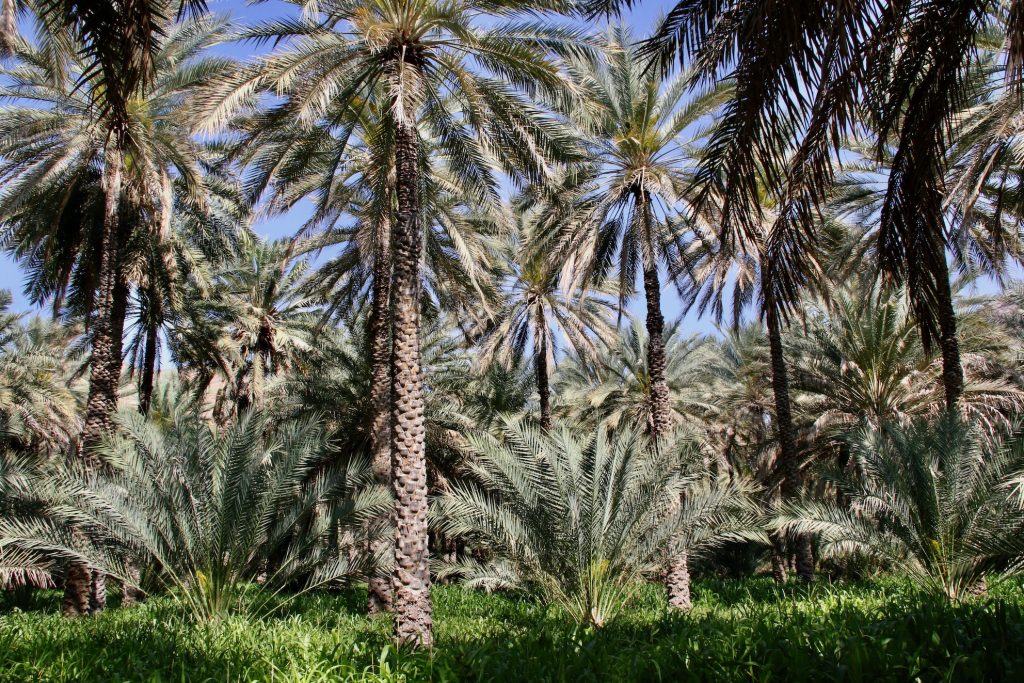 The next day we visit Birkat al Mauz (Pool of bananas) which is a beautiful oasis of shady date palms irrigated by the falaj system which channels water down from mountain springs. We then take a short walk down and up Wadi Bani Habib. Remnants of an old shot down helicopter pay testament to a dispute here in the 60s about building a pipeline. 300 locals were eventually defeated by the Sultan's troops with some help from the British. Perhaps not the UK's finest hour.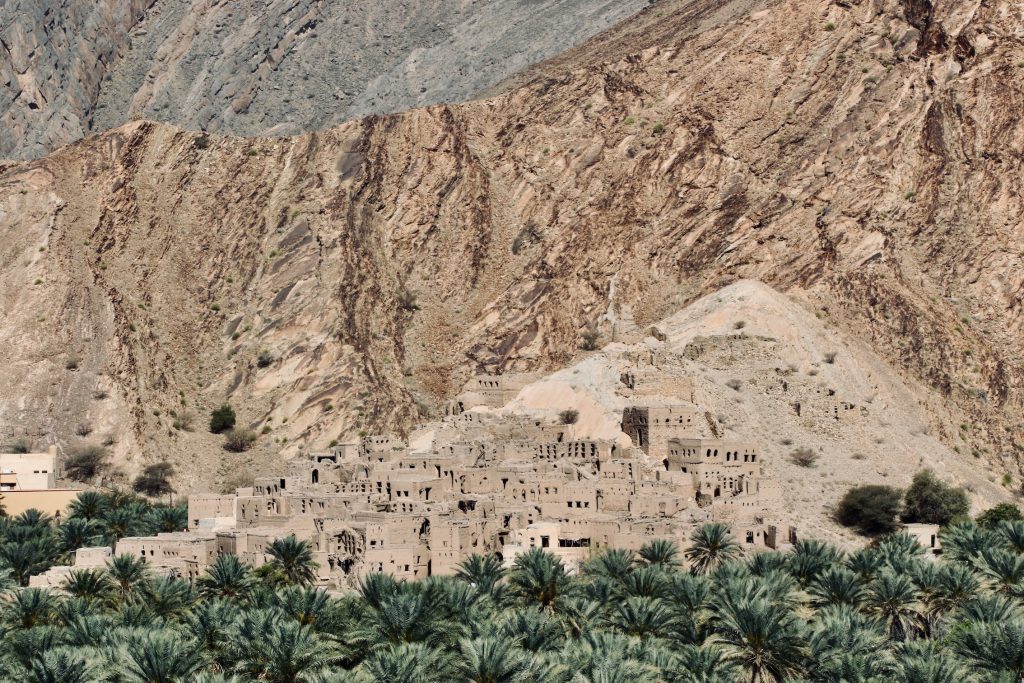 Commenting on the fact that a tourist is taking his child into some dilapidated old houses, we discover that the wall collapsed when a party of Italians pushed it and the whole thing fell down. European health and safety would have cordoned off the place long ago. We do another Wadi walk at Al Ayn, observing the local terrace farming approach which yields roses, garlic, and their famous pomegranates. Our guide thinks the people here are a bit mad, and indeed devious. Apparently, a common trick is to scare a goat into the road in front of a car and then demand compensation for its demise. We drive on to check in to the Alila Hotel at Jebel Akhdar (Green Mountain). This involves serious 4-wheel drive, twisting bends, and a rise of 3000 metres, before arriving at what is locally described as the Omani Grand Canyon. The views are brilliant and the room sumptuous.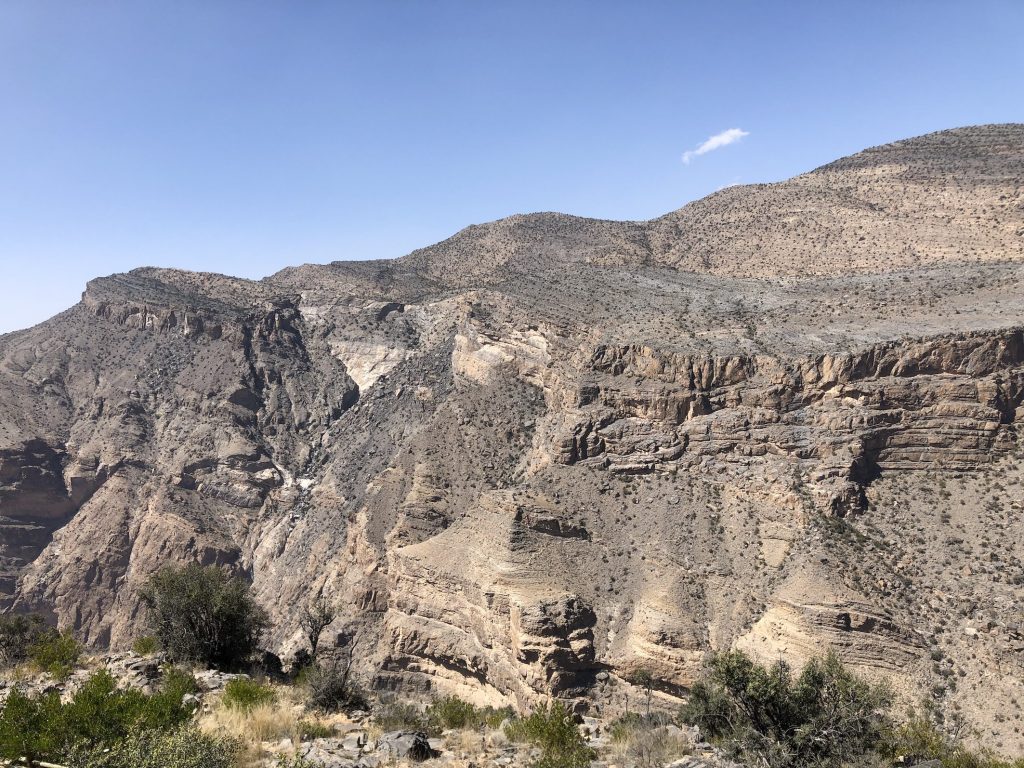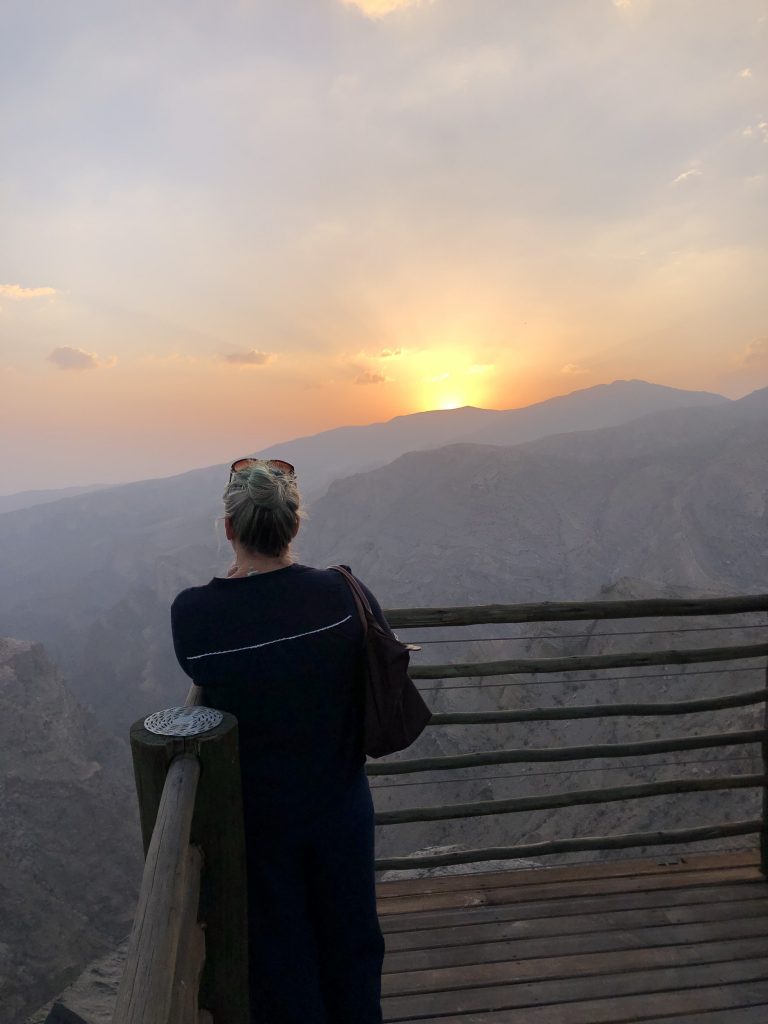 This is the kind of place where you could lie in a pool or jacuzzi all day and just stare at the mountains. Various eagles and vultures cruise overhead, and at this time of year the views are clear and there is a decent chance of a dramatic sunset. But there is much else to do if you want go hiking or mountaineering. Friday is the weekend so we drive into Nizwa for the early morning cattle market. Actually it's more about goats, with hundreds coming in from all around to buy and sell in what is a combination of a beauty pageant and a stock exchange shouting match. We move on without having purchased – cattle and goats are notoriously difficult as cabin luggage. And they are expensive A decent cow can cost 400 Omani Rials, which is £800. We wander through the souk which has the usual combination of stuff but with a noticeably liberal approach to guns and daggers – khanjars, usually made of ornate silver. Grab a rifle and head off for a goat roast in the car park. We opt instead for a trip around Nizwah fort and castle, where the most interesting features are the defensive double trap set to nobble intruders. They step in the door and are immediately hit from above by boiling date oil. When they stagger forward, they drop down a hole called a pitfall. Ingenious.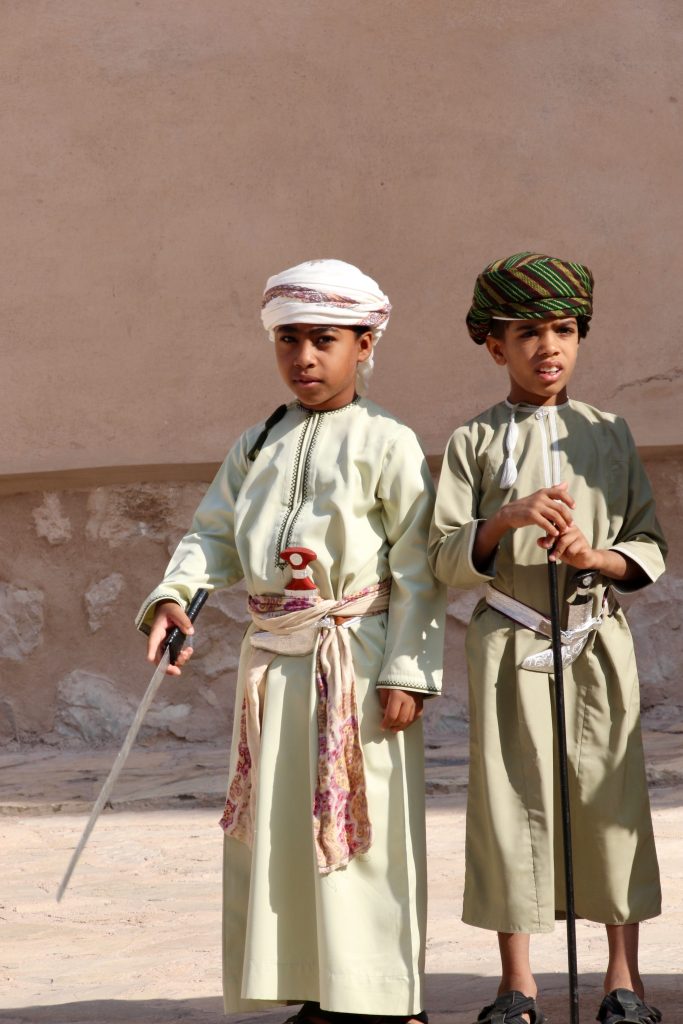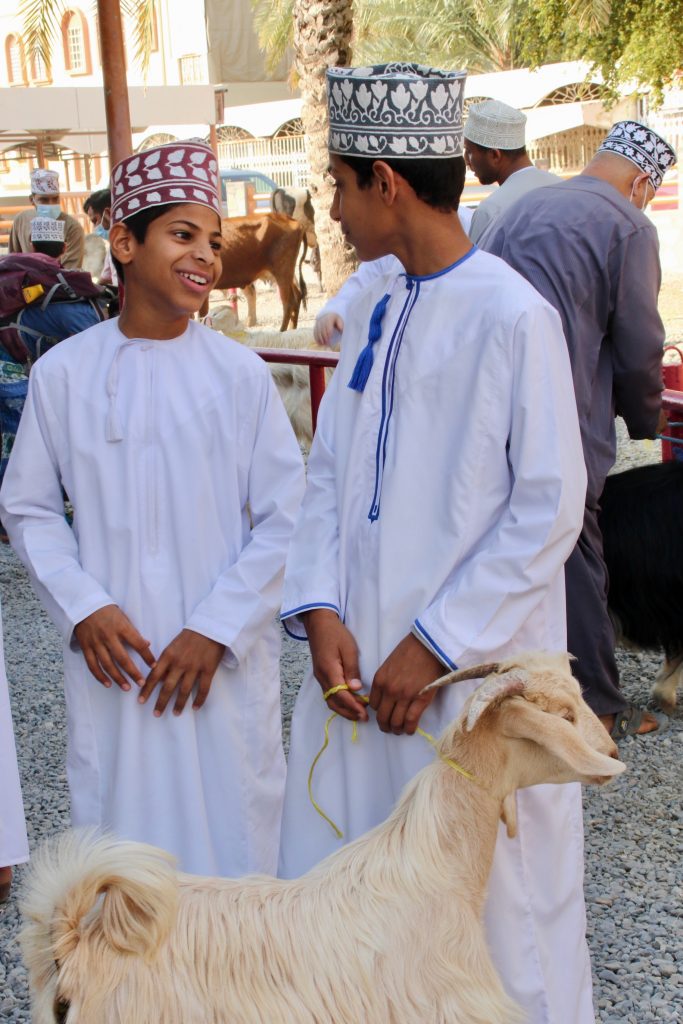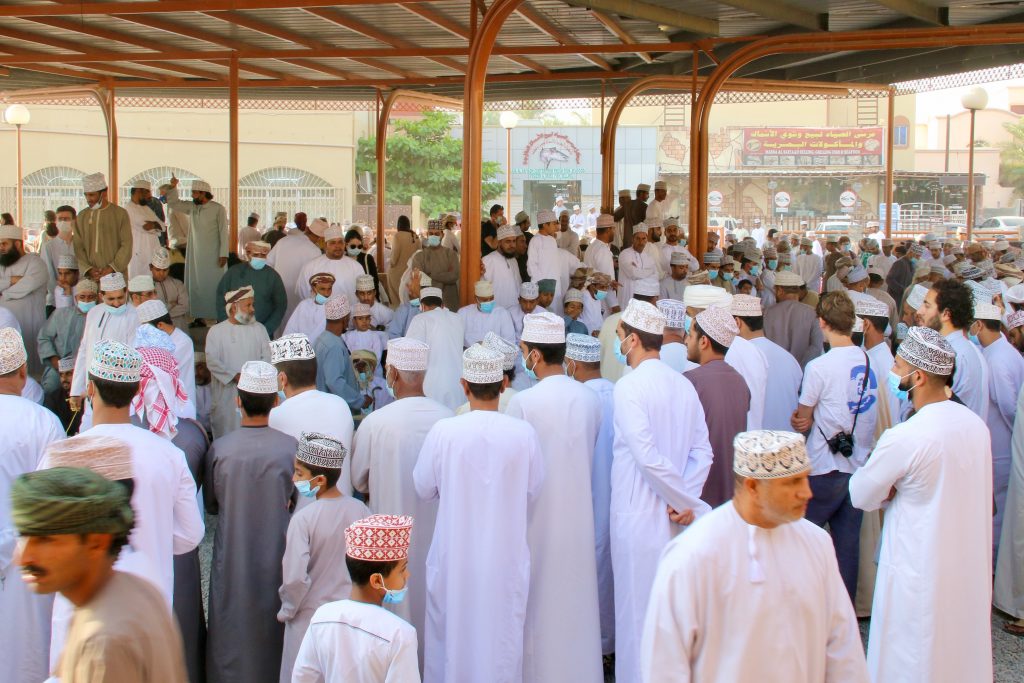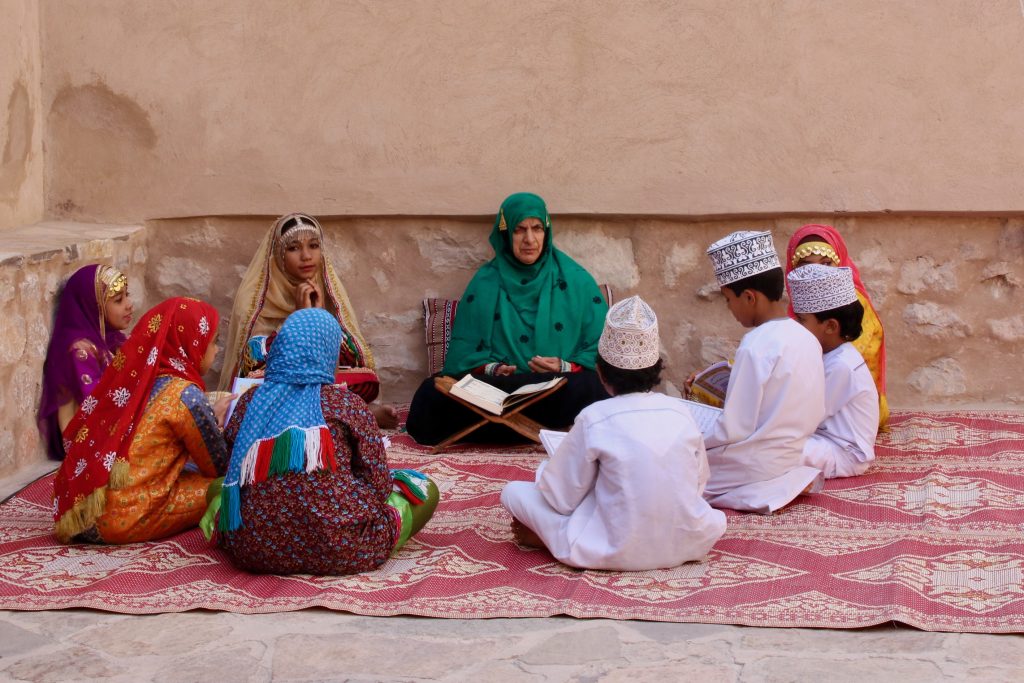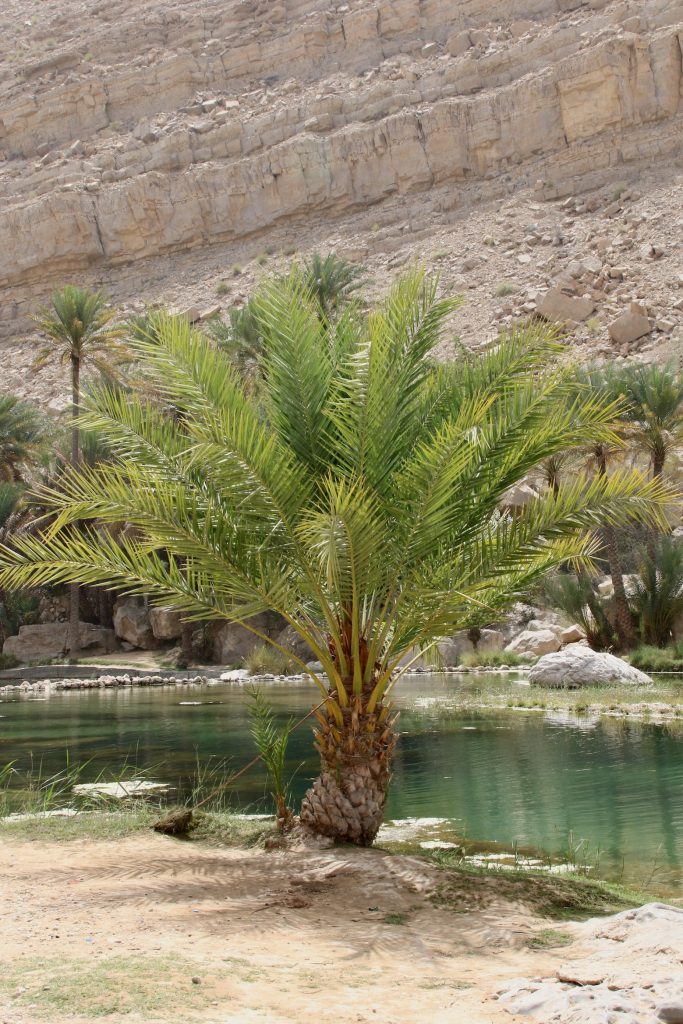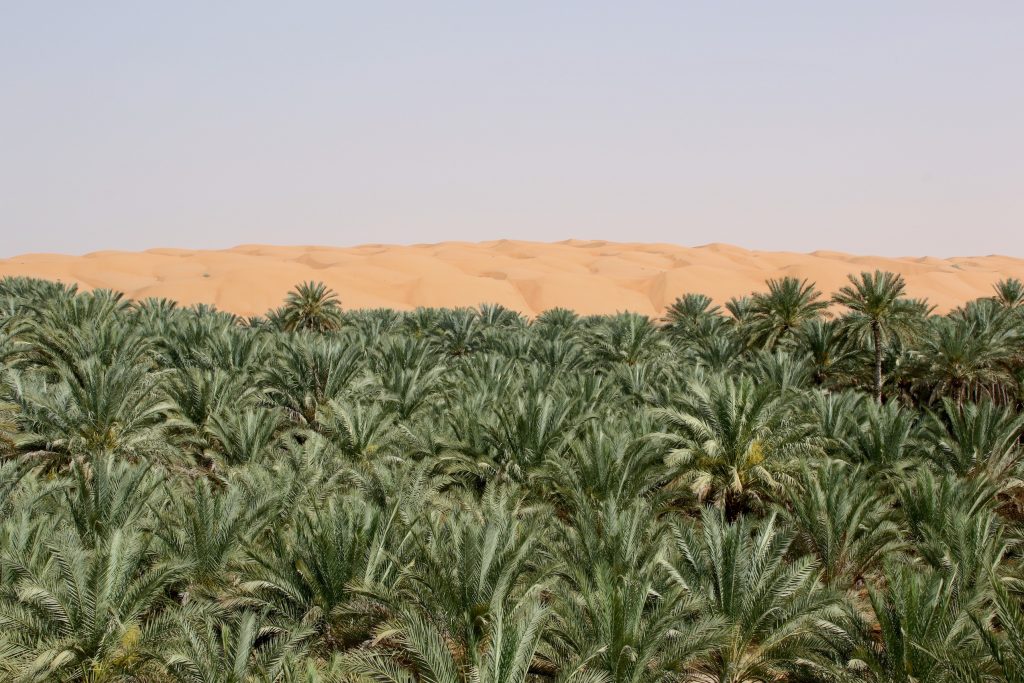 We head to the desert next day, stopping off at Wadi Bani Khalid near Ibra. This sounds attractive but has been nastily commercialised. What could have been a pleasant lake surrounded by date palms is now closer to Thorpe Park. Just before we leave standard roads to traverse the Wahiba Sands, our driver says: "I must release some air." There was a short pause before he thankfully added "…from my tyres." The desert is not as idyllic as one might expect. The Bedouins make a certain amount of mess as they are entitled to with camel corrals and other detritus, but the real mess comes from visitors wrecking their cars whilst wadi-bashing. The tracks are strewn with parts of cars smashed up by joy riders. The 1000 Nights camp is less serene than you would expect, with a massive digital screen and a fair number of screaming kids. We watch a very pleasant sunset from the top of a somewhat windy dune and retire for an early night. The following day we return to Muscat for a couple of nights at the plush W Hotel.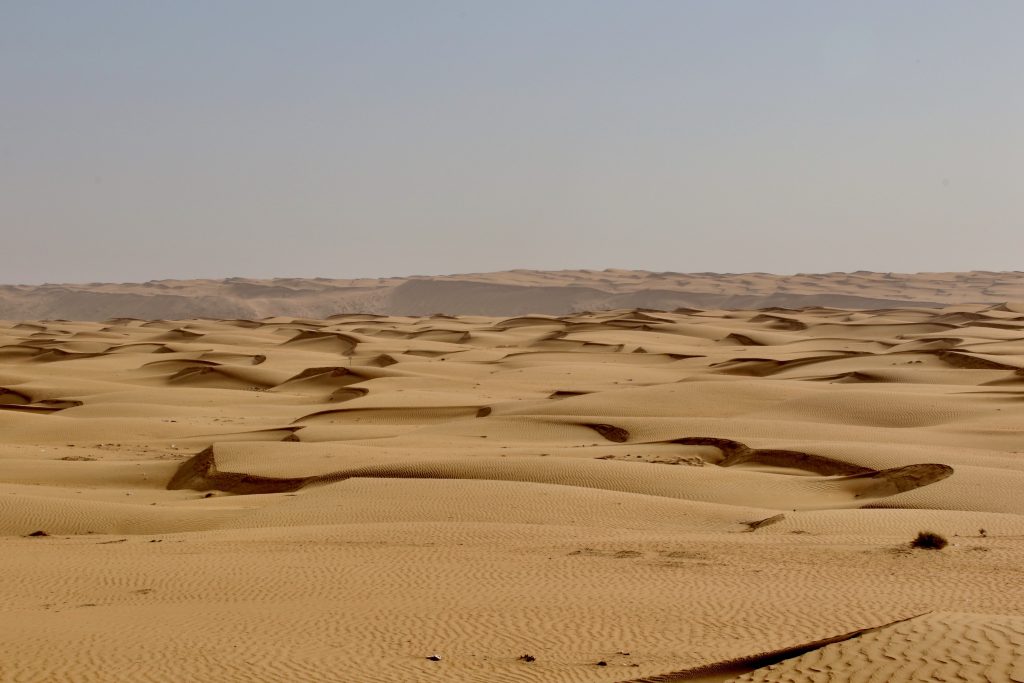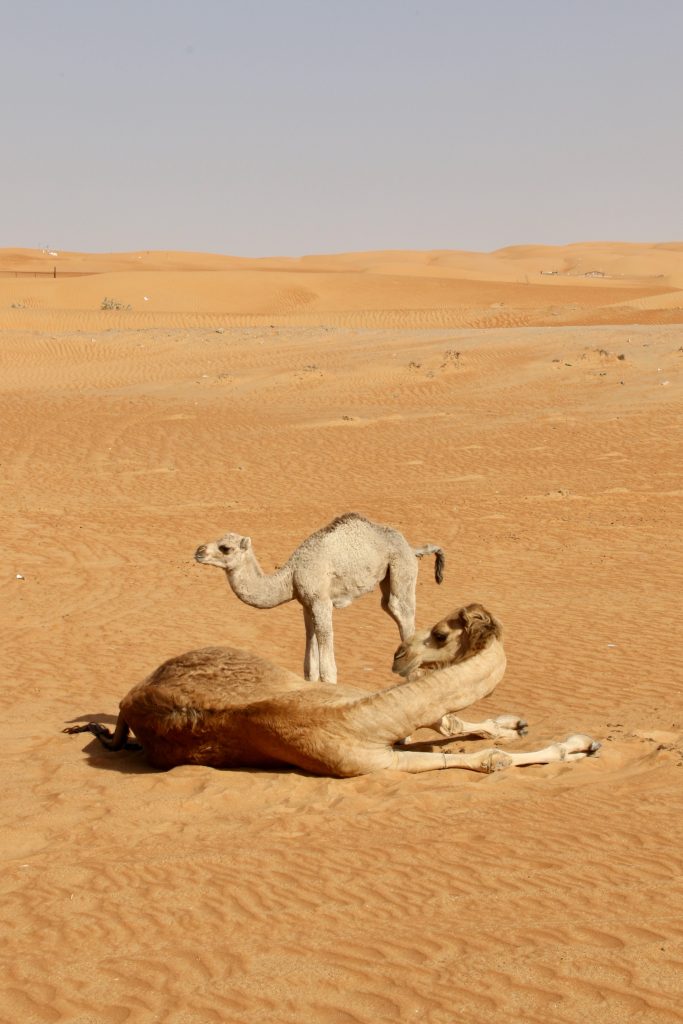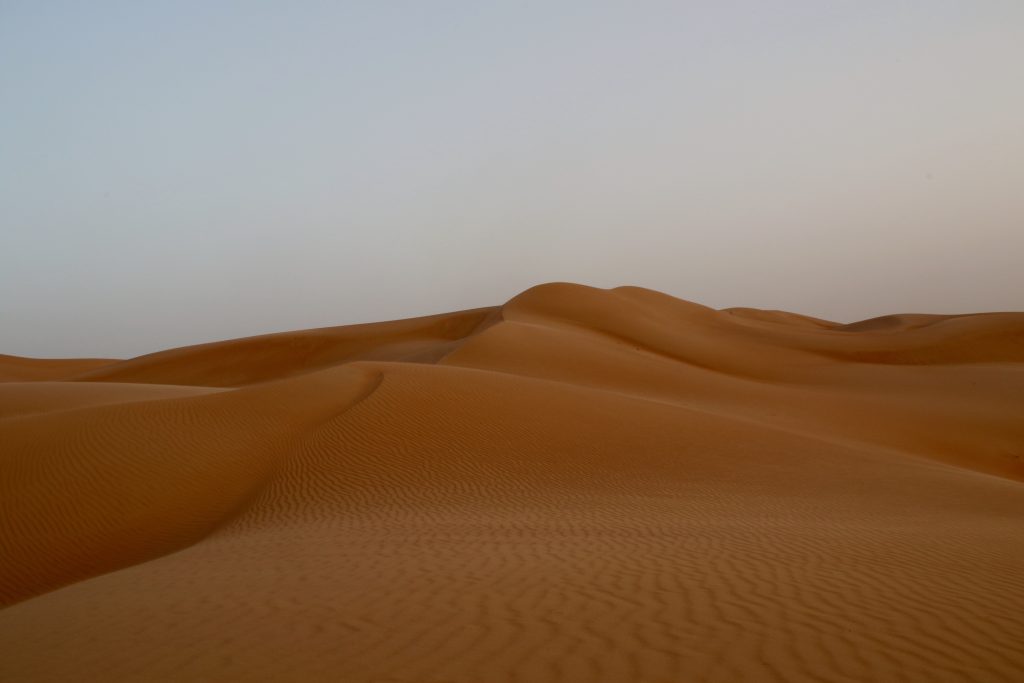 Concluding remarks on Oman. On the plus side, the country is in an important location between Iran and the UAE with Yemen to the south. This leads to some interesting conversations. The locals are in the main charming (with the exception of some hill folk who don't welcome visitors). The landscape can be dramatic, particularly the fjords of Musandam, the "Grand Canyons" around Jebel Akhdar, and the desert. On the negative side, large swathes of the country are unremarkable in between these very big features. The forts are of passing interest but less so than in many other countries. The big deficiency is the lack of Omani identity in the face of so many expats from other countries. It's actually quite hard to meet a genuine Omani. You are more likely to be talking to someone from India, Pakistan, Bangladesh or a range of other nearer nearby countries. This is a shame because it all contributes to a rather bland feel such as Dubai. Effectively you could be in any neutral international community. So if you are looking for a distinct cultural experience, you will find Oman weak in comparison to, say, any of the Stans in Central Asia. If your target is the fjords, the mountainous interior or the desert, then research diligently first to ensure that there aren't more dramatic examples elsewhere. Pleasant, but not exceptional for the seasoned traveller. 6 out of 10.