MOZAMBIQUE AUGUST 2018
A trip with a celebratory feel – Sarah's 50th – which gives us permission to break one of our travelling house rules: Never go somewhere you've been before (until you run out of countries). Flying to Johannesburg is almost always good – straight down the world with no time difference – in 11 hours overnight.
We kill time for a couple of hours in the airport before our flight to Mozambique. A quick tip here for anyone interested. Jo'burg airport is large and complicated. For example, even though we are on an international flight to Mozambique, check in is at the domestic terminal. There are companies that meet you straight off the plane and can guide you through it all – well worth paying for. After paying a rather pedantic 150 rand for 3kg of excess baggage, we are off.
Mozambique is three times the size of the UK and surrounded by six other countries. Tanzania to the north – a little way down the coast is Pemba, where we have been before on the Quirimbas Archipelago and Ibo Island. It shares the southern end of Lake Malawi with its namesake country. Then Zambia, Zimbabwe and South Africa, with even a tiny slice of Swaziland at the bottom near Maputo.
We are heading for Vilanculos, about a third of the way up the coast. Flying in to this airport is a joy, with huge swathes of sandy lagoons. We then embark on a meaty 4-hour drive through Pambarra, Mapinhane, Massinga, Maxixe (pronounced Masheesh) and Inhambane, eventually arriving at the Barra Peninsula. Here we stay at Blue Footprints, a lovely lodge up a 4km sand track positioned high on the dunes overlooking the Indian Ocean. It's an idyllic spot.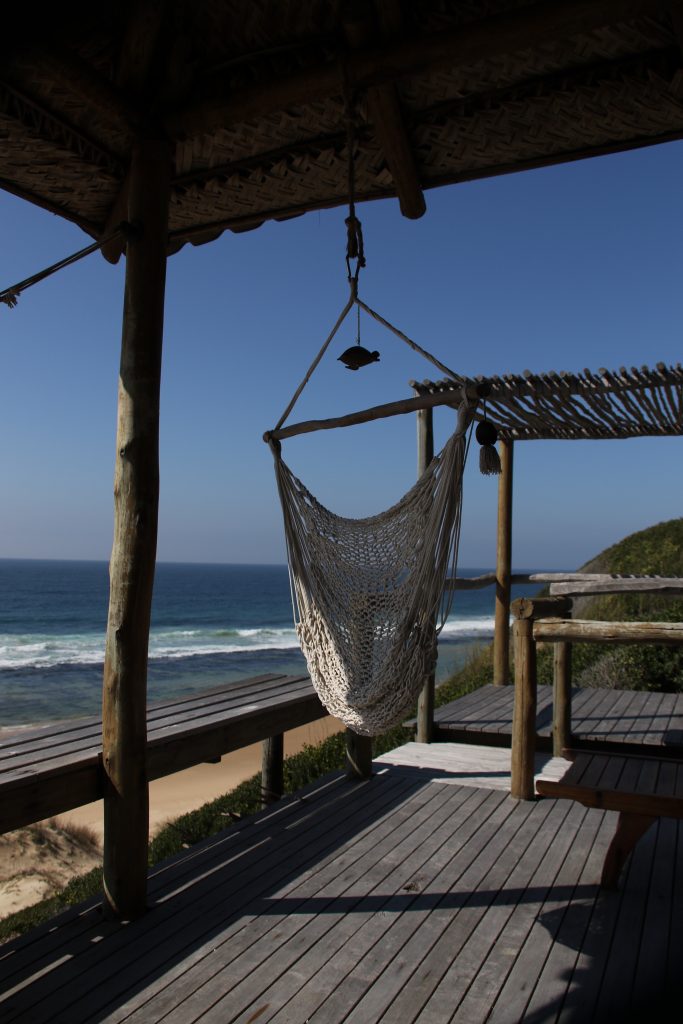 Day one we walk north up the beach and round the headland with the lighthouse where the keeper can remember using paraffin and being paid by the Portuguese. This high tide path only takes 20 minutes or so, depending on how often you are distracted by the locals fishing and harvesting the ocean. A man wanders past brandishing octopus and yellow fin tuna. Lunch at the aptly named Chill Bar is charming. We just about time our run back right, having to clamber over a short stretch of viciously sharp volcanic rock to get round the point.
The next day we opt to go full maritime, so we go to Tofo to take an ocean safari. We are rewarded with multiple encounters with humpback whales. There are plenty of dolphins too, but jumping in to join in with them doesn't work – the visibility is poor so it's just green murk. We learn and observe much more about the whales as the days go by. They feed on krill in the Antarctic, then come here to have babies. They weigh 40-60 tons. A baby weighs a ton. So does just one of their pectoral fins. They can be 35-40 feet long. Their behaviour viewed from the vantage point of our balcony is hilarious. They breach clean out of the water for reasons unknown (Shifting parasites? Communication?) They slap their pectoral fins repeatedly. They stay motionless ("sleep") for long periods. It's particularly funny watching the youngsters try to learn some of these skills.
After four days we repeat the 4-hour journey in reverse, back to Vilanculos to take a helicopter out to the Bazaruto Archipelago. This is staggering stuff, overlooking miles of turquoise sand bar landscape interspersed by the odd fishing boat. Paradise. We land on Benguerra Island, home to Azura – a small complex of 17 villas tucked discreetly under the tress on a long, flat stretch of perfect beach.
This is a beautiful place to be. Off to the north is Bazaruto Island, punctuated by a large dune at one end, which we duly climb for a commanding view of the whole area. After a ridiculously opulent lunch for two on a deserted beach at North Point, we head to Two Mile Reef for an excellent snorkel – it's a healthy reef. We arrive back in time to watch the local kids' band do their stuff and we end up dancing on the beach, badly. The next day we take a semi-nature tour of the island, taking in the freshwater crocodile lakes, the Red Dune on the Wild (Indian Ocean) Side, and a visit to the local church since it is a Sunday. Lots of information and tons of local colour. This is promptly followed by watching the local football match – a tough and energetic 0-0 draw, with the left back playing in bare feet. The ref calls off the game after a heated dispute near the end.
As we helicopter back out, it's good to reflect on a return visit to Mozambique. We have seen a tough, smiley people working hard to improve their lives since civil war. An impressive unspoiled landscape with an engaging culture make this a lovely, unformulaic country to visit.