MYANMAR – MARCH 2014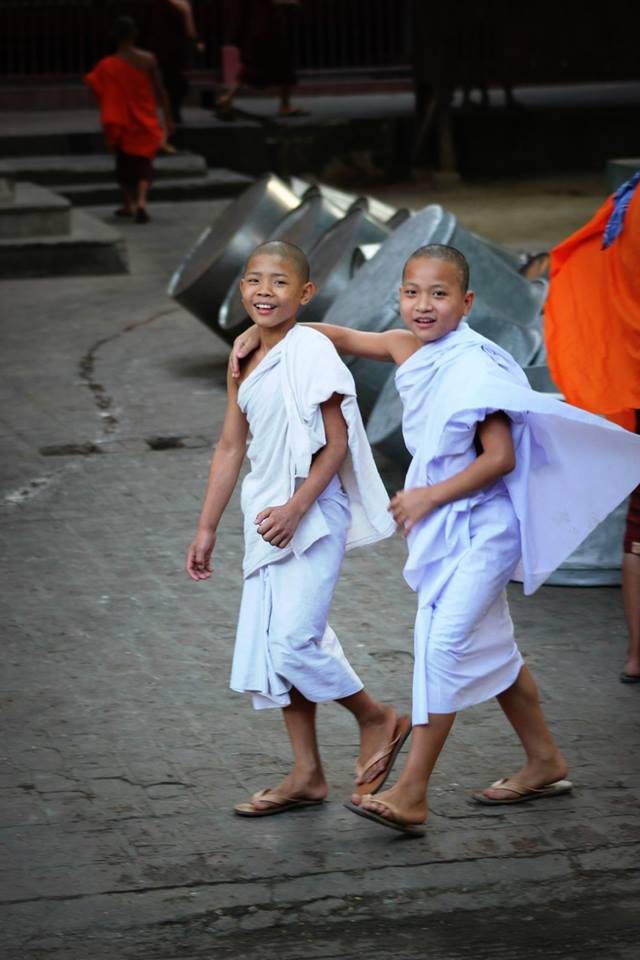 Myanmar can't work out what it's called. It could be Burma. If it's Myanmar then the pronunciation is Me-and-Mar. And it may variously be "The democratic/socialist republic of…" etc. It is only 90 minutes flying time from Vietnam, but the cultural contrast is large. If coming from the UK, you'll need to allow about a day – see return journey at the end. Yangon (Rangoon) is a charming city with wide roads and a fairly calm attitude. It is 40 minutes to the Savoy Hotel in the rush hour, and 20 minutes any other time. The Savoy is a wood paneled affair with a central courtyard and pool. From here we strike out to the Sule Pagoda, strangely surrounded by shops offering to fix your mobile phone. We stroll past the Independence monument and a range of colonial buildings, where Aung San and his ministers were assassinated in 1947.
The Botataung Pagoda on the Yangon River provides an introduction to Buddhist culture. Buddha statues can be ornate gold or doll-like. What looks like make-up is explained in other ways – red lips and toenails means he was healthy, the blue eye shadow is harder to explain. Huge turtles and catfish wallow in pools as locals pile in on a Saturday morning to do deals with their god: "I have put a donation in the pot, and placed symbolic items on the shrine, such as drink, cracker biscuits, flowers and cigarettes. In return, I would like…" Fill in the space. Health? Prosperity? A car?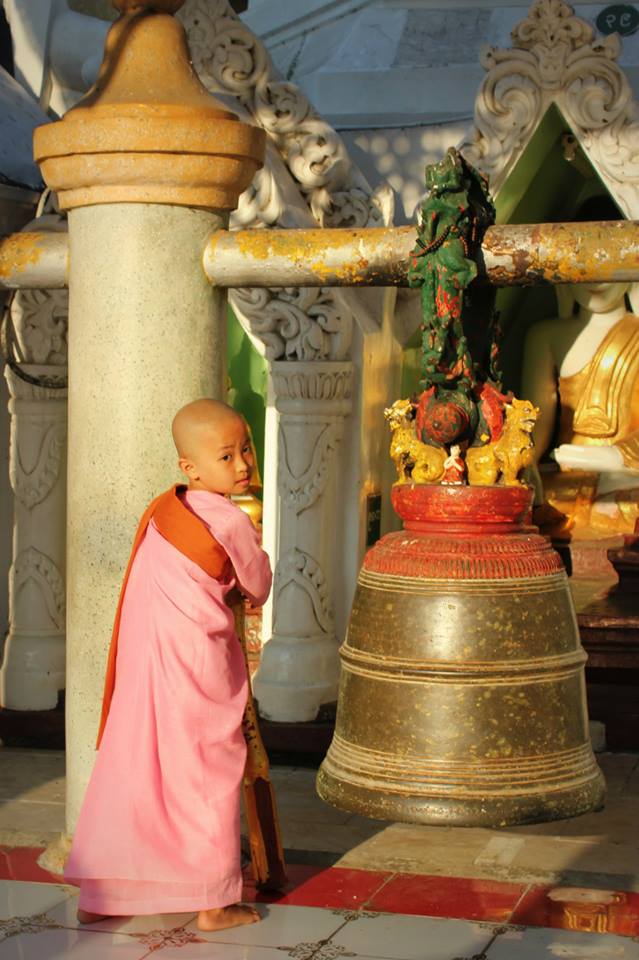 We take in the bustling scene at the jetty on the Yangon River. A market offers the usual range of fruit and cloth. The ferry to the other side is heaving, but only foreigners are allowed on the top deck. Colonies can gain their independence, and then strangely lose it again. We take in some excellent art at the refurbished Strand Hotel. Then it's off to the Royal Lake (Kandawgi Lake) where the Karaweik restaurant looks like a huge pair of dragon boats on the water. Upwardly mobile couples come here to get married. Round the corner and up the hill is Kyauk Htat Gyi, a 65-metre Buddha covered by a modern structure. It takes five years to build such a thing, with Japanese glass for the eyes and heavy glass detail on the cloak. Devotees pray all around, cats and dogs idle, and a man sweeps offerings off the lino and tiles that surround it.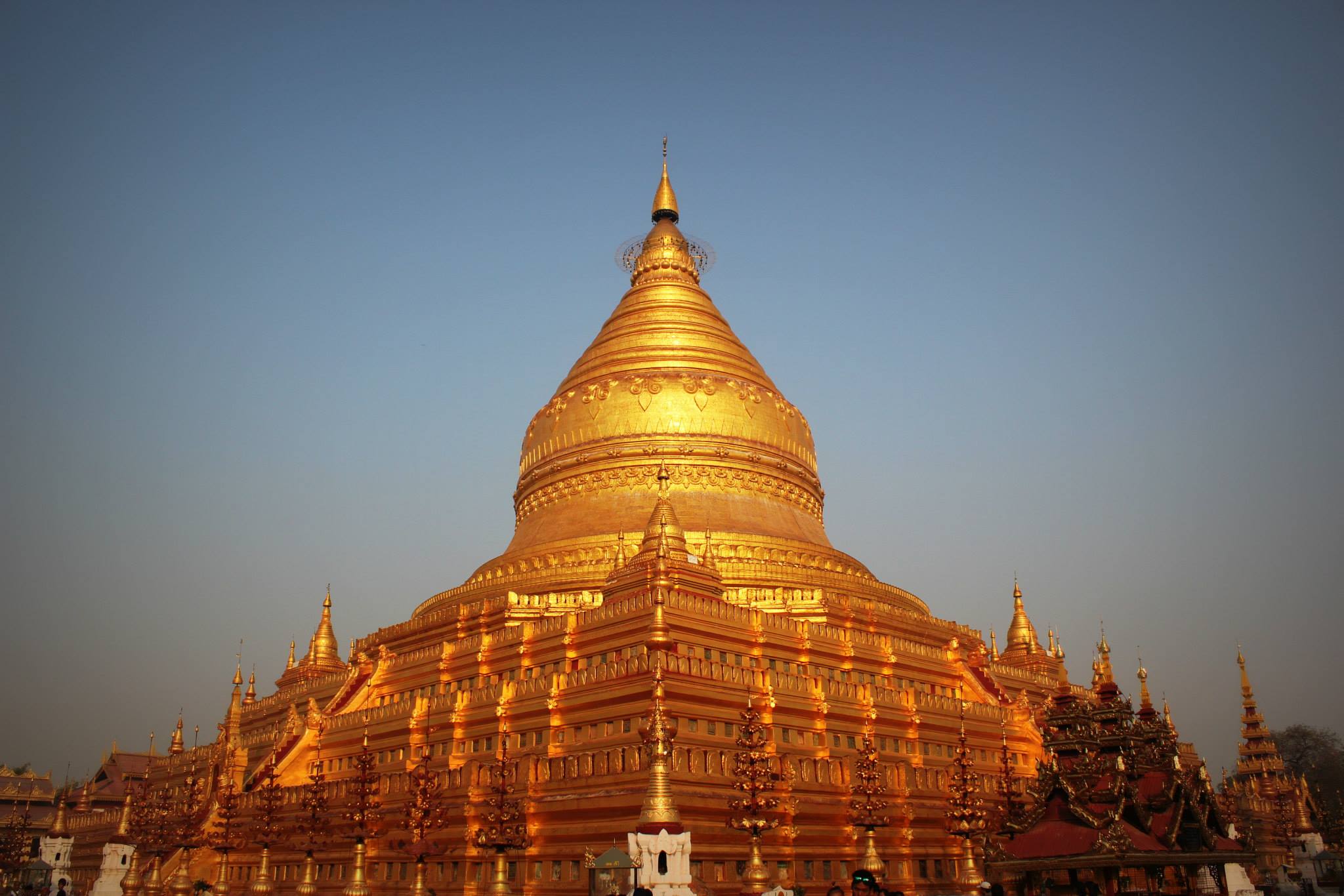 Back to the Savoy for a poolside lunch – try the savoy burger with rosti washed down with a pint of Myanmar beer – and we are off to visit the jewel in the crown: the Shwedagon pagoda. Pagoda designs vary but some features are consistent. They are reliquaries – in theory containing the relics of Buddha, perhaps hair or a tooth. Depending on which part of the country they are designed in, they feature a range of terraces, a bell shape, and an eventual taper to an umbrella with a weather vane and a stack of jewels on top. The gold leaf alone on the big ones costs £700,000. It's a commercial enterprise, and the accounts are often displayed on a whiteboard. One we looked at showed monthly income from donations of £50,000. With hundreds of monks wandering around, and an onslaught of gold everywhere, this is one of the great experiences. Every now and then a novitiation ceremony walks past – the induction of a novice monk, with all the family and much pomp. After a brilliant couple of hours we retire to Chinatown for a beer.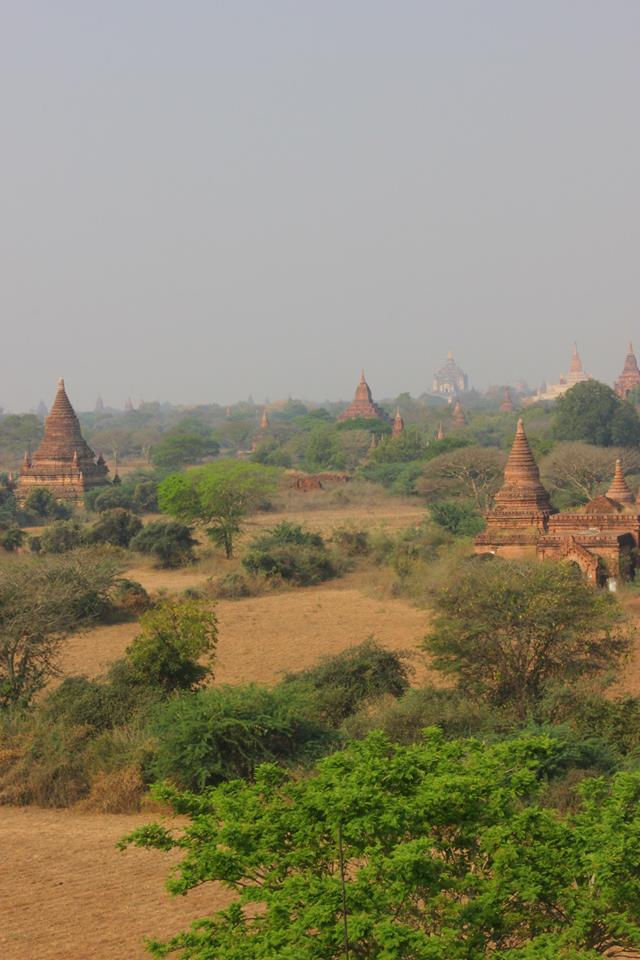 The next morning is a somewhat ballbreaking 4.30am start. All Burmese flights start at Rangoon first thing and shuttle round the country from there. We board the 6.30 to Bagan, and it takes off early because everything is ready and it is far from full. The Air Asia turbo prop takes off without fuss, cruises at 19,000 feet for an hour, and we are in Bagan by 7.30am. Bagan is extraordinary. There are over 2,000 temples and pagodas in a 16km square patch – the remnants of a huge city from the 11th/12th/13th century, nestled in a gentle bend of the Ayeyarwady River. Everywhere you look, there is a pagoda or temple. We visit the huge Shwezigon Pagoda where families and school parties congregate, examine the temple of Htilominlo, and witness the atrocity where a German raider nicked all the tiles off the wall and shipped them to a museum in Hamburg. Climbing one of the few remaining structures where it is allowed, you can see the whole scene unfold over a flat landscape. Only the religious buildings remain, being made of brick or sandstone. All the wooden accommodation is long since gone. By lunchtime we are ready to repair to the Thiripitsaya Hotel. It's luxurious, with a massive pool and spa, and a great view of the Irrawady River. The rest of the day entails little more than a swim, a massage, a gin and tonic watching the sun set over the river with a pagoda silhouette skyline, and a tasty Asian meal outside on the deck with excellent local wine.
The next day we rise at 5am to fly in a hot air balloon over the temples. It's a big operation, with ten balloons carrying 15 people. We are brilliantly ferried in an old army bus, and soon we are cruising gently over the 2,000+ temples. Industrious locals follow our flight path and offer their art and clothes for sale on landing. After a hearty breakfast we visit two more temples, each with a very different feel. Ananda was built in 1091 and is a collision of Mon and Indian architecture, which is why the current Indian government is spending $34m to help restore it. Damage from the 1975 earthquake (6.8 on the Richter scale but only lasting 30 seconds) is being repaired meticulously, along with restoration of interior murals. Workmen laboriously remove lime to expose these, providing an updated backdrop to the enormous quartet of golden buddhas inside.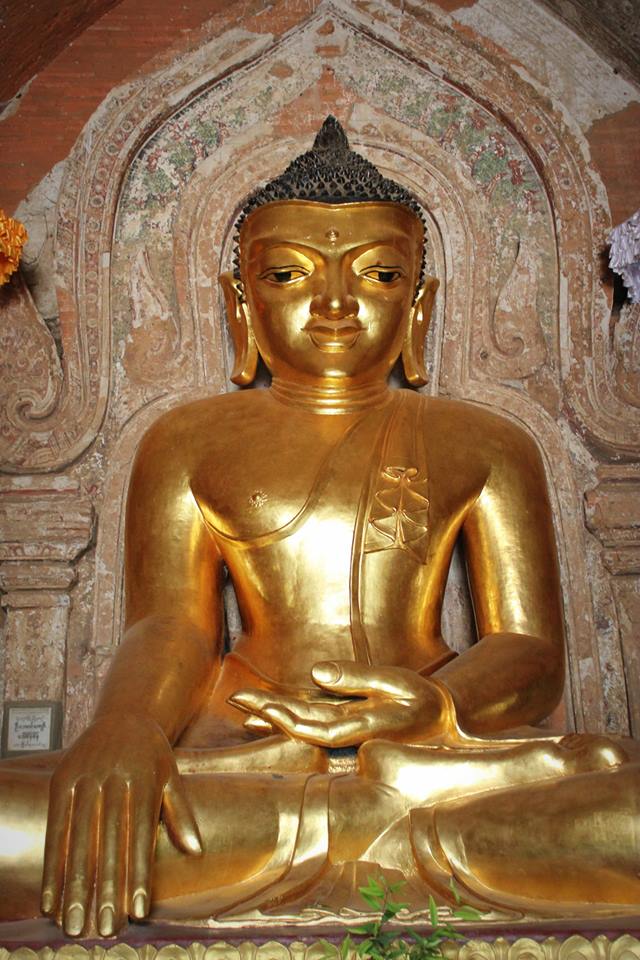 Nearby Gu Byauk Gi temple has astonishingly well preserved murals throughout. This is exactly the same name as the temple in which the over enthusiastic (or downright thieving) German Mr. Thomann stole all the wall tiles. Here the damage has been of a different type – monsoon rain coming in the windows, termites eating the plaster from the ground up, and soot from interior fires. Hundreds retreated into the temples in World War II, after Mountbatten agreed not to allow bombing of religious buildings when fighting the Japanese. The fires inside covered much of the precious artwork, and it took ten years to remove the soot layer. The view of all this is on a par with the tombs of Egypt – highly recommended. We return to  the hotel with a quick pit stop explaining the local techniques for lacquer work, but refrain from buying.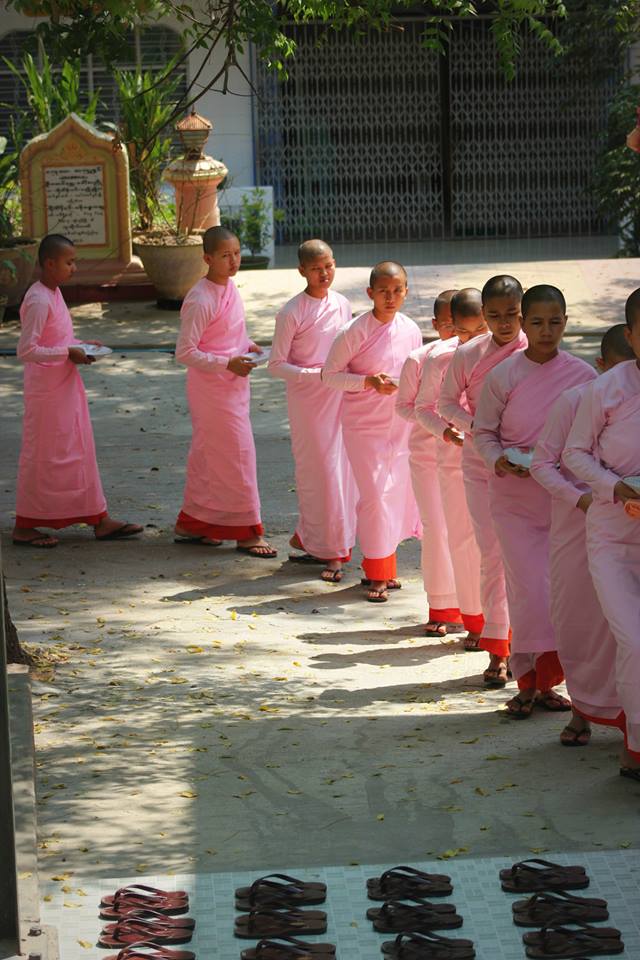 Our next stop is Mandalay, and it's a great place. All flights happen early in the morning, so it's usual to visit some places before going to the hotel. On this occasion we have landed by 8.30 and we are off to Sagaing, a hill above the river that is home to scores of monasteries and pagodas. Sun U Ponya Shin provides a superb vantage point over the river with its large old and new bridges. There is usually a single track British colonial one and a new one. We visit a nunnery, where 120 young girls in their pink robes queue patiently for a bowl of rice. Grace lasts almost as long as dinner. We then drive down to catch a makeshift ferry across the Myitnge River to the ancient town of Inwa, or Ava (many places here have several names). This is followed by a horse and cart visit down dusty tracks to two fascinating places. Bargayar is a wooden monastery from 1834 built entirely from teak, with massive pillars supporting ornate woodcarving and a working school with a monk teaching kids inside. Menu Okaung is part temple part fort, and provides a secluded spot overlooking the river, with many a tale about who deceived who in times gone by. We round off the day by learning the local pottery and silk weaving skills in nearby Amarapura, and then drive through the city to our hotel, the Mandalay Hill Resort. This is probably the best hotel in town, nestled underneath the hill that gave its name to the city, and affording a full view of the 2-mile-square Royal Palace complex surrounded by a moat. The gardens are a pleasure to stroll around, although the two-foot diameter testicles and graphic anus behind the ceremonial lions guarding the outside restaurant are somewhat gratuitous.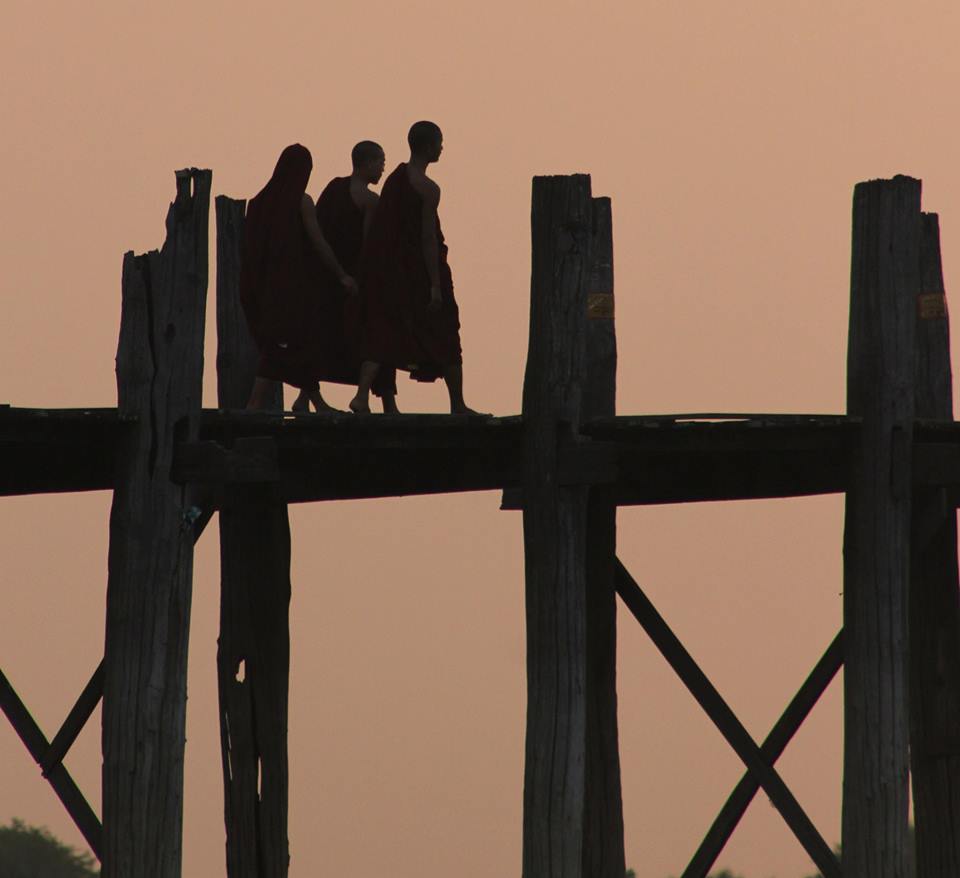 After finally succeeding with a lie-in, we embark on an afternoon ramble around the Golden Palace monastery (Shwe Nandaw Kyaung) – a brilliant example of woodcarving and thoroughly transportable. It seems that kings think nothing of uprooting their premises and moving elsewhere. It is also an exercise to envisage the entire structure covered in gold leaf, as it originally was, and mainly still is on the inside. Once again, the history reveals that many rivals of the queen were murdered here. Garuda, the mythical bird giant that ate dragons for fun, is much in evidence here as a guardian. These days, Garuda is demoted to being The World's Most Improved Airline. This is really worth seeing, given that most of the other 100+ wooden buildings representing this amazing work were burned to the ground in World War II, mainly by the Japanese. We drive on to visit our guide's brother who makes guitars, and stop to examine the process of making gold leaf. Take a gold ingot worth $1600 the size of a throat pastille, pummel it for a very long time, and it turns into very flat film that you can stick on practically anything. Which is exactly what they do round here. At the Maha Muni temple, people have stuck so much of it on the Buddha that it now weighs over three tons. After looking at further skills involving woodcarving, lacquer work, weaving and so on, we walk through a monastery with 1200 monks going about their work. This is by U Bein's bridge, which spans Lake Taungthaman, and is made mainly of old teak (now supported in parts by concrete). This is a fairly nasty tourist trap where you can sit on a gondola and photograph the sunset. If short of time, avoid this.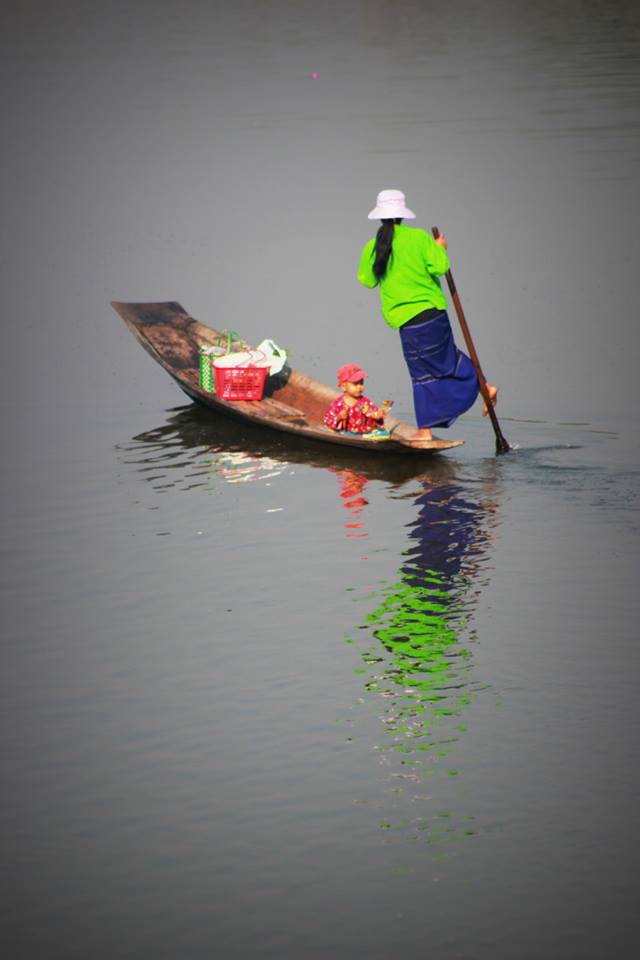 The next day we are off to Inle Lake, high up in the hills, via Heho airport (original meaning: cattle station). This is Shan state, which borders China, Laos and Thailand to the east. Here the landscape changes. It's hill country mainly populated by our old friend Kublai Khan and his hordes of frenzied Mongols. Coming off the pine-covered hills (introduced by the British) we descend to a fertile valley whose central point is Inle Lake. Nyaungshwe lies at the northern tip of the lake, and from here a 30-minute trip in a longboat leads to our hotel, the Inle Princess Resort. Motors are cut some way from reception, and we are rowed silently in by a local using their unusual one-legged rowing style.
Meanwhile my Mandalay city map has been providing some amusing reading as the local translation takes it toll. The Buddha in Maha Muni pagoda is described as being "13 feet high and covered in too much gold", which it certainly was. The flower market is apparently "a very unterresting place" (sic), and the U Bein Bridge is "built with discarded palace." The Inle Princess Resort is superb, and with a lakeside room you are perfectly placed to watch the sun set over the 4,000 metre mountain range in the distance as the herons wing their way to their nightly roosts. The view is enhanced by our supplies of the local Red Mountain wine, whose vineyard we have just visited. It is a new set up conceived by a Frenchman, where you can observe the process, taste the results overlooking a superb view of the valley below, and buy the stuff for $10 a bottle, as opposed to the $27-37 dollars in the hotels.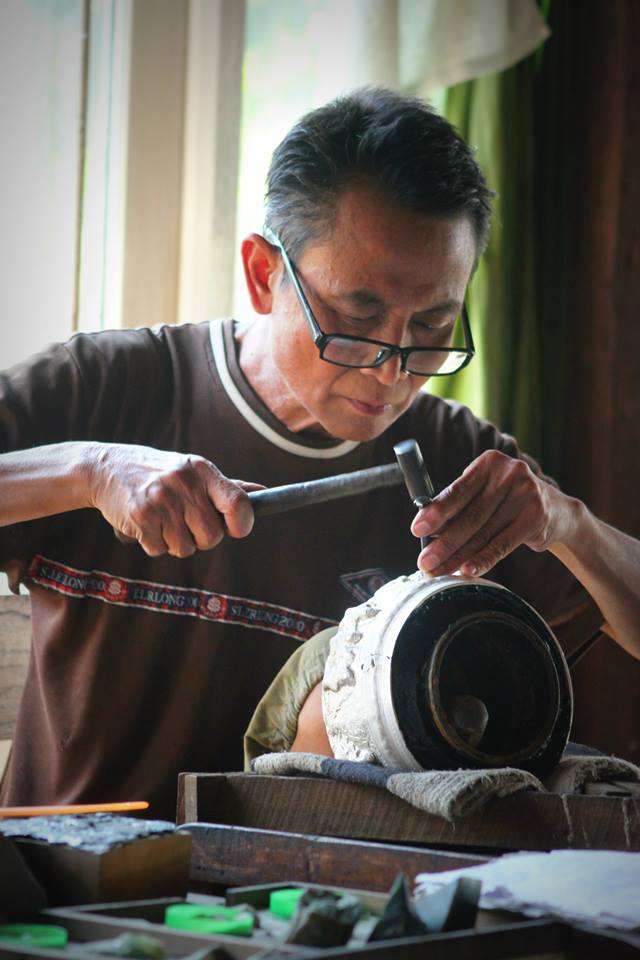 The next day is lake day. We take a longboat to examine a range of local activities, starting with one-legged rowing, fishing for carp, catfish and eels using a range of techniques, harvesting seaweed for compost, and hydroponic gardening. This is one of the few places in the world where the technique is practiced en masse. Floating reed mats are cut like peat or turf from the southern end of the lake, and dragged into position to be anchored by a bamboo pole. The rafts are then covered with dredged silt, seaweed compost, and used as a base to plant tomatoes, courgettes and so on. No need to water because the roots get all they need from the lake. The locals build most of their houses on stilts or reclaimed land, and if they aren't fishing, they are weavers or silversmiths. We enjoy hot and sour pork for lunch at the Htun Htun restaurant opposite the Phaung Daw U Pagoda in Thale, and then head up river to wander around the superb Inthein Pagoda complex. Here are the knackered remains of over 1,000 stupas in various degrees of disrepair, creating superb views of carvings and gnarled roots combined. There's barely anyone around, and this comes highly recommended. The boat trip back is brilliant, with green water lapping past as we navigate their ingenious weir system, wave at locals washing and nod at water buffalo bathing no doubt after a hard day's ploughing in the fields. After a long day on the water, a visit to the hotel's superbly decorated bar is in order, followed by dinner on the wooden terrace outside the cavernous and ornately designed great hall.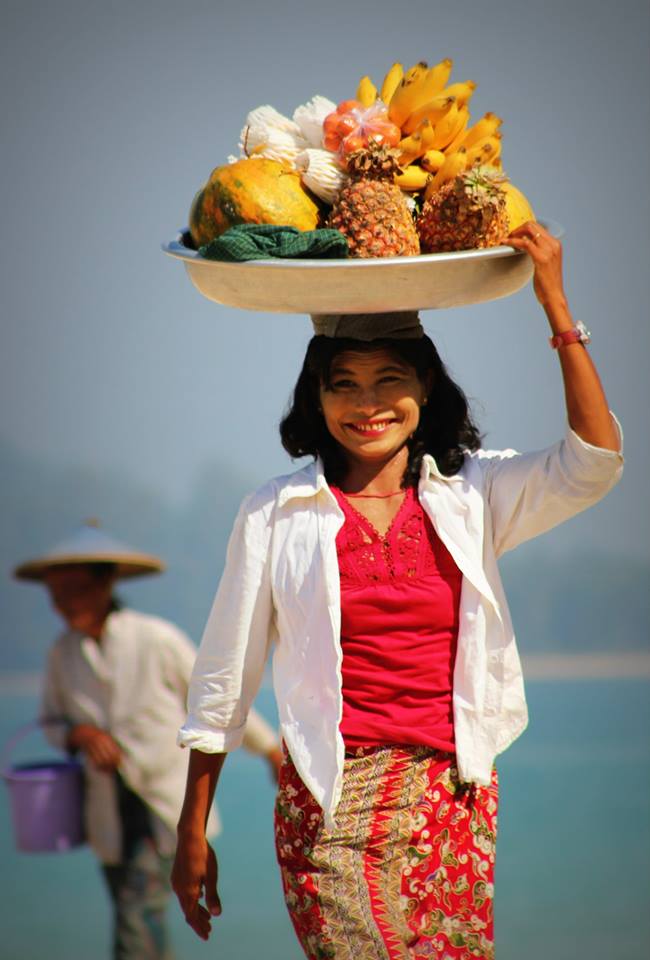 The next day we are off again, for the final part of the trip – heading west to the beach at Ngapali. This is the best beach in Myanmar, with pure white sand and no motor boats allowed. The Amata resort provides us with a comfortable chalet, so now it's time to do pretty much nothing. A short stroll south down the beach leads to PVI – the Pleasant View Islet – where it's a pleasure to grab a good value fresh fish lunch overlooking the Bay of Bengal. Women wander up and down selling fruit carried on their heads. Various locals offer food and massage, and one or two take trips to Pearl Island opposite.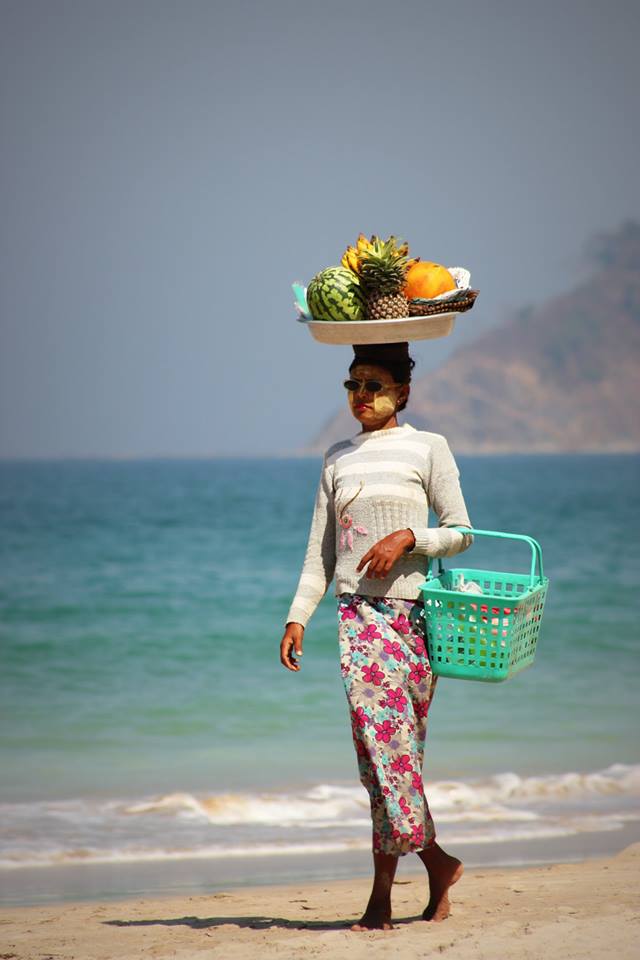 Concluding thoughts on Mynamar: it's brilliant, and has shot to the top of our favourite destinations. The people are friendly and attractive. Buddhist principles seem to work very well, with a great attitude to service, and very little aggressive begging. Talk of service standards being low appear to be either out of date or just plain wrong. We experienced the highest standards – everything works, people are prompt, flights and luggage do what they should, hotels have laundry, TV, products and all mod cons. Occasionally internet connection is an issue so you either need good cash reserves or to check out the day before to allow time. Culturally and architecturally, the pagodas and stupas represent some of the best viewing in the world. They are more impressive than the Taj Mahal, pretty much any church or cathedral in Europe, and most Indian temples. For sheer scale and a sense of wonder, they are on a par with Tikal in Guatemala, Chichen Itza and Teotihuacan in Mexico. Blend it all together – culture, landscape, people, service standards – and Myanmar sits happily alongside Brazil, Argentina, Mexico and Chile as one of the most rewarding places to visit in the world.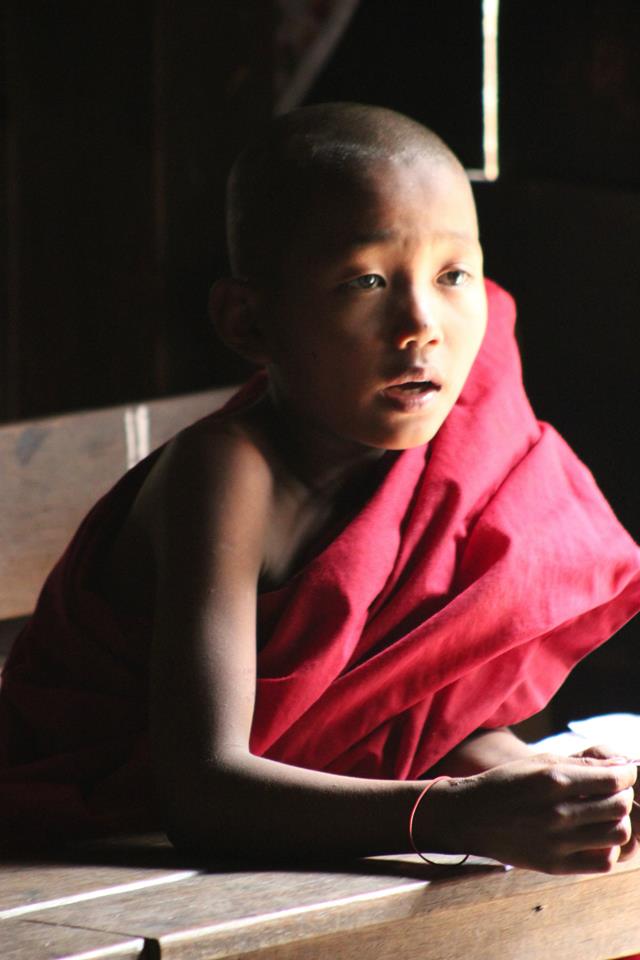 Getting home is a long haul. Our final internal flight is from Ngapali to Yangon, where we stay at the high class but functional Traders Hotel, which is not a patch on the stylish – and way cheaper – Savoy. Being so close to the Sule pagoda, we go up the Sakura Tower to the 20th floor, where impressive views can be had in all directions, including three angles on the river, the Sule, and the mighty Shwedagon on the hill. The panorama is a fitting way to say goodbye to Myanmar, rising at 4.30 next day to fly to Bangkok, with a 3-hour stopover and then a 13-hour return flight to the UK. The word is that direct flights to Rangoon are planned for 2015.