Quebec City
It was all going smoothly – a prompt cab, an easy run to Heathrow, the fastest of check-ins on Air Canada, and an on-time flight that found us on the southern tip of Greenland – until the Phillipino electrician a few rows from us had what appeared to be a coronary. After much toing and froing, complete with the traditional captain's request "Is there a doctor on board?", we diverted to Rekyavik's Keflavik airport. As one of the comedians on the way to Montreal's comedy festival observed: "He wasn't that ill. He walked off the bloody plane."
4,000 miles later we arrive in Montreal, tired and emotional, but rewarded by an amazing
redirected flight over Greenland, with staggering views of merging glaciers and enormous icebergs. We had comprehensively missed our 7pm connection and caught the last-ditch 11pm to Quebec City, arriving in the old town after midnight, around 6am UK time. There are advantages to waking up in a new town, assuming you are in the right bit, and we were – the old part.
The tiny enclave that is old Quebec sits in Basse-Ville at the base of the mountain. A
short stroll from Auberge Saint-Pierre takes us to the idyllic Place Royale, frozen in aspic from colonial France. The Quebecois are ferociously partisan, but their forebears weren't so smart when they sat in wait for the English on the huge St. Lawrence River. General Woolfe and his troops hid round the corner and attacked from behind over the hill. Despite Quebec being bigger than France and arguably more French, it remains a part of the British Commonwealth.

Beyond the old town Quebec City is not that exciting. A trip out to the promising falls at Parc de la Chute Montmorency – 30 minutes through the suburbs on the bus – yields a dammed river surrounded by reservoir-like constraints – hardly the "100 feet higher than Niagara spectacle" that was promised. Lunch in the sun at the Manoir Montmorency high over the river and the bridge to the Ile D'Orleans provides ample compensation as a buzzard wheels below and we down a pint or two of Boreale beer.
Striding out along the Governor's Walkway to the citadel is barely worth it, with the
unchanging views of the waterway with an oil refinery in the distance and sprawling harbour below. The Chateau Frontenac, now a 600-room hotel, offers some visual relief but in the main Quebec old town is a bijou delight hemmed in by an industrial port on all sides. After a classic French dinner at Café St. Malo on Rue Sainte Paul, it's time to turn in.
The following morning we experience the rather eccentric delights of the Musee de la
Civilisation  – seemingly only interested in saying how brilliant the French are, and how crap the British are – before taking the train to Montreal. Business class helps, as does one of the world's neatest stations, where we down a pint of Cheval Blanc and a Molson
Export before boarding. The countryside is fairly unremarkable in an American mid-west kind of way, but interspersed by the loud party attitude of the progressively-pissed Mexicans with kids sitting next to us. Initially heading away from our destination with the St. Lawrence on our right, we switch back after Sainte-Roy to speed through the increasingly-thinning farmsteads.
Montreal
The city was named in 1535 when a guy called Jacques Cartier was led to the top of a hill by the local Hochelaga people. He decided the view was fit for a king and so named
it Mount Royal – Mont Real. We enjoy this view on a beautiful summer day which offers a panorama for miles. Reaching the spot is medium-easy, using a combination of metro and bus, plus a brisk walk. The locals are out in force, incessantly biking and jogging, and even skiing uphill on strange skis with wheels on them.
Next it's time to investigate the Olympic village, relic of 1976, and locally referred to as
the Big Owe, since it left the city $1.6bn in debt. It's big and now fairly tatty, but it's worth going up the sloping viewing tower by funicular, which at 575 feet claims to be the world's tallest inclined tower. People will do anything to hold a record it seems.
The Velodrome, cunningly designed in the style of a cyclist's helmet, is the subject of
significant repairs, and is now a Biodome containing a range of interesting habitats. It's heaving with summer camp outings, but observing the lynx family is a delight, particularly the live video feed of the cub born just two months ago, still in isolation but playing boisterously with its mother.
Back in the Place-des-Arts, the Musee d'Art Contemporain is downright obscure, so we cut our losses and opt for a cold pint of Blanche de Chambly in the sun, before walking back to our hotel, the Nelligan, in the old town of Rue St. Paul. Dinner at Le Club Chasse et Peche is a high class affair – one of those apparently secret restaurants with almost no exterior branding, tucked away off the main drag in Rue Saint-Claude.
Montreal is patchy, perhaps 4 out of 10. The old town is charming enough, but much of it
merely echoes the commerciality of Covent Garden. The pricing, their 'tarification' policy, is usually fairly lumpy for what's on offer, and there are effectively no 'must see' landmarks of note, despite the publicity guff.
Toronto
We arrive at central station and make the short walk to the Soho Metropolitan Hotel,
enjoying our first view of the 575-foot CN Tower on the way. Upgrading to a suite for three nights is a bonus, and in the evening we head out for a rather average meal at Shoeless Joe's, but the Rickards Red slips down nicely.
In the morning we have breakfast with the famous local Jimmy Dorenzo, who treats us to the peameal bacon special at Senators on Victoria Street, a classic art deco diner.
The Art gallery of Ontario (AGO) has a Picasso exhibition on Dundas St, which we follow with some well-deserved beers in the sun at the Friar & Firkin: Creemore Springs, and the superbly named Mr. Huff – "Persuasion Pilsner" from the Hop City Brewing Company. Meanwhile the construction sign in the street announces "No heavy trucks on Stephanie East of John," which makes the mind boggle somewhat. The session continues at Wayne Gretzky's on Blue Jays Way – a shrine to all things ice hockey related  – and despite an apparently deserted street level bar there is a thriving party taking place in the sun on the roof. The day finishes with a catch-up on the Olympics on the TV, interspersed with superb ads: "Single Christian? Good news! Find God's match for you a christianmingle.com."
The next day is Saturday, and the famous Toronto Blue Jays are playing lunchtime baseball in the mighty Rogers Stadium. Tonight we decide to view the evening game – from the top of the vast CN Tower. Fixing a dinner reservation in the revolving restaurant gets you to the front of the queue and up nearly 600 feet in two minutes. The views are staggering – looking out over Lake Ontario, watching aircraft take off below on the Toronto Islands, and leaning right over to get a bird's-eye view of the ballgame – with a superb meal thrown in for good measure.
The next morning we visit the Toronto Dominion Gallery of Inuit Art – a small free
exhibition in what appears to be a corporate office on Wellington St. There's no one else there and the stone carvings from Baffin Island are great. Now it's time for a pre-game lunch at Jack Astor's on Front St. "Jacked up" bigger glasses of Canadian lager, and our first experience of poutine – soggy chips in drippy gravy with bacon and chicken trimmings. This tees us up nicely for the lunchtime game against Detroit Tigers, which the Jays win 5-1. It's great fun working out what the hell is going on.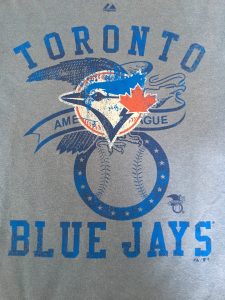 Niagara Falls
We grab a hire car and take the one-and-a-half-hour drive round Lake Ontario to
Niagara-on-the-Lake. This wine country and the vineyards produce 80% of Canada's wine. The whole area is twee – immaculately manicured everywhere, until the carnage of the falls themselves. We opt for a 12-minute helicopter trip to get a proper view of the whole thing, and what a way to do it, just as with Victoria Falls. It's a beautiful sunny day and everything is in clear view: the river and gorge, the American Falls, the classic Horseshoe Falls with what appears to be a ship at the top that didn't make it, and the rather non-descript Whirlpool, which doesn't look much like one.
All well and good, albeit nothing on the scale of Iguazu or Victoria, nor of course Venezuela's staggering Angel Falls. But the shame of it all is the built-up crap around it: shamelessly crass Sheraton and Marriott hotels, enormous hydro-electric set-ups with dams and power stations, every ugly building imaginable, and some functional bridges with endless border control queues and bus parks. Back on terra firma we brave a short run to the falls for an upfront view, and get the hell out of there as fast as possible.
Returning to the relative calm of Niagara-on-the-Lake, we take a short stroll down to the
water's edge where the CN Tower can be seen in the distance on the far shore. Most of the coastline here is owned by wealthy private houses. A few beers in the sun on the main street allow for people watching and observation of all the bikes and classic cars that break the bucolic calm with all their revving. Then it's dinner at the Shaw Club Hotel before retiring for an early night in preparation for a 7am rise. Off to Toronto's Pearson airport after a slightly hairy navigation of the freeway system which isn't the best signposted. We're off to Calgary in the Rockies, albeit with a one hour delay. The prairies recede and we cross the chunky Lake Huron on the way to the mountains.
Banff
The pilot of our 767 is officially an idiot. On arrival in Calgary there is no one else
around and he overshoots his gate marker. We laugh hilariously as the ground crew desperately attempt to direct him to the stand. He fails, and then has the temerity to announce that "due to overcrowding it is required we be towed to the stand." This takes another half an hour on top of the original delay so over 200 passengers are none too amused.
Our car hire pick up is straightforward enough, but navigating out of the city onto Highway
1 West is anything but. We find it eventually and head out past the Olympic village towards the Rockies. They grow larger and larger in layers on the horizon until we enter Banff National Park, buying an annual pass that will get us in everywhere. Directions to the Buffalo Mountain Lodge work well and we are soon installed with a couple of local beers – Big Wheel Amber and Kokanee – before tucking into an excellent dinner featuring buffalo carpaccio and elk salami.
A fairly decent night's sleep follows once I have had to tell the teenagers next door to stop
their party, particularly since the two-chord guitarist was out of tune. Sunrise is greeted with the thunderous whistle of a lonesome train, and we are off to explore. First, it's up Sulphur Mountain on the Banff gondola, which yields brilliant views of the 10,000-foot Mount Cascade, the Bow River and Mount Rundle. The air was thin enough in Banff at 4,500 feet, and at 7,500 feet it's significantly tougher.
You have to get used to some strange names in these parts, as we discovered when driving through the Calgary suburb of Shaganappi. Banff takes this to a new level with
the excellently named Lake Minnewanka. It's charming enough, but not as perfect as the smaller Lake Two Jack. After a short hike to observe the Bow River from on high along with a stand of hoodoos – ancient rock pillars – we repair to Wild Bill's emporium in the high street for bison burgers and a well-earned pint of Big Rock Grasshopper.
Two waterfalls feature today: the charming low-slung Bow Falls, and the taller Lower Falls in Johnston Canyon. This departure from the main drag brings our first wildlife encounters – a pair of bighorn sheep quite content by the side of the road, and a pair of elk doing their thing whilst a variety of tourists pour in to take photos.
The following day we head northwest along the Bow River past the stunning and moody Castle Mountain on the Trans Canadian Highway 1. Initially bypassing Lake Louise, we
head via a town called Field along the enormous Kicking Horse River to an outpost called Golden. Here is the home of the Northern Lights Wolf Centre, buried deep in the woods. At present there are seven wolves in residence, including two pups. One set are due for reintroduction into the wild, another two are too habituated to humans after being rescued from daft owners who failed to realize that cute pups would turn into the real thing.
We round off with lunch at the Moberly pub – an establishment run by a chain-smoking
matriarch in the middle of nowhere – and get back on the road. We had hoped to see hoodoos at the eponymous Hoodoo Creek but there are no decent signs so we decide not to plunge into the forest and settle instead for staring at a few elk. Emerald Lake provides a pleasant detour, and it is indeed that colour, being full of the glacial milk that locals call rock flour. Nearby is lovely feature called Natural Bridge Arch, in which a river-cum-waterfall has blasted its way through the rock to create a powerful torrent through an arch.
We attempted to visit Takakkaw Falls but never made it. The park ranger informed us that a coach had managed to get stuck on a hairpin bend (a "switchback"), and blocked
the road. We returned to the main road, and chased a train from Field that was 2-3km long. A long run in both directions through the Yoho National Park saw us eventually arrive at the delightful Moraine Lake Mountain Lodge. The lake is approached by a superb rising drive up to the Ten Peaks, ending in a beautiful lake blocked by terminal moraine.
Rising early the next day at 6 intending to go for a hike, it is pouring with rain. It has
relented by 8 so we climb the rock pile for a peaceful early morning view of the lake. This lasts all of five minutes before the coach load of Japanese arrive to shatter the peace. What would happen if all Japanese had their cameras confiscated? Instead we hike to the far end of the lake to some charming falls, and enjoy watching the day's first canoeist on the lake.
We suspected Lake Louise might be a significant tourist trap and we weren't wrong. Thousands have descended on the place, much like many of the spots in Canada. In theory it's a massive country with no one around. In practice everybody piles into the
same tight spaces. This is a beautiful lake, but not as much as Moraine Lake, and it is dominated by an utterly vast hotel and an even bigger car park. We take a couple of photos just like everyone else and get out in five minutes.
Jasper
Driving north to Jasper is a 200km+ affair on a single lane 'highway', the Icefields Parkway.
This takes time and patience, so we stop to admire the Crowfoot Glacier, which looks just like a painting, as does much of the landscape round here. Bow Lake offers stunning views of a glacial backdrop to a toothpaste-coloured lake, and we climb Bow Summit to oversee the massive Peyto Lake. It's cold up here, but worth it. On past Weeping Wall, a serious avalanche zone, and on to the Columbia Icefield.
This proves to be somewhat like Butlins on ice. We may have been spoilt by a previous
brilliant experience in Argentina at the Perito Moreno, where we hiked on a glacier. The weather today probably doesn't help, with regular storms rolling through, and the rangers talking of a wet, miserable summer. We have two bear encounters: the first as a bedraggled black bear crosses the road in a downpour; the second as a grizzly, nastily injured on the rear flank, walks alongside the road, affording a decent video opportunity.
We arrive in Jasper to be greeted by a heavy hailstorm, and sit it out in the car before
checking in to the Alpine Village Lodge, which gives us our cabin for the next three nights. The thunder hammers away as we investigate Jasper – another frontier town. As we emerge from the Dead Dog bar after a couple of pints of Elk Lager, we are rewarded with the most perfect double rainbow arc ever seen. Both ends really do hit the ground.
Next day we explore the area, rising early and heading out to the beautiful Medicine Lake,
which drains away every year and comes back again because it lies on top of a limestone cave system. Further on Maligne Lake is home to the "world famous" Spirit Island, but no literature or person can really explain what's there so we enjoy the early peace with a flock of Canada geese before declining the boat trip and barbecue excursion.
Coming back on the same road, Maligne Canyon is wonderful – a huge drop through limestone creating rushing waterfalls and a lot of spray. It's a nice brisk walk, but
several further bridges cannot be attempted because of flooding. The view is spectacular – showing Pyramid Mountain in all its triangular glory, and Pyramid and Patricia Lakes, where we stop later for a snack. Investigating the Jasper Tramway we decide to decline. This is a cable car to the top of the Whistlers mountain chain, but with 30 to a car it's rammed, so we beat a retreat to the local bar to watch Team GB lose to Canada in the Ladies Olympic football quarter final.
An evening walk down the Athabasca River is charming – low on the water line and fast-flowing – to arrive at the Tekarra Lodge for dinner. Here the river merges with the
Miette, and we enjoy watching a female elk take her time crossing over the bridge, taking a straight line down the centre of the road and pausing to lick her arse in the low sunlight. The restaurant was good but snobby – a request for black pepper was met with the traditional "The chef feels it has just the right amount of spice but if you must…" response typical of French restaurants the world over.
The next day is a belter – all the clouds have gone and it's a perfect rocky mountain view in
every direction. We rise early and head back down Highway 1, first to Sunwapta falls, and then to Athabasca Falls. Both are worth a look but generally tarnished by coaches full of Japanese, Chinese and Koreans. It's an art nipping in before them to have a more peaceful experience.
The undisputed prize of the day, and probably the trip so far, is a visit to the
little-mentioned Mount Edith Cavell. From a distance it looks like a slice of chocolate pudding with intermittent cream layers. Climbing for 14km, we reach the hike point and set off. The stunning Angel glacier empties, via repeated avalanches, into a totally still lake, with icebergs calving off periodically. It's something of a climb and the road is too narrow for coaches, which makes it all the more peaceful. Staring at the glacier is charming – sheer power. Waterfall melt water tumbles into the lake, which is a mix of azure and green, with various chunks of ice – blue, white, brown, and grey – sitting ominously.
Nearby, a quick hike into the Tonquin Valley reveals the beautifully blue Cavell Lake set against this perfect mountain. This we enjoy with our new friend the golden striped ground squirrel, who cunningly nips in to steal the carrot I have brought for lunch. There is little mention of this in the guidebooks, but on a fair weather day it's fantastic – mountain, glacier, river, lake – all rolled into one.
Rocky Mountains
From Jasper to Vancouver we board the Rocky Mountaineer in Goldleaf posh class, which offers an upper deck observation car with silver service dining below. Over two days,
this snakes through the Yellowhead Pass, out of Alberta and into British Columbia, via the massive 13,000 foot Mount Robson – so high it operates its own microclimate and is almost always shrouded in cloud.
In amongst pleasant sights such as Moose Lake, the Albreda glacier and Pyramid Falls, the guide cheerfully notifies us of the 1950 site of a major collision between two
trains in which 21 people died. A salutary lesson is told at the town of Barriere – scene of a 26,000 hectare forest fire in 1993, ironically started by a distraught firefighter when he failed to stub his cigarette out properly. Some stretches of hillside show all brown pine trees that have been blighted by the pine beetle. It needs to be minus 40 degrees for two weeks in a row to kill them off, and this hasn't happened for several years.
Seven hours later we arrive in Kamloops, where three Thompson rivers merge. This is an
unexciting border town where we are herded into the Hotel 540, essentially the local Novotel. Our stuffy room provides a slightly depressing view of a car park flanked by unimaginative stores called London Drugs and Senor Froggy, among others. We head immediately to the local pub called Frick and Frack, to enjoy several pints of Granville Island Cypress Honey Lager, and Okanaga Springs 1516 Bavarian. Few beer names here are short. We respectfully pass on the Crannog Gael's Blood Organic Potato Ale and the Tree Raspberry Porter.
After a pretty good night's sleep, slightly interrupted by some twats shouting and hammering on doors at 3am, we are back on the coach at 7.20am. The train extravaganza has taken on a new scale with two being joined together to create a 500-person traveling jamboree. Ten coaches disgorge their contents on the platform for a journey to the station that we could have walked. Then we are off for day two, initially skirting Kamloops Lake and moving through the Black Canyon flanking the Thompson and Fraser rivers. It's a beautiful day, and we have regular sightings of bald eagles and ospreys, some on the wing and some on the nest.
The landscape evolves over the several hundred miles of the trip. The Jaws of Death Gorge and Hell's Gate show the darker side with their raging torrents. As the Fraser and
Thompson rivers merge, their different colours take a mile or so to blend – one clear blue, the other a muddy brown. Train lengths here are extraordinary – some with over 200 coaches and more than three miles long. Only the First Nations people are allowed to fish these waters, and the sockeye salmon produce 4,000 eggs every year, but only 2-6 return after all that effort.
A train journey is a fine thing and the service on the Rocky Mountaineer is impeccable.
Approaching Vancouver we move from semi-arid desert – most people don't know
Canada has any – through to cloudy Pacific West Coast. The Fraser valley is fertile farmland littered with fruit pickers and high corn. Two days in the observation car is just enough, and it's time to disembark and move on to the Listel Hotel on Robson Street.
Vancouver
Vancouver is peculiar. I had it down as a small city in an idyllic setting on the Pacific.
The reality is a little harsher. The education begins as we enter town on the train via the mini-me city of Chilliwack, and the endless suburban sprawl. Downtown is a bit of a mess and the waterfront suffers once again  from the flaw we have seen many times in Canada – scant regard for urban planning control. The main bay is a heavily industrialized container port, and the buildings lack the character of San Francisco or Chicago
The Listel Hotel purports to be an art hotel but is as functional as a Novotel. We
promenade on the bay but it's another close cousin to Canary Wharf. It's not until the old Gastown area that some character emerges, and we nestle in for a curry at Sitar. Next day we grab the bus out to the University of British Columbia Anthropological Museum, which is a chance to find out all about the First Nations people, and particularly the iconography associated with the making of totem poles. The display is vast to accommodate their size, and we see more later when walking through the famous Stanley Park. Here it's a bit of a freak show with a range of weirdos and promenading gays strutting their stuff on bikes, boards, blades, you name it.
We cap the day off with dinner on top of the Vancouver Lookout, a 580-foot tower in the
Harbour Centre. It turns out to be the first lightning storm in ten years, and we are rewarded with spectacular sights as the thunder hammers around us and the lightning plays astounding patterns across the night sky. A cab home is obligatory as the rain tips down.
Vancouver Island
The next day it's off to Vancouver Island, apparently the home of "smoking and weaving
shit." We head out of town heading south and a lorry has thoughtlessly broken down in the George Massey tunnel crossing our old friend the mighty Fraser River. We eventually grab the ferry at Tsawwassen for the smooth  90 minute trip across to Swartz Bay, through the picturesque Gulf Islands National Park reserve. The drive down to Victoria is ugly, and could be anywhere in sprawling North America. Thirty minutes of this is enough, and we arrive at what appears to be Eastbourne with a floatplane terminal, and a small version of St. Paul's Cathedral. It's nice enough but rather twee. We grab a couple of beers in the sun after checking into Abigail's Hotel, and book up a couple of interesting activities for the
next day – whale watching and a trip in a floatplane. This area is right on the border with the USA. We actually cross it on the ferry over, and then the line winds through Cadboro and Oak Bay, past the San Juan Islands, and then between Victoria and the Olympic Peninsula of Washington USA.
Our seaplane has just ten or so people in it and we taxi out of the harbour past a range of
craft from a kayak to a water taxi and an ocean liner. Take off is short and we are off round the peninsula reaching a maximum of 2,500 feet. It's a mix of land and sea, with views of Elk and Beaver Lakes thrown in for good measure. Kayaks appear as tiny bright dots at sea. We are back 20 minutes later with a landing much steeper than a conventional land-based one, descending rapid  into the bay and slowing down fast with the water resistance.
Next up is a trip in a Zodiac in search of Orcas, or Killer Whales. Everyone has to dress up
in cruiser suits – all-in-one life jackets that the Canadian government insists upon. As we taxi out of the harbour our sea dog guide regales us with a range of local facts. It's the world's largest seaplane or floatplane airport, handling over 200 flights a day. A couple of months ago they had to suspend flights for the day as a pod of orcas settled in to the bay to hunt salmon. The triumphant ornamental totem pole had to be sawn in half when they realized that many planes were banking steeply to avoid it. We speed off for thirty minutes
to the San Juan Islands. There are three resident pods of orcas here, each containing about 20-30 of them. We see lots: male and female, surfacing regularly, and breaching on a few occasions to skyhop – their way of looking around above water level. We glance at a gang of harbour seals on the way back. After a seafaring day, we round off with a superb tapas feast at the Tapa Bar in Trounce Alley, including a large bottle of the brilliantly-named, but lethal at over 7%, Fat Tug beer – described as an IPA but in truth more like a barley wine.
Tofino
It's a 300km and 5-hour drive up Vancouver Island to Tofino. You would have thought that
most of this would be scenic but it isn't. Dreary motorway that could be anywhere from Baltimore to Birmingham does nothing for the eye. A pit stop at the eponymous town of Duncan ("the city of totem poles") does nothing to improve matters. It's a bit of a dump, as is Nanaimo. Eventually turning inland at Parksville the scenery improves a little with the large Sproat and Kennedy Lakes to Port Alberni. The west coast is Pacific Ocean National Park, with ominous mists rolling in over the pine trees (technically rain forest) that shield the steep beaches from the heavy onshore winds.
Tofino is a strange place. If you didn't come to surf or find bears, you wouldn't bother.
Every year a few thousand inhabitants are invaded by over a million visitors. There's not a great deal to do except stare at the sea or the mountains. We dig in at the Schooner restaurant and watch the tourists stream in. Next day we venture out in a Zodiac to find bears, and this turns out to be one of the highlights of the trip. We spend half an hour observing a female black bear and cub eating berries and indulging in their favourite low tide behaviour –  upending huge rocks to eat whatever is underneath once the water has gone out. It's beautiful day, and we watch porpoises surfacing for air. Bald eagles are much in abundance, and we observe a pair with their juvenile testing its wings and practicing flying. A great day is rounded off by a superb meal at the Spotted Bear restaurant.
On the final day we take a bracing one-hour walk along the Long Beach at Wickaninnish, a
beautiful stretch of unspoiled coast patrolled by bald eagles and frequented by intrepid surfers seemingly unbothered by the ice-cold water. A final crab lunch at the Schooner rounds off proceedings before we finish the day staring at starfish in Cable Cove.
Concluding observations on Canada. We have covered 3-4,000 miles in three and a half
weeks, plus another 6,000 there and back, and an unexpected detour to Iceland. The cities are not as remarkable as they are billed. Quebec has a charming old town surrounded by a pervasive ugly port bursting along the banks of the St. Lawrence – worth a visit but not that exciting. Montreal is thoroughly unremarkable – even the view from the original Mont lookout yields little more than a distant cluttered river, a set of skyscrapers, and three bridges. Vancouver is far larger and more messy than advertised, and the waterfront has
all the charm of London's Canary Wharf. Toronto has character and a better blend. The revolving towers in both offer interesting perspectives and great food.
80% of the country lives within a few hundred miles of the US border, and this shows in
various ways. In huge parts of Canada one might just as easily be in suburban USA. It's a nasty sprawl with no character, as evidenced by the featureless train journey from Quebec to Montreal to Toronto. Huge tracts of the interior are bland prairie, as witnessed on a 4-hour plane flight from Toronto to Calgary in which the landscape barely changes.
Neither the Rockies nor Vancouver Island lived up to their pioneering billing. The falls
and hikes and lakes were in the main pretty crowded and very much dominated by
oriental coach parties. The Rocky Mountaineer train was unremarkable on day one, better on day two. Vancouver Island's Victoria is twee and Eastbourne-like, and the drive up the east side of the island is dreary, contrary to what one might expect. All in all, if a road trip to the canyons of the USA scores 10 out of 10 for adventure, the Canadian Rockies and islands score a 2 or a 3. It's all pleasant enough, but not nearly as frontier-like as we were expecting. This may be our fault for succumbing to relatively formulaic advice, but the cost of visiting Hudson's Bay, Baffin Island, or the Yukon would have pretty much made this trip twice as expensive.
This is not a bleat. It's been a great trip in many ways. Quebec old town is charming.
Watching a baseball game in a city like Toronto is a cultural experience. The Rockies must be seen, by whatever means, and sitting in front of a glacial lake under Mt. Edith Cavell was unforgettable. For wildlife, bear watching, with a few eagles thrown in, ranks as a top 3 animal encounter, and tracking orcas at sea was fun too. Given some of the distances involved, a clear understanding of why one is going to a far-flung place is definitely worth the research – a little more of that and we might have cut out some of the parts. A return isn't out of the question, but would most probably have to take in the more remote parts to avoid the crowds and generate a greater feeling of adventure. We both
resolve to make the next trip more intrepid. I did however manage to try 35 new types of beer.